Skip Navigation
Fecal Microbiota Transplantation
Fecal Microbiota Transplantation
Though intended to be curative or even lifesaving, antibiotics can sometimes introduce a health threat. One is clostridium difficile (C. difficile), an aggressive intestinal bacteria that can cause a serious to dangerous infection. This occurs when antibiotic treatment clears the colon of the healthy bacteria that normally reside there and keep C. difficile at bay.
The specialists at The University of Kansas Health System offer advanced treatment to fight C. difficile. Fecal microbiota transplantation (FMT) is an effective approach to reintroducing the beneficial bacteria that protect against infection.
What is fecal microbiota transplantation?
Fecal microbiota transplantation is a newer, investigational treatment option that your doctor may use to fight C. difficile. FMT is a procedure in which healthy stool from a donor is transferred into a patient to recolonize the colon with healthy bacteria.
Who can have fecal microbiota transplantation?
The American Gastroenterology Association suggests FMT may be an option for people who have had:
A moderate C. difficile infection that did not respond to vancomycin or fidaxomicin antibiotics
At least 2 episodes of C. difficile infection that required hospitalization
At least 3 episodes of mild to moderate C. difficile infection that have not responded to 6-8 weeks of antibiotic treatment
Severe C. difficile infection or severe colitis that did not respond to antibiotics within 2 days
FMT may be risky for people who are taking immunosuppressant medications, have had a bone marrow transplant or have cirrhosis of the liver, advanced HIV or AIDS.
How does fecal microbiota transplantation work?
The human body is home to a microbiome, a living community of bacterial organisms that play important roles in processes such as nutrition and immunology.
In FMT, the bacterial community of a healthy donor is placed into the patient with C. difficile. The donor and sample are carefully screened. The healthy stool is transferred to the recipient through the upper GI tract (via prepared capsule or tube from the nostrils to the intestine) or the lower GI tract (via colonoscopy, sigmoidoscopy or enema).
Once transferred, the newly acquired healthy bacteria can begin fighting the dangerous C. difficile.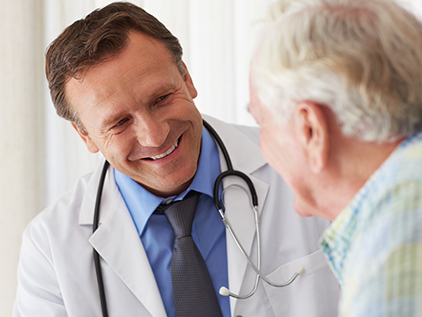 Answers to your questions about FMT
C. difficile and fecal microbiota transplantation can be difficult to understand. We answer some of the most frequently asked questions about the disease and treatment.
View frequently asked questions
Benefits and risks of fecal microbiota transplantation
FMT has a very high cure rate when compared to antibiotic treatment for C. difficile. It also works quickly, with most people reporting improvements in just 3-4 days.
FMT is an investigational treatment, meaning all possible side effects are not yet known. If you have any changes in your health after FMT, tell your doctor right away. Nausea, bloating and mild cramping often occur after FMT, but usually last no longer than 24 hours.
What happens during fecal microbiota transplantation?
Healthy donors provide the stool samples. Patients may receive stool from a universal stool bank, such as OpenBiome, or may select a friend or family member to donate. Donors and samples are carefully screened to safeguard against transmission of viruses, parasites or bacteria. Donors are tested for diseases spread through the blood, such as hepatitis and HIV.
The specifics of FMT will vary, depending upon your overall health and the preferences of your physician. Stool from a screened donor is transferred via the lower GI tract (by colonoscopy, sigmoidoscopy or enema) or the upper GI tract (by prepared capsule or through a tube from the nostrils to the intestine).
Most people begin to feel better within a few hours of FMT, but it can take up to 4 days to notice improvements. If you do not feel any better within 4 days, let your doctor know.

Still the best
Our hospital continues to rank as the best in Kansas City and in Kansas according to U.S. News & World Report.

Magnet-recognized
The University of Kansas Hospital has been designated a Magnet® facility by the American Nurses Credentialing Center since 2006.

Respect for all people
Named a leader in LGBTQ+ Healthcare Equality by the Human Rights Campaign.