Skip Navigation
A colonoscopy is a procedure performed by a doctor to detect abnormalities or changes in the colon and rectum.
During a colonoscopy, the doctor inserts a flexible tube with a lighted tip into the rectum. This allows the doctor to see inside the colon. If polyps or other types of abnormal tissue are present, the doctor removes them with the scope. The tissue sample, or biopsy, is then examined by a pathologist for the presence of cancer cells.
Gastroenterology specialists recommend colon cancer screening for anyone age 45 and older who is at average risk of developing colorectal cancer.
For individuals at normal risk, colonoscopy is typically recommended every 10 years. Your physician may recommend you have a colonoscopy more frequently for:
A change in your bowel habits, such as diarrhea, constipation or a feeling that your bowels are not emptying completely
Blood in your stool or very dark, tarry-looking stools
Chronic abdominal pain
Preparing for colonoscopy
To prepare for your colonoscopy, follow the directions provided by your doctor to ensure your rectum and colon are empty prior to the procedure. This may involve:
Drinking only clear liquids the day prior to your exam: Water, coffee, tea or broth
Taking a laxative: Either pill or liquid form, as your doctor prescribes
Using an enema: You may be advised to use an enema kit the night before or day of your exam
Adjusting your medications: Talk to your doctor about your current medications before your exam
Colonoscopy exam
A colonoscopy takes 30-60 minutes and you are sedated. During this time, you will lie on your side with your knees drawn upward. The doctor will insert a colonoscope, which has a lighted tip, into your rectum. The doctor may also use air to inflate your colon to allow better viewing of the colon's lining.
The colonoscope extends the entire length of your colon. If a polyp or other abnormal tissue is discovered, the doctor can remove it for biopsy through the colonoscope.
After your colonoscopy
You may need about an hour to initially recover from the sedative used during your colonoscopy. Someone will need to drive you home, as it takes about a full day for the effects of the sedative to subside. During this time, you shouldn't return to work or make any important decisions.
You may feel some mild bloating for a few hours after your screening. There may also be some bleeding with your first bowel movement after your colorectal screening, but this is not typically cause for concern. If the bleeding or bloating persists for more than a few days, contact your doctor.
Colonoscopy results
If there are no polyps or tissue abnormalities in your colon, your colorectal screening is negative. With a negative result, your doctor may recommend you have your next colonoscopy in:
10 years, if you are at average risk of colon cancer
5 years, if you have a history of polyps
1 year, if your exam was incomplete because of residual stool
If your colorectal screening is positive, it means the doctor found polyps or abnormal tissue in your colon. While most polyps are not cancerous, some are. All tissue abnormalities are examined by a pathologist. Depending on the size and number of polyps discovered, your doctor may recommend more frequent colonoscopies in the future.
Colorectal screening options
You may have options on the type of colorectal screening available to you. Talk with your doctor to learn more. Additional screening options include:
CT colonography, or virtual colonoscopy. CT colonography uses X-rays and computers to produce 2D and 3D images of the colon from the rectum to the lower end of the small intestine. This exam may be performed every 5 years or as recommended by your doctor.

This exam evaluates the lower part of the large intestine by inserting a thin, flexible tube into the rectum. This exam may be performed every 5 years or as recommended by your doctor.

Testing a sample of your stool can detect signs of colorectal cancer. Tests include:

Fecal immunochemical test, or FIT. FIT is an annual screening that tests for hidden blood in the stool, which can be an early sign of cancer.
Fecal occult blood test, or FOBT. FOBT is an annual screening that detects blood in the stool, which may be a sign of colorectal cancer, ulcers or polyps.
Stool DNA test. This test, which is performed every 3 years, looks for abnormal DNA associated with colon cancer or colon polyps.
Know your colorectal cancer risk
Some people may be more likely to develop colorectal cancer, so talk to your doctor about what type of colorectal screening is right for you. Even people with lower risk for colorectal cancer, should be screened regularly. You should know the following risk factors:
Age 45 or over
Being overweight
Drinking more than 2 alcoholic drinks a day
Eating a diet high in red meat
Lack of exercise
Smoking
Inflammatory bowel disease
Family history of colorectal cancer
African-American or Jewish with Eastern European descent
Personal history of adenomatous polyps in the colon or previous colorectal cancer diagnosis
Inherited syndromes, such as Lynch syndrome, that are linked to colorectal cancer
If you're age 45 or over, talk to your doctor about whether a colonoscopy is right for you.
Our doctors
Our general gastroenterology physicians will facilitate your colonoscopy.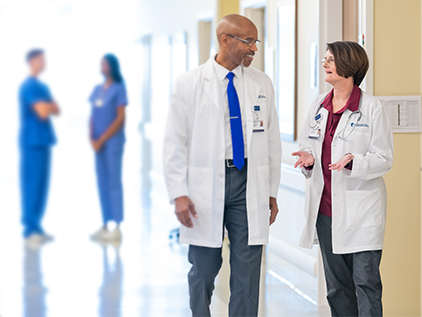 Locations
1. The University of Kansas Hospital

4000 Cambridge St.
Kansas City, KS 66160

Mon

8:00 a.m. - 4:30 p.m.

Tues

8:00 a.m. - 4:30 p.m.

Wed

8:00 a.m. - 4:30 p.m.

Thur

8:00 a.m. - 4:30 p.m.

Fri

8:00 a.m. - 4:30 p.m.

Sat

Closed -

Sun

Closed -

HOL

Closed -

2. The University of Kansas Hospital

10710 Nall Ave.
Overland Park, KS 66211

Mon

8:00 a.m. - 5:00 p.m.

Tues

8:00 a.m. - 5:00 p.m.

Wed

8:00 a.m. - 5:00 p.m.

Thur

8:00 a.m. - 5:00 p.m.

Fri

8:00 a.m. - 5:00 p.m.

Sat

Closed -

Sun

Closed -

3. KU MedWest

Ambulatory Surgery Center
7405 Renner Road
Shawnee, KS 66217

Mon

8:00 a.m. - 4:30 p.m.

Tues

8:00 a.m. - 4:30 p.m.

Wed

8:00 a.m. - 4:30 p.m.

Thur

8:00 a.m. - 4:30 p.m.

Fri

8:00 a.m. - 4:30 p.m.

Sat

Closed -

Sun

Closed -