Skip Navigation
Permanent makeup is an advanced cosmetic technique in which the skin is tattooed in a way that gives the appearance of makeup. The procedure was designed to assist individuals who have trouble applying, or who are allergic to, conventional makeup. Also known as micropigmentation, permanent makeup can also restore the areola after breast surgery, among other applications.
For cosmetic enhancement, micropigmentation can:
Create fuller looking eyelashes
Add definition to the eyebrows
Permanent makeup is also used to recreate the appearance of an areola after breast reconstruction. The inks and pigments used in treatment are metabolically inert, and are insoluble in water and most organic solvents.
Who should consider permanent makeup?
Permanent makeup is an option for individuals who are allergic to conventional makeup, or those with vision or other impairments for whom makeup application difficult. Some people are interested in the procedure simply because they desire makeup that is waterproof, timesaving, hassle-free, and always fresh.
How is the treatment performed?
The procedure is conducted in an office setting. The time required varies depending on the complexity of the treatment, but averages between 1-2 hours. Your artist may apply a local anesthetic cream to help reduce the pain. As with regular tattooing, permanent makeup is achieved by placing pigment on the superficial layer of the dermis using a tattoo pen.
Post-treatment care
You should expect to experience some swelling and crusting around the area treated that will persist for a few days. In general, you should have little discomfort and few side effects. It is important to keep in mind that you need to protect your skin from the sun in order to maintain your new look.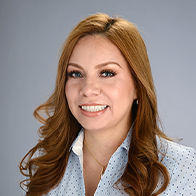 Norma Reyes
Norma Reyes joined The University of Kansas Physicians Plastic Surgery team in 2012 and is a certified micropigmentation technician and medical interpreter for Spanish-speaking patients. After working with breast cancer survivors, she was was inspired to begin tattooing in 2017.

Norma is licensed to practice nationally after receiving her certification from the American Institute of Intradermal Cosmetics in Arlington, Texas. She specializes in permanent makeup for eyebrows (solid and hair stroke technique), eyeliner, lip liner, scar camouflage and areola tattoos.

Norma is passionate about providing her patients with the highest quality treatments and working individually with patients to achieve their desired goals. "Seeing my patients' happiness after every procedure is my favorite aspect of my job. It is always a positive reaction after they look at themselves in the mirror and a very fulfilling experience personally. I am fully committed to satisfy my patients' needs, work for the best possible result and make them feel at home throughout the process."