Skip Navigation
Cancer Care
Cancer patients at The University of Kansas Cancer Center receive the latest advanced medicine from some of the leading health care providers in the nation. The positive outcomes have led U.S. News & World Report to rank our clinical cancer program as one of the nation's best. Through robust early detection efforts and clinical trials, we will achieve the highest quality patient outcomes. We continue to implement new treatments and reduce fragmentation of care.
Your generosity will contribute to growth and advancement in several areas critical to successfully treating and curing more patients.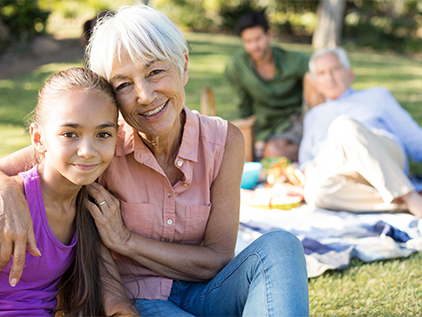 Support The University of Kansas Health System
Make a difference in the lives of thousands of patients in Kansas City, the region and beyond. Your gift will help us provide the best care to patients and families today and for years in the future.
Donate now
Areas to support
The University of Kansas Cancer Center blood and marrow transplant and cellular therapy programs are providing groundbreaking care. They inspire hope for patients who have no other options. They advance the fight against aggressive cancers that claim lives.

But they can't do it without your generosity.

With the field of cancer care on the cusp of a revolution, your philanthropic support makes an even greater impact on scientific discovery and medical advancement. Your gift helps us advance clinical care, optimize patient safety, enhance the patient experience and provide a nurturing environment to foster healing.

The Women's Cancer Center at The University of Kansas Cancer Center focuses solely on breast and gynecologic cancer and improving the delivery of cancer care. Here, specialists from one of the country's leading National Cancer Institute-designated cancer centers work in tandem to offer the most advanced treatments with care and compassion.

The only facility of its kind in the region, The Women's Cancer Center provides integrated, interdisciplinary care from the moment you walk in through your survivorship. Our team of academic experts comprises numerous specialties, including breast and gynecologic surgical oncology, breast medical oncology and breast reconstruction and plastic surgery.

For patients at high risk of developing breast or ovarian cancer, our breast cancer prevention specialists will create a personalized program to estimate your risk as accurately and work with you and your cancer care team to lower your risk as much as possible.

Your gift will help accelerate women's cancer prevention, research and treatment options for our patients.
Related links