Skip Navigation
Lesbian, Gay, Bisexual and Transgender (LGBTQ+) Health, Wellness and Support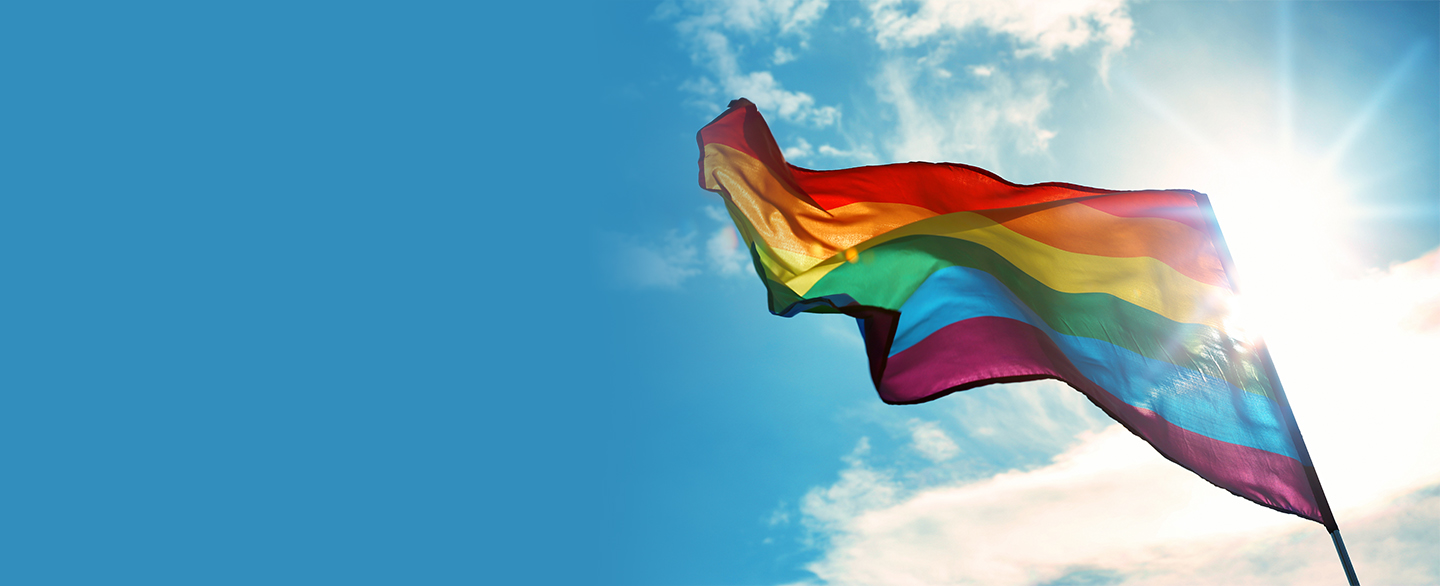 The University of Kansas Health System employs and cares for people of all types. We value and respect each individual.
Our health system is an equal employment opportunity employer without regard to a person's race, color, religion, sex (including pregnancy), gender identity and sexual orientation, national origin, ancestry, age (40 or older), disability, veteran status or genetic information.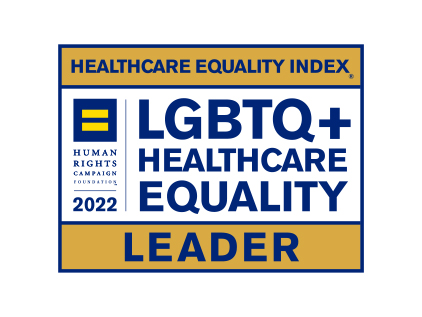 A Leader in LGBTQ+ Healthcare Equality
We have been recognized as a Leader in LGBTQ+ Healthcare Equality by the Human Rights Campaign (HRC), based on the Healthcare Equality Index. Our health system is one of 496 healthcare facilities in the nation to receive Leader status.
Learn more
Nationally recognized for LGBTQ+ support
Our designation as a Leader in LGBTQ+ Healthcare Equality from the Human Rights Campaign recognizes healthcare facilities for policies and practices supporting equity and inclusion of lesbian, gay, bisexual, transgender and queer (LGBTQ+) patients, visitors, business partners and employees. The Human Rights Campaign's scoring criteria includes practices in the areas of:
Nondiscrimination and staff training
Patient services and support
Employee benefits and policies
Patient and community engagement
We are also the proud recipient of the 2022 Healthcare Equality Index Award. The honor recognizes the equitable and inclusive care we provide for LGBTQ+ patients and their families. The Healthcare Equality Index (HEI) evaluates more than 2,200 national healthcare facilities' policies and practices related to the equity and inclusion of LGBTQ+ patients, visitors and employees. This is our 5th year to receive the award.
Resources at The University of Kansas Health System
We provide high-quality, patient-centered care while respecting our patients' beliefs and customs. Our patient relations team members are available to answer questions and assist with concerns. As patient advocates, the team supports everyone who receives services in our hospital and clinic locations in the Kansas City area. To contact our patient relations team, call 913-588-1290.

We offer a multidisciplinary approach to your individual transformation. Our goal is to alleviate gender dysphoria, which may require a variety of services that vary from person to person. We aim to assist people who identify as transgender, transsexual, gender variant, gender nonconforming and gender questioning. Learn more about gender-affirming medicine.

For patients striving to build a family, our fertility specialists use state-of-the-art reproductive technology to provide diagnostic and therapeutic services. We recognize that each patient is unique and fertility treatments should be individualized, comprehensive and compassionate. Our physicians and clinical staff work as a team, partnering alongside patients to support them through the fertility journey.

We have dedicated HIV pharmacists credentialed through the American Academy of HIV Medicine. They provide HIV medications and pre-exposure prophylaxis (PrEP), a course of medications for people who are at risk for HIV, to patients in the infectious disease clinic. Other services they offer include:

Assistance with medication coverage and affordability
Medication education
Medication review and screening for drug interactions
Periodic check-ins to discuss how you're feeling on the medication
Personalized medication selection in partnership with your provider periodic

For more information, contact our pharmacy department at 913-588-1227.

Members of our staff participate in a variety of community events, including KC PrideFest, AIDS Walk Kansas City, the Kansas City Gay Softball Word Series and Pride Night at Kauffman Stadium. The softball world series hosted more than 5,000 softball players from the U.S. and Canada as part of the Come to Play! Gay Softball World Series (GSWS), and many employees from The University of Kansas Health System volunteered at the event. Pride Night at Kauffman Stadium featured an employee tailgate at the first Pride event at The K.

We also host LGBTQ+ recruitment fairs. In 2019, The University of Kansas Health System hosted Kansas City's first-ever job fair focused on LGBTQ+ workers. The event, which was sponsored by Kansas City Center for Inclusion, featured representatives from 20 area employers, light refreshments and a brief program. Approximately 400 job-seekers participated.

We offer our staff members Safe Zone training, which allows our staff to have a deeper familiarity with affirming language, inclusive practices and how our organization can continue to be a more safe and inclusive space for LGBTQ+ employees. Continuing education credits may be available, depending on the position.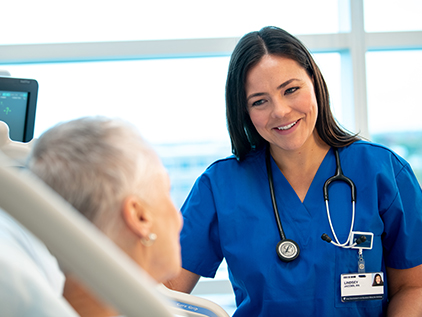 Ready to join an LGBTQ+ healthcare equality leader?
We would love for you to work with us! Take the first step toward your career at The University of Kansas Health System.
Search jobs now
Comfortable in his own skin
Fertility team supports pregnancy journey
Thanks to our fertility specialists, Jennifer and Susan were able to make their dreams of starting a family come true.
Read their story
Community resources
Gender Pathway Services at Children's Mercy Hospital


Children's Mercy Hospital provides interdisciplinary, family-centered services for transgender, gender-variant and gender-questioning children. Gender Pathway Services supports the physical, mental and social health of patients and their families as they navigate the process of gender identity development.

GLMA: Health Professionals Advancing LGBT Equality


GLMA's mission is to ensure healthcare equality for lesbian, gay, bisexual, transgender and queer (LGBTQ+) individuals and healthcare providers. You can find a provider based on your ZIP code and other health resources on the GLMA website.
Kansas City Center for Inclusion, Inc. (KCCI)


KCCI provides a safe, welcoming space where LGBTQ+ individuals and their families, friends and straight allies can come for education and resources. They offer referrals for LGBTQ+ resources by phone, web or in person. They provide on-site counseling, a meeting and event space, educational sessions and social events and a lending library on LGBTQ+ subjects.

PFLAG Kansas City


PFLAG Kansas City is a local chapter of PFLAG, the nation's foremost family-based organization committed to the civil rights of lesbian, gay, bisexual and transgender (LGBT) people. PFLAG Kansas City offers help for lesbian, gay, bisexual and transgender (LGBTQIA) youth, their families and communities around the topics of sexual orientation and gender identity.
For more information on our services, contact the assistant director of professional engagement, Gigi Siers, MS, RN, NE-BC, at 913-588-3046 or gsiers@kumc.edu.