Skip Navigation
The University of Kansas Hospital
The University of Kansas Hospital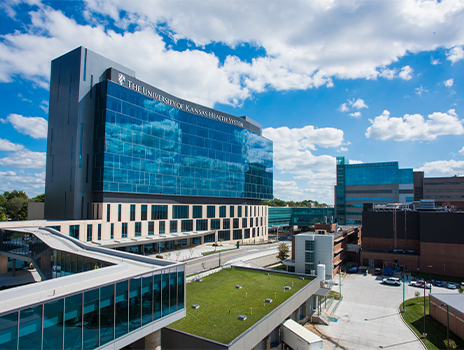 Welcome
The University of Kansas Hospital Cambridge Tower A is an expansion on the main campus of The University of Kansas Health System, featuring 92 private rooms and 11 state-of-the-art surgical suites. The tower houses surgical oncology, neurology, neurosurgery and ear, nose and throat services.
The facility creates an environment of healing and a welcoming atmosphere for patients, family members and visitors, while fostering teaching and academic medicine. From conception through construction, physicians, nurses and staff members collaborated with architects to design a space to help achieve the best patient outcomes and satisfaction in a way most efficient for healthcare providers.
Planned with sustainability in mind, elements of the building are flexible, adaptable and expandable, designed to evolve as healthcare, technology and processes change in the future.
Location
1. The University of Kansas Hospital

Cambridge Tower A
3825 Cambridge St.
Kansas City, KS 66160
Directions and parking
3825 Cambridge St., Kansas City, KS 66160
Directions
Get Google Maps Directions
Take I-35 to the 7th Street Trafficway/Rainbow Boulevard exit. Turn south onto 7th Street. 7th Street becomes Rainbow Boulevard at Southwest Boulevard. Merge into the left lane and continue straight to the top of the hill at 39th Avenue. Turn left onto 39th. Turn left onto Cambridge. This will take you to the front entrance of Cambridge Tower A. Continue north on Cambridge to P5. The parking garage will be on your left.
Parking
Patients and visitors can access public parking in the 2,200-space parking garage (P5), adjacent to Cambridge Tower A. The parking fee is $3 with validation; bring your ticket inside for validation at any information desk. The Phil Kirk Bridge connects the garage with Level 2 of Cambridge Tower A (opening soon).

Patients can also be dropped off at Cambridge Tower A's covered street-level entrance. Valet parking is also available. The valet parking receptionist is located on Level 1.
Specialties and amenities
By level
Level 1: D&G Café on 39th, valet parking receptionist, information desk, pharmacy, registration, admitting, Hallmark Gold Crown Store
Level 2: Interventional radiology, imaging, The Roasterie Café
Level 3: Surgical suites
Level 4: Mark and Candice Uhlig Green Roof
Level 5: Jack and Cheryl Lockton Intensive Care Patient Unit, neurology, neurosurgery, interventional neurology, epilepsy, surgical oncology, general oncology
Level 6: Telemetry unit, ENT surgery, neurology, epilepsy, interventional neurology, physical therapy gym
Level 7: Richard and Annette Bloch Surgical Oncology Neurosurgery Patient Care Unit, surgical oncology, neurology, spine, physical therapy gym
Level 8: Hematology
Level 9: Leukemia
Level 10: Blood and marrow transplantation and cellular therapeutics
Level 11: Richard and Annette Bloch Medical Oncology Patient Care Unit, medical oncology, physical therapy gym
Additional amenities
Angrist Family Library, with comfortable workspaces, free public Wi-Fi and charging stations
Burns & McDonnell Bridge, on Levels 2 and 3, connecting Cambridge Tower A with the Center for Advanced Heart Care
Regnier Family Foundations Garden Terrace, a landscaped outdoor dining and sitting area
The Kids Dugout, located on Level 2, a Kansas City Royals-themed waiting room for families and children
Candice and Mark A. Uhlig Green Roof, located on Level 4, offering patients peaceful views of nature
Phil Kirk Bridge, connecting Cambridge Tower A to 2,200-space parking garage
A curated collection of original artwork throughout the hospital, designed specifically to inspire, calm and uplift, made possible through philanthropic gifts
Conveniences
Internet services – Free wireless internet services are available throughout Cambridge Tower A.
Interpreter services – Professional interpreters are available in person or over the phone to help patients who use sign language or speak a language other than English. Arrangements for this service may be made through nurses or physicians.
Pharmacy – On Level 1, our outpatient pharmacy fills prescriptions written by our hospital physicians and offers over-the-counter medications. Hours are 9 a.m.-5:30 p.m., Monday-Friday. The pharmacy's phone number is 913-588-2361.
Public restrooms – Facilities are located on each floor of the tower. For the health of our patients, visitors should not use patient bathrooms.
Dining
D&G Café on 39th – Located on Level 1, the café offers smoothies, pizzas, salads and made-to-order meals 24 hours a day, 7 days a week.
The Roasterie Café – Near the Burns & McDonnell Bridge on Level 2, the café is open 6 a.m.-7 p.m. weekdays and 7 a.m.-3:30 p.m. weekends.
Spiritual care services
The Bob and Emily Honse Chapel is on Level 1. Spiritual care is available 24/7 for patients, families and staff. For religious service times, call 913-588-5000. To speak directly with spiritual care staff or a chaplain, call 913-945-7849.