Warm weather and summer are eagerly welcomed with barbecues, parades, festivals, vacations and fireworks. One thing often overlooked, however, is fireworks safety.
According to the U.S. Consumer Product Safety Commission (CPSC), there are an estimated 9,100 fireworks-related injuries, and approximately 190 injuries per day occur around July 4th. Many of these are eye injuries. From contusions to corneal lacerations, everyone is at risk of a fireworks-related eye injury, even if proper safety precautions are taken.
Using common sense, such as never pointing or aiming any fireworks at another person and maintaining a safe distance when viewing fireworks, is key to having an injury-free holiday, says ophthalmologist Mary Champion, MD, of The University of Kansas Health System's eye center.
Following these simple rules can help keep everyone safe from harm:
Children should never be allowed to handle fireworks.
When lighting or handling fireworks, put on safety glasses to protect the eyes.
Only use fireworks outside in an open area.
Keep a bucket of water nearby at all times to soak duds with, and do not try to relight them.
Don't light fireworks in any type of container, and never carry them in a pocket, because the friction of movement can cause them to light.
Keep a first aid kit handy, and if serious injury is suffered, seek medical attention.
If an eye injury from fireworks occurs, remember:
Seek medical attention immediately.
Do not rub your eyes.
Do not rinse your eyes.
Do not apply pressure.
Do not remove any objects that are stuck in the eye.
Do not apply ointments or take any blood-thinning pain medications such as aspirin or ibuprofen.
Alternatives to fireworks
Kid-friendly options for home celebrations.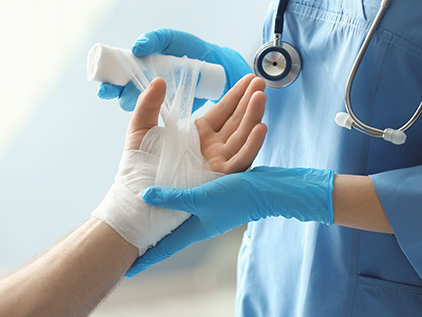 Superior burn care
The Gene and Barbara Burnett Burn Center is the only adult and pediatric burn center in the region accredited by the American Burn Association and the American College of Surgeons. We treat patients with chemical, electrical, flame or scald burns or with complex wounds and skin conditions.
Learn more