August 26, 2022
For some, traditional methods of depression treatment don't always work. Whether it's therapy, antidepressants (Prozac, Paxil, Zoloft, etc.) or a combination of both, not everyone responds to treatment the same way.
Luckily, there's a relatively young form of depression treatment that is proven to help in conjunction with these other methods: ketamine nasal spray. While the full spectrum of ketamine's antidepressant and antisuicidal effects have not been fully explained, we know it affects receptors and pathways in the brain. This creates a combination of positive effects that help combat depression. More important, it's safe with minimal side effects.
But how do you know if ketamine nasal spray is right for you? These 3 tips should help give you a better idea of whether you should ask your doctor about ketamine nasal spray treatment.
1. You don't have certain disorders or ketamine allergies.
Some people would not benefit from ketamine as a form of outpatient therapy. Instead, you should try an alternative, nonketamine therapy if you:
Have depression due to bipolar disorder, schizophrenia or other psychotic disorders
Have active substance abuse (alcohol or drugs)
Have ketamine allergies or insensitivities
Have uncontrolled hypertension due to ketamine's blood pressure-raising effects
Have a known history of an aneurysmal vascular disease, arteriovenous malformations or intracranial hemorrhages
2. You have a defined depression diagnosis, but normal depression treatment isn't working.
If you have been diagnosed with depression and don't fit into one of the categories above, ketamine nasal spray may be an option for you. If you have not found relief from at least 3 initial treatment therapies and are seeking an alternative to electroconvulsive therapy (ECT), talk to your doctor about ketamine therapy.
3. You're willing to commit to initial biweekly visits and potential lifelong therapy for your depression.
Committing to ketamine nasal spray therapy as a form of treatment for depression is not something to take lightly. While the side effects are minimal, treatment includes 2 weekly visits for the first 4 weeks, and then 1 weekly visit for the next 4 weeks. After the initial 8 weeks, you may receive treatment as often as once per week or as infrequently as once per month. Treatment could continue as a lifelong therapy until you want to come off treatment or stop responding to it.
It's also important to note that patients cannot drive themselves to and from visits. You will need a support person for transportation to take you to visits and pick you up. Visits last about 2 to 2 and a half hours.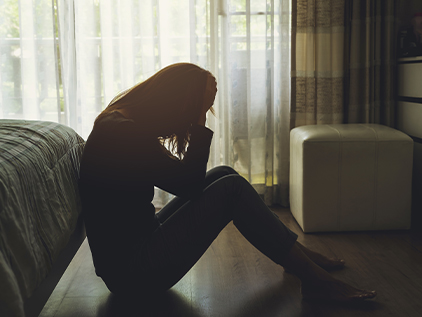 Why choose us for ketamine nasal spray treatment
The University of Kansas Health System is one of only a few hospitals in Kansas and the Kansas City area that offers ketamine nasal spray therapy. Our program is unique, designed specifically for patients with treatment-resistant depression and, importantly, rapid access is available.
Learn more