June 12, 2023
LGBTQ+ individuals seeking healthcare can face judgment, discrimination and denial of care from their providers or administrative staff. This can make their healthcare experience intimidating and stressful.
While there are many risks in avoiding proper healthcare, simply living with the stress of discrimination increases the likelihood of cardiovascular disease, cancer and other chronic illnesses for LGBTQ+ people. It's even worse for those members of the community with multiple marginalized identities – such as Black and Indigenous people, disabled people, those in rural communities, poor people and immigrants.
The University of Kansas Health System strives to provide care without judgment or stigma from the moment a patient walks through the doors.
Quinn Jackson, MD, MPH, is a queer person and a family medicine physician caring for LGBTQ+ patients at The University of Kansas Health System. He shares 4 things everyone should know about LGBTQ+-affirming healthcare.
1. Being celebrated for who you are is better for your health.
Everyone deserves to be seen, heard and valued by their healthcare providers. LGBTQ+ people are no different.
Research shows that queer people are more likely to seek care and receive evidence-based health screenings if they feel comfortable being out to their providers. Providers at The University of Kansas Health System aim to make no assumptions about who you are, who you love or what you want to do with your body.
2. Queer people have unique health needs.
The LGBTQ+ community is diverse and vibrant. Each person has to be treated as an individual.
In addition to routine healthcare, our community has unique needs. We may need additional screenings and vaccines. We may need medical assistance to build our families. We may want to reduce the risk of HIV by using medications for PrEP. We provide affirming healthcare by meeting you where you are and helping you get the care you need.
3. Gender and sexuality are separate concepts
Although different genders and sexualities are included in the umbrella term LGBTQ+, they are different concepts.
It is common for people, including healthcare workers, to confuse these or assume they have bearing on each other. But it is frustrating and harmful to assume anything about one's sexuality based on one's gender, or vice versa.
Sexuality is about who you are attracted to romantically, emotionally and sexually. Gender is an internal sense of who you are and how you want to be seen by the world. Transgender, nonbinary and genderqueer people have a gender identity different than their sex assigned at birth.
Furthermore, identity is a deeply personal and unique experience. For some people labels feel good, and for some people they do not. The same words can mean different things to different people. Gender and sexuality do not fit neatly in boxes for everyone. Our providers recognize that gender and sexuality are spectrums. We tailor your care to your goals.
4. LGBTQ+-affirming care means making a commitment to change.
Queer communities push boundaries and lead change. We commit to learning, growing and changing along with our LGBTQ+ patients. This means the language we use, the care we prescribe and the conversations we have will change over time, just like evolutions in any other area of healthcare. Our healthcare providers listen to queer people accessing care about their concerns, needs and hopes.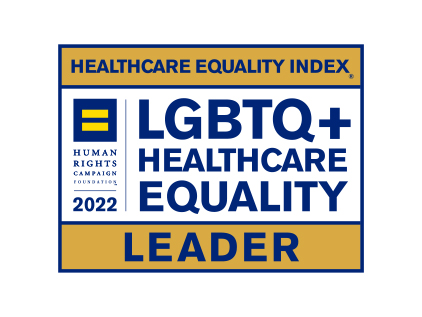 A Leader in LGBTQ+ Healthcare Equality
We have been recognized as a Leader in LGBTQ+ Healthcare Equality by the Human Rights Campaign (HRC), based on the Healthcare Equality Index. Our health system is one of 496 healthcare facilities in the nation to receive Leader status.
Learn more