April 11, 2023
It was Jessica Baker's first game action in 15 months.
The girls' soccer team at Smithville High School was holding a Green & White Scrimmage leading up to the spring season. This meant Jessica, a junior, was going up against her teammates. Coming off an ACL injury, this put Jessica at ease.
"I knew my teammates wouldn't just tackle me," Jessica says. "They didn't hold back either, which was good."
Jessica braced for impact as she worked her way back into the groove. It's soccer, so she knew an eventual tumble was inevitable.
"I got tripped and fell on my injured knee a couple times," she remembers. "After that, I was fine."
The initial shock wore off quickly. Jessica was prepared for the moment. Once it came and passed, she was ready to compete.
Long road ahead
Fifteen months prior to that scrimmage, Jessica had no idea about the long road ahead that she'd have to face.
A sophomore in high school at the time, Jessica was competing at an ID soccer camp in St. Louis near the end of 2020, preparing for the upcoming high school soccer season in the spring. With about 30 seconds left in the game, Jessica planted her left leg and immediately went down.
"I was going to shoot the ball and my leg twisted," Jessica remembers. "I heard a snap and then I fell. It was a weird feeling because I couldn't move my leg, but it wasn't really painful. It was scary because I hadn't had an injury like that."
Jessica's mother, Lori, had a gut feeling that the injury was serious – possibly an ACL tear. However, the initial clinic that Lori took Jessica to suggested the injury was not an ACL tear. Instead, they suggested physical therapy.
"We did physical therapy for a couple weeks and then the physical therapist released Jessica to practice," Lori remembers. "And she just did a couple moves and went down again."
Jessica ended up getting an MRI, which confirmed that she indeed tore her ACL and lateral meniscus. Jessica had surgery to repair both injuries in February 2021 and was ready to start physical therapy soon after.
Change in direction
For Jessica, rehabilitation did not initially go as planned. Eight weeks after surgery, Jessica still could not fully extend her leg, which was not normal. With proper rehab, an athlete should be able to extend their leg 2-3 weeks after ACL surgery. Lori raised her concerns to Jessica's original doctor, but they had reached an impasse.
"They said Jessica just doesn't have quad activation," Lori remembers. "I was like, well, that may be true, but I know she should have had full extension by then."
After multiple discussions that went nowhere, Lori decided to shop around. She came across The University of Kansas Health System and was eventually recommended to see orthopedic surgeon Bryan Vopat, MD, whose specialties include ACL reconstruction.
"He was very understanding and sympathetic," Lori says of Dr. Vopat. "I just knew that we were in the right place."
Dr. Vopat eventually discovered that Jessica had an impingement from the ACL surgery, which was affecting her movement. "I debrided – or removed – the scar tissue and did a notchplasty to widen the notch to match her graft," Dr. Vopat says. After he repaired the lesion in September 2021, the results were positive.
"She had the surgery and never looked back," Lori remembers. "She never had any swelling. Dr. Vopat was also proactive on new medicine to try to prevent the scar tissue from reforming. She never had any issues since that September surgery."
Thus, physical therapy began again, but this time at the health system.
I had a lot of fun working with Krisha and Kyle because I felt like they cared about me. They made me feel comfortable, and they made it fun.

Jessica Baker
Crossing the bridge
After physical therapy, Jessica needed to get her knee back in game shape to compete in the upcoming spring soccer season. In October 2021, Jessica joined the health system's ACL bridge program at the Sports Medicine and Performance Center location in Overland Park, led by physical therapist Kyle Martin and athletic trainer Krisha Crane.
The ACL bridge program is a research-backed, 6-week class designed to help athletes develop skills to reduce their risk of ACL reinjury. The program considers the individual's particular sport and mobility, not only to help them with specifics in movement but also to give them techniques to incorporate into their game once they finish the class.
"After proper warmups, we focus on hip and core activation, strength training, neuromuscular control, jumping and landing strategies and range of motion," Krisha says about the program. "Then we take that and make it sports specific. Once they gain confidence in their speed and change of direction, we put a ball in their hands or at their feet. Then they're able to identify what they're doing on the field, and it all starts to translate together."
Krisha notes that this transition is why the class is called a bridge program – it's the missing piece of the puzzle between physical therapy and the playing field.
For Jessica, the incorporation of her main sport was crucial to her recovery, as was the welcoming nature of Krisha and Kyle. The bridge program helped her gain the confidence needed to return to the field.
"I really liked how Krisha always incorporated playing soccer," Jessica remembers. "I'd be working on my balance, and she'd pass me the ball.
"I had a lot of fun working with Krisha and Kyle because I felt like they cared about me. They made me feel comfortable, and they made it fun."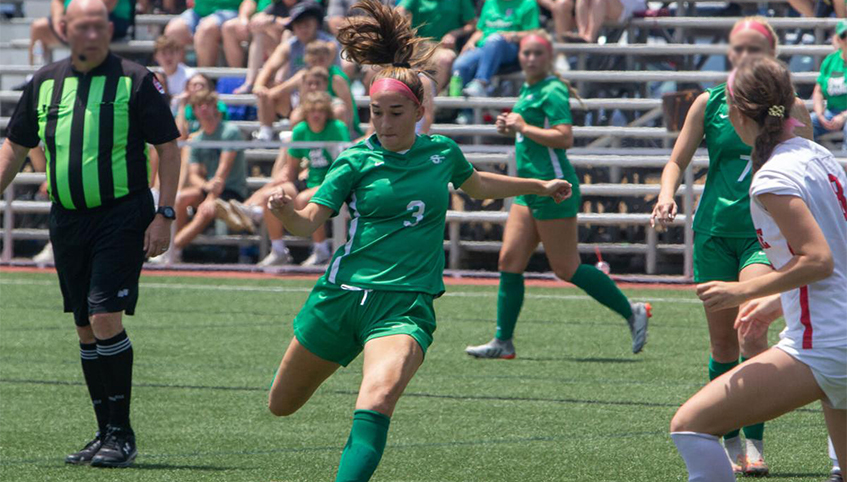 For Krisha, the positive experience was a 2-way street.
"Jessica was definitely one of the most hardworking athletes that I have come across," Krisha says. "There were never any complaints. And she always wanted to do more. You don't always see that in a 16-year-old athlete who's had a very traumatic injury.
"Jessica is definitely one I will never forget due to her hard work and perseverance of her love for soccer and doing whatever she can to get back on the field."
The team approach in treating Jessica, according to Dr. Vopat, was essential. It included his revision of Jessica's surgery and physical therapy and training at the health system's sports performance location. "Without working together, it would have been difficult for us to get her back to her previous level of activities," he says. "That is one of the great benefits of our system. Patients get great care that's elevated even more with our team approach and using all our resources."
A new journey awaits
Looking back, Lori wishes she would have taken Jessica to the health system sooner, but she's appreciative that she ultimately found the right care for Jessica.
"You don't know what you don't know, but my gut said it was time to move on," Lori remembers before finding the health system. "As soon as we walked into that facility (at the health system), something told me we were in the right place.
"I would highly recommend them, 100%."
Now, instead of looking back, both Lori and Jessica can look forward to the journey ahead. One year after that Green & White Scrimmage, Jessica is now a senior at Smithville and still going strong on the soccer field. She hasn't had any issues with her knee since.
Once Jessica finishes up her senior season, she'll start playing soccer at William Jewell College in the fall.