Skip Navigation
No matter your age, background or sport, you can become a better athlete and improve your fitness at our sports performance center.
Our leading-edge facility has the best equipment to help you excel, and our sports performance experts have specialized training and vast athletic experience to guide you along the way. We have offerings for youth athletes as young as 8, middle school and high school students, and adults.
If you aren't an athlete, there are also programs at the Sports Medicine and Performance Center for you. Check out our fitness or clinical exercise offerings to determine the best fit.
About sports performance
Sports performance includes improving posture, strength, endurance, emotional responses and sport-specific outcomes. You can work out with a class, a small group or 1-on-1 with a sports performance expert.
Sports performance offerings
This class is for athletes ages 8-12. Class is 60 minutes. The focus of this class is to introduce the fundamentals of athletic development. Athletes will learn techniques of sprinting (proper posture, foot strike and arm swings), linear acceleration, deceleration and change of direction/agility. They will also be exposed to multiple variations of movement patterns, such as jumping, throwing and crawling, which enhance total body strength, power and proprioception (body position awareness).

This class is for female middle school and high school athletes. Class is 90 minutes. This class harnesses the strength of female athletes while addressing the differences in anatomy, biomechanics, physiology and emotional responses they face. Focus will be on becoming a better athlete, speed and agility training utilizing on-field resistance, total-body strength and jumping and landing strategies.

Sports dietitians focus on nutrition care that is specific to the athlete and their activity requirements. They work to assess, educate and counsel athletes, as well as design, implement and manage safe and effective nutrition strategies that enhance lifelong health, fitness and optimal performance. Our sports dietitian is a board-certified specialist in sports dietetics (CSSD), which is the highest standard of professional credentialing within the field of sports nutrition.

This class is for experienced middle school and high school athletes. Class is 90 minutes. In this class, athletes are coached through various sprinting and change of direction drills utilizing on-field resistance. In addition, athletes are coached through a total body athletic performance program specifically tailored to their sport and individual position. This class will incorporate barbell lifts, velocity-based training, jump training and accessory work to create a balanced training program. Our primary focus is to improve an athlete's mind-body awareness, reduce injury risk and maximize performance.

Sports performance personal training includes a consultation with a coach to discuss specific goals and training needs. The coach will design an individualized training program and provide 1-on-1 instruction during the entire workout. 60 or 90 minutes.

Athletes will work with a training partner to motivate each other and achieve their performance goals. All participants will have their own assessment and training program. 60 minutes.
Sports Performance and Fitness Holiday Sale
Achieve your goals by taking advantage of our year-end sale. New clients can save 20% on classes, personal training, assessments and more. Sign up by December 31.
Get the details.
All our sports performance specialists are nationally certified and provide training based in corrective exercise. They are athletes themselves, bringing an additional layer of understanding and expertise.
Our training is held at the Sports Medicine and Performance Center in Overland Park. This is a multidisciplinary building. You'll have easy access to other services, like nutrition and physical therapy if you need them.
The center also has state-of-the-art equipment. For example, we don't look at how much weight you can lift. We have EliteForm® velocity-based training to examine your speed and velocity while lifting. We also have a movement screening system and VO2 max screening.
Most important, we have top-notch safety. We want to see you improve your speed, strength and agility, but we will always make sure you do that in a way that prioritizes your health and minimizes any chance of injury.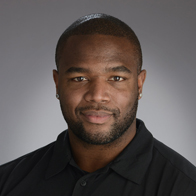 Roger Allen III, CSCS
Strength and athletic development supervisor
Roger is a certified strength and conditioning specialist. He was a 2-time All-American as an offensive lineman in college and played for 5 years in the NFL. He also has been a performance coach at Baylor and strength and conditioning coach at the University of Kansas. He is excited to help athletes discover their potential and reach levels of performance they never knew were possible.

Krisha Crane, MHA, LAT/ATC
Medical performance clinical coordinator
Krisha has a master's degree in healthcare administration and a bachelor's degree in athletic training. She specializes in care, rehabilitation and management of sports injuries. She is part of a team that designs and implements injury prevention programs to decrease risk of injury and improve sport performance. Krisha is devoted to providing athletes of all backgrounds the utmost care.

Kelsey Ngeh
Corrective exercise and fitness supervisor
Kelsey has a bachelor's degree in exercise science and kinesiology. She has worked in the fitness industry for 20 years. She is passionate about helping clients of all ages and fitness levels improve core strength and balance and reduce chronic pain. She specializes in biomechanical movement patterns, which allow people to move better, decrease pain from aging and injury and improve exercise results.

Ryan Sloop, MS, LAT, ATC, CSCS
Program and facility coordinator
Ryan has a master's degree in advanced athletic training. He is a certified athletic trainer and certified strength and conditioning specialist. He works with athletes of all ages and backgrounds. He also leads the golf fitness and injury prevention program. He is Titleist Performance Institute (TPI) level-2 fitness and level-2 power certified, and level-1 K-vest certified.
Sports performance location
1. Sports Medicine and Performance Center

8302 W. 125th St.
Overland Park, KS 66213

Mon

8 a.m. - 5 p.m.

Tues

8 a.m. - 5 p.m.

Wed

8 a.m. - 5 p.m.

Thur

8 a.m. - 5 p.m.

Fri

8 a.m. - 5 p.m.

Sat

Closed -

Sun

Closed -
Related links