Skip Navigation
While aortic dissection is rare – the incidence of aortic dissection is reported to be 5 to 30 cases per 1 million people each year, it is a serious condition that can be deadly if the blood in the artery goes through the outside aortic wall. The multidisciplinary team at the Center for Advanced Vascular Care at The University of Kansas Health System has the experience and knowledge you need to treat an aortic dissection.
Ours is the only vascular program in the Kansas City area and the region offering comprehensive, complex care for vascular conditions, including aortic dissection, with multiple specialties located in a single physical location.
What is aortic dissection?
The wall of the aorta – the largest artery in your body and the one that carries your blood from the heart to the rest of the body – has 3 layers. A dissection occurs when the inner layer of the aorta tears, allowing blood to flow between the layers of the arterial wall. Because blood flow is split between the artery and the dissection area, normal blood flow to parts of your body may be reduced or stopped. In some cases, the aorta may rupture completely.
There are 2 types of aortic dissection, type A and type B. Type A dissections happen in the ascending aorta or arch of the aorta. Type B dissections are less common and occur in the descending aorta, or the part of the aorta beyond the artery that provides blood to the left arm.
Aortic dissection symptoms and risks
Symptoms of aortic dissection can vary based on the location of the dissection along the aorta.
If you experience a type A dissection, you may:
Have intense tearing chest pain that may radiate into the neck or to the back
Have stroke-like symptoms
Pass out
If you have any of the above symptoms, it is a medical emergency requiring surgery and you should get to an emergency room right away.
If you experience a type B dissection, you may:
Have intense tearing chest pain that radiates to the back
Have pain in the abdomen, pelvis or lower extremities, including your legs and feet
The pain in the lower part of your body may be an indicator of poor blood flow downstream from the dissection. If you have any of these symptoms, you should get to an emergency room right away. Type B dissection may be able to be managed medically or may require surgery.
Your risk for aortic dissection may include both genetic and lifestyle factors. Risk factors include:
Atherosclerosis (hardening of the arteries)
Sex – men are more likely than women to have aortic dissection
Use of illicit drugs such as cocaine and methamphetamines
Trauma
Genetic conditions:

Marfan syndrome
Ehlers-Danlos syndrome
Loeys-Dietz syndrome
Turner syndrome
Some risk factors, such as family history and exposure to trauma cannot be controlled. But if you control those factors that are modifiable, such as blood pressure and cholesterol levels, as well as avoiding tobacco and drug use, you can decrease your risk of developing an aortic dissection.
Aortic dissection diagnosis and screening
A diagnosis of aortic dissection is often based on a person's medical history and symptoms. Imaging studies and laboratory tests may also be used to confirm the diagnosis. Imaging tests that may be used include:
Computed tomography (CT) with angiography – an injection of dye that produces a clear picture of your aorta and other arteries – of the chest, abdomen and pelvis
Laboratory tests that might be requested include:
Blood test to measure your troponin levels and complete blood count
EKG
The first care team to treat and confirm a diagnosis of aortic dissection is often the emergency room team. If tests confirm an aortic dissection, the emergency care team will bring in the appropriate specialists for patient care. This team may include cardiothoracic surgeons, vascular surgeons, cardiologists, intensive care physicians and others who will then take over care.
Aortic dissection treatment
Treatment of aortic dissection is dependent on the location of the dissection. In most cases, a type A dissection will require surgery. Type B dissections may be managed with medication for the short term, but likely will initially require a stay in the intensive care unit. If blood pressure or pain can't be controlled or if there are signs of decreased blood flow downstream from the dissection, a type B dissection will also require surgery.
Regardless of the type of dissection you have, if you receive a diagnosis of aortic dissection, you will be admitted to the hospital and closely monitored in an intensive care unit. This is to ensure no other complications occur.
Why choose us for aortic dissection treatment
The vascular team at The University of Kansas Health System includes experts from multiple specialties who work together to provide you with comprehensive care in a single location. Our physicians are leaders in their fields and have access to the most current treatment options.
Because we are an academic medical center, you benefit from the latest treatments and technology. Your care team will develop a customized care plan that includes a comprehensive range of the latest procedures and diagnostic tests. Our specialized vascular facilities include:
A dedicated vascular ultrasound laboratory
Advanced MRI and CT angiography technology
Hybrid surgical suites
Our highly experienced physicians and surgeons work together to provide the best vascular care possible. In addition to our vascular team, we have specialists in more than 200 fields. Their expertise may prove valuable in your diagnosis and recommended treatment.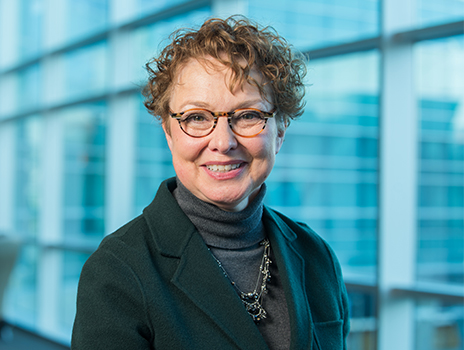 Surviving Aortic Dissection
When a casual meal turned into a medical emergency, cardiac specialists at The University of Kansas Health System quickly stepped in.
Read her story