Skip Navigation
Pre-arteriogram instructions
To help diagnose or provide treatment, two main types of arteriograms are performed by a vascular surgeon or the hospital radiologist.
Arch and carotid arteriogram: This is an arterial dye test to look at the aortic arch, the subclavian, carotid and vertebral arteries of the upper chest and neck. This test may be ordered when a carotid doppler is insufficient to determine whether a surgical procedure is needed to treat the blockages (atherosclerosis) in these arteries.
Aortogram with run-offs: This is an arterial dye test to view the aorta in the abdomen. This may include views of the kidney (renal) arteries, intestinal arteries (celiac and superior mesenteric) and leg arteries (iliac, Femoral, popliteal and tibial arteries). It is ordered to "map" more precisely the location of the blockages (atherosclerosis) or aneurysms in these arteries. This information is used when surgery or angioplasty is being considered to relieve associated symptoms.
While arteriography is a relatively safe procedure, there are risks involved. These can include bleeding or bruising at the catheter insertion site (usually the groin), arterial injury, allergic reaction to the contrast dye and kidney problems related to the dye. If you have a seafood or iodine allergy, you will be required to take a steroid, such as prednisone, to prepare for the test.
To prepare for this test, you will be asked not to eat or drink anything after midnight the night before the procedure. You will be able to take your normal morning medications with a sip of water. If you take insulin, it is recommended that you follow the instructions of the radiology team. If you take Coumadin®, you will be given specific instructions about when to take it before the test. If you take Glucophage (a blood sugar lowering medication), you will need to stop it the day of your arteriogram. You will be allowed to resume taking it 2 days after your test is completed.
Most of the time, you will go home the same day as your procedure. Because the arteriogram requires an arterial puncture for the injection of dye, you will have approximately 6 hours of bedrest at the hospital prior to discharge. You will need to arrange to have a family member or friend drive you home. If your physician does not see you in the hospital on the day of your procedure, you will be discharged and contacted as soon as your films are reviewed to discuss the results.
If you have any additional questions or concerns, please contact our office between 8 a.m.-4:30 p.m., Monday through Friday. After hours, we can be reached for emergencies through our answering service at our office number, 913-262-9201.
What to expect following an arteriogram
The instructions you will receive regarding your arteriogram will come primarily from the hospital radiology team. Since it is the radiologist who performs this test, you will need to follow the instructions given to you at the time of the procedure. The following list includes some of the instructions you may receive from the hospital following your procedure.
Have someone to drive you home and rest quietly for the remainder of the day. You will have been given medication to keep you comfortable throughout the day, and therefore, NO driving. You may resume normal activities the day after your procedure.
You will be able to resume your normal diet following the procedure, and you should drink 6-8 extra glasses of non-alcoholic fluids that day. This helps to clear the contrast material through your kidneys.
If you receive hemo or peritoneal dialysis, you do not need to drink extra fluids and will be given specific instructions regarding the procedure and dialysis.
If you develop bleeding at the catheter insertion site, lie flat and apply direct pressure to the site for a minimum of 15 minutes. Placing an ice pack on the site while you are holding pressure may also be helpful. If bleeding persists, continue holding pressure and call 911 so an ambulance can take you to the nearest emergency room.
You should not experience severe pain or redness at the catheter insertion site. You may, however, develop some bruising and a small (quarter to half dollar size) lump at the puncture site. This should resolve in 7-10 days. Severe pain associated with a growing lump or loss of circulation to the foot should be treated as an emergency, and you should go to the nearest emergency room.
Do not smoke, especially for 24 hours after the procedure. Smoking increases your risk of complications.
If you did not see Dr. Beezley, Dr. Arnspiger, Dr. Hance, Dr. Connelly, Dr. Cho or Dr. Thors at the hospital following your procedure, you will be contacted at home to either discuss the results, or to set up an appointment to discuss the results. If you have not been contacted, please call the office at 913-262-9201 between 8 a.m.- 4:30 p.m. so this may be arranged.
If you have any problems or questions after you arrive home, please contact our office. After hours, we can be reached for emergencies through the answering service at our regular office number, 913-262-9201.
Carotid Endarterectomy Recovery
What to expect when you leave the hospital
Most of the time you will be discharged from the hospital on the day after your surgery. It is not uncommon to have some redness and swelling in the area where you had your surgery. There is also some degree of discomfort that can be controlled with pain medication like Lortab or Vicodin (which has Tylenol in it), plain Tylenol, Ibuprofen or Naprosyn.
You should call the doctor immediately
If your neck becomes so swollen that it is difficult to breathe
If the swelling increases suddenly (over a few minutes)
If you have any symptoms of arm or leg weakness, numbness, tingling or paralysis on the opposite side from surgery
If you develop a headache associated with an elevated blood pressure of greater than 150/90
If your blood pressure is elevated greater than 160/90 after you have taken your normal blood pressure medicines, even if you do not have a headache.
You should also notify the doctor if you experience any signs or symptoms of infection, including:
Redness that gets worse rather than better
Pus-like drainage from the wound
Fever greater than 100°
Your surgical site will probably have steri-strips that will fall off on their own in about a week. If you have staples, they should be removed in the office by the nurse within 3-5 days. Once the incision line has healed completely, using a vitamin E ointment or a moisturizing cream may help reduce scarring. You should have a follow up appointment with the doctor following surgery, and you may need to call the office to arrange an appointment time.
You may notice some numbness along your jaw line, or even some strange sensations with swallowing after surgery. This is not uncommon and often will resolve within a few weeks after surgery. Sometimes the numbness can last for months, and in some cases, will not go away. This is due to the unavoidable disruption of the nerves along the carotid arteries.
Your activity restrictions are minimal. You may shower 48 hours after surgery, and pat the incision line dry. You should use a band-aid over the drain hole until it has completely healed. If you drive, you may resume driving yourself one week following surgery. Avoid turning your head abruptly or severely prior to this time.
You should also avoid lifting more than 10 pounds. After one week, you may gently begin to return to your normal range of motion. You should expect to take one enteric-coated aspirin (EC aspirin) every day from now on unless specifically instructed to do otherwise. Taking one aspirin a day will not only help the artery heal, it will also help the artery stay open and reduce the chances that you will need additional vascular surgery in the future.
Appearance within normal limits after carotid endarterectomy surgery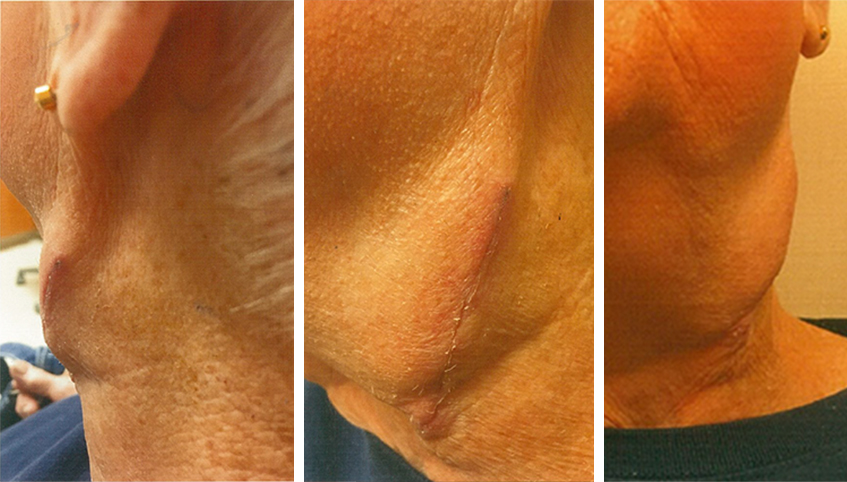 Related links