Skip Navigation
Cystic fibrosis is a chronic disease that affects the respiratory and digestive tract. A genetic disease typically diagnosed in childhood, the focus for cystic fibrosis treatment is to manage symptoms in a way that ensures an optimum outcome.
Living with the symptoms of cystic fibrosis as an adult requires a knowledgeable multidisciplinary care team. At The University of Kansas Health System, our cystic fibrosis program has been recognized as a Center of Excellence by the Cystic Fibrosis Foundation in recognition of our skilled doctors and commitment to outstanding care.
What is cystic fibrosis?
Cystic fibrosis is a lifelong condition that requires ongoing treatment and support. The symptoms of cystic fibrosis affect the respiratory tract, digestive tract and even reproductive function. You can only get cystic fibrosis if you carry certain genes from your parents.
Most people are diagnosed with cystic fibrosis in infancy or early childhood. In some cases, symptoms may not be identified as cystic fibrosis until adolescence or adulthood. Because there is currently no cure for cystic fibrosis, adults living with cystic fibrosis focus on effectively managing their symptoms to enjoy a higher quality of life.
Cystic fibrosis symptoms and risks
Often, cystic fibrosis is diagnosed through a screening in infancy before any symptoms are apparent. When symptoms do appear, they can be many and varied:
Chronic cough that often includes coughing thick mucus
Greasy stools from undigested fat
Inability to gain weight
Increased salt content in sweat
Intestinal pain, cramping, gas or constipation
Persistent sinus issues
Recurrent respiratory tract infections
Wheezing or other breathing problems
Over time symptoms can improve, worsen or change. For adults with cystic fibrosis whose condition went undiagnosed in childhood, symptoms may be milder.
The primary risk factor of developing cystic fibrosis is having 2 parents who each carry the gene that causes the disease. Only those who inherit the gene from both parents will develop cystic fibrosis. People who inherit the gene from only one parent become carriers of the disease but will not show symptoms themselves.
Cystic fibrosis diagnosis and screening
Today, newborn babies receive cystic fibrosis screening within their first 2 weeks of life. For people who were born before newborn screenings were implemented, other tests may be needed to confirm a cystic fibrosis diagnosis:
DNA test to confirm a cystic fibrosis diagnosis
Sweat test to measure the amount of salt present in the sweat
Tests to evaluate stools for fat absorption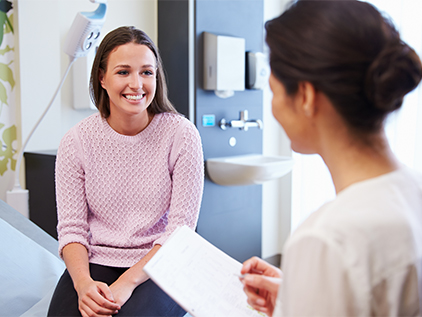 A breakthrough treatment for cystic fibrosis
Trikafta™ is a new therapy for people with cystic fibrosis.
Learn more about Trikafta
Cystic fibrosis treatment
Living well with cystic fibrosis requires an individualized treatment plan that's customized to each person's needs. Your treatment plan will include the support of many different healthcare professionals:
The mission of the adult cystic fibrosis team at The University of Kansas Health System is to grow old with our adult patients by providing outstanding care, educating others regarding cystic fibrosis management and looking for treatments of tomorrow by participating in clinical trials today.
Why choose us for cystic fibrosis treatment
The University of Kansas Health System is a nationally accredited cystic fibrosis care center that cares for both adult and pediatric cystic fibrosis patients. The adult cystic fibrosis clinic was founded in 1993 and was accredited by the Cystic Fibrosis Foundation in 1996.
We have built a cystic fibrosis treatment program of excellence that is focused on patient care. We have grown to become one of the largest cystic fibrosis adult treatment centers in the Midwest region. As the only adult center in the Kansas City metropolitan area, we serve an extensive patient population in western Missouri and eastern Kansas.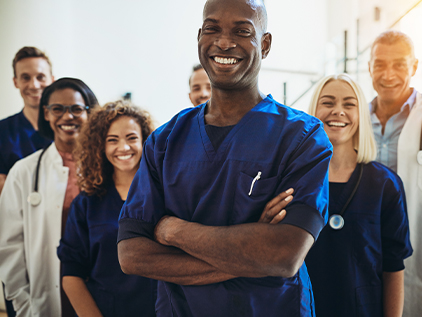 Find a doctor
Doctors at The University of Kansas Health System are care providers and researchers at the forefront of new medical discoveries. From primary care to complex conditions, we offer hundreds of specialists.
Find a doctor