Skip Navigation
Retina and Vitreous Diseases
Retina and Vitreous Diseases
The retina is the nerve tissue in the back of the eye where the pictures we see are captured. It's like the film in a camera. The vitreous is the gel-like substance that fills the eyeball. It contains millions of fine fibers that attach to the retina. The health of the retina and vitreous is vital to our vision.
Conditions that affect the retina are more common in people age 50 and older. Many of these conditions can cause vision loss and blindness.
Symptoms of retina disease
If you have any of the following signs of retina disease, you should see a specialized retina doctor.
New floaters or flashes of light
Dark shadows in the vision
A curtain covering part of the vision
New blurriness or distorted vision
Conditions affecting the retina and vitreous
Treatment for retina diseases
Our retina specialists use the latest diagnostic and surgical technology to offer a variety of leading-edge treatments.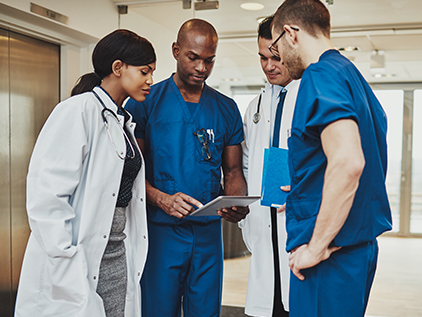 Leading research and clinical trials
We collaborate closely with the University of Kansas Medical Center to realize the power of academic medicine. Here at the health system, we deliver advanced patient care. The researchers at the medical center conduct industry-leading clinical trials and explore leading-edge innovation.
Our Research
Ask your physician, optometrist or ophthalmologist to refer you for a consultation or service at our health system eye center, conveniently located in Prairie Village, Kansas.
Our board-certified specialists
Ajlan, Radwan MD

Ophthalmology

Locations:

Eye Center
7400 State Line Road
Prairie Village, KS 66208

Champion, Mary MD

Ophthalmology

Locations:

Eye Center
7400 State Line Road
Prairie Village, KS 66208