Skip Navigation
Sleep apnea is a general term for breathing problems that occur during sleep. People with sleep apnea stop breathing throughout the night sometimes up to 100 times per hour. Sleep apnea affects approximately 20 million adults and can have serious negative health effects when present with other conditions.
The University of Kansas Health System's Sleep Disorders Center offers a full range of diagnostic and treatment options for sleep disorders, including sleep apnea. Our highly trained, multidisciplinary sleep specialist care team combines experience with leading-edge technology to offer solutions that can help you enjoy a restful night's sleep.
What is sleep apnea?
Sleep apnea is a disorder that occurs when normal breathing is repeatedly interrupted while sleeping. Every time breathing is interrupted, the sleeper partially wakes so they can continue breathing. This causes poor quality sleep that, if left untreated, can have a serious and long-term impact on the sleeper's overall health and well-being.
Although sleep apnea is quite common, it's widely misunderstood due to lack of awareness. As a result, many people suffering from sleep apnea go undiagnosed and untreated.
Types of sleep apnea
There are 3 main types of sleep apnea:
Sleep apnea symptoms and risks
Many people are not even aware that they have sleep apnea. Often, a bed partner is the first to witness their symptoms. Common signs of sleep apnea include:
Depression or irritability
Difficulty concentrating
Excessive daytime sleepiness
Frequent awakenings
High blood pressure
Loud, disruptive snoring
Morning headaches
Restless sleep
Sleep apnea can also contribute to other serious health conditions, including high blood pressure, heart disease and weight gain.
Sleep apnea diagnosis and screening
To diagnose sleep apnea, your doctor will start by asking questions about your symptoms and medical history. An overnight sleep study can monitor your breathing patterns and other sleep disorder symptoms.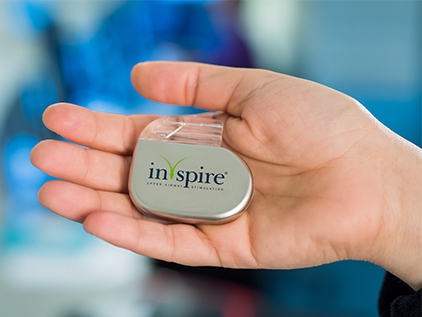 Improve sleep with Inspire
Inspire is a more convenient and less obtrusive alternative to CPAP machines. It is the only FDA-approved obstructive sleep apnea treatment that works inside your body. With the click of a button, you can treat the root cause of sleep apnea.
About inspire
Sleep apnea treatment
Treating sleep apnea is important for your sleep quality and overall health. If you suffer from high blood pressure, diabetes, heart trouble or are overweight, treating your sleep apnea may improve these conditions while helping you feel better.
Continuous positive airway pressure therapy (CPAP) is a common treatment for sleep apnea. A bedside device gently delivers pressurized air through a nasal mask. This pressure helps keep the upper airway open and helps prevent apnea events. CPAP treatment does not involve drugs or surgery and helps hundreds of thousands of people worldwide enjoy healthier sleep and a healthier life. Many people experience the benefits quickly, often after the first night of use.
A more convenient and less obtrusive alternative to cumbersome CPAP machines is Inspire. Inspire is a revolutionary device that is implanted within the body. When turned on at night – controlled by a handheld remote – the device monitors breathing and stimulates the tongue to maintain a clear airway.
Additional sleep apnea treatments include lifestyle changes, certain medications to treat the underlying cause of sleep apnea and sleep apnea surgery. Your doctor will recommend the best therapy for you based on the type of sleep apnea you have, as well as other factors.

Still the best
Our hospital continues to rank as the best in Kansas City and in Kansas according to U.S. News & World Report.

Magnet-recognized
The University of Kansas Hospital has been designated a Magnet® facility by the American Nurses Credentialing Center since 2006.

Respect for all people
Named a leader in LGBTQ+ Healthcare Equality by the Human Rights Campaign.