Skip Navigation
Our physicians offer comprehensive diagnosis and treatment for patients with cancer, severe burns, head and spinal cord injuries, end-stage liver disease and other general medical conditions.
Since 1905, The University of Kansas Health System in Kansas City, Kansas, has provided leading-edge general psychiatry services for the state of Kansas and beyond.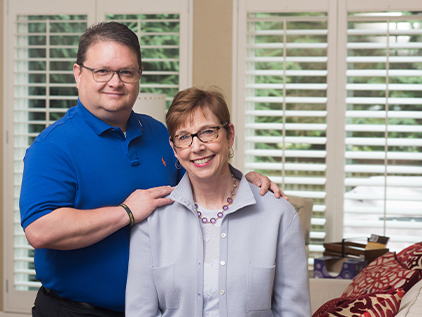 Tom Shaw: Managing pain after spine surgery
After suffering a serious spine injury at age 16, Tom Shaw took prescription painkillers for more than 3 decades. Thanks to expert pain management care, today Tom lives opioid-free and is a changed man.
Read Tom's story
Diagnosis and treatment
We offer comprehensive diagnosis and treatment of psychiatric and psychological disorders including:
Addiction disorders
Anxiety disorders

Generalized anxiety disorder
Panic disorder
Obsessive-compulsive disorder
Phobias

Attention deficit disorder
Depression

Evidence-based care and the region's most comprehensive inpatient and outpatient treatments including:

Board-certified psychiatric evaluations and management of complex patients
Transcranial magnetic stimulation, a noninvasive procedure used to treat depression. It uses magnetic fields to stimulate nerve cells in the brain.
Vagus nerve stimulation for the treatment of epilepsy and depression.
Esketamine spray to treat depression that has not responded to other treatment.
Electroconvulsive therapy
Comprehensive care for patients struggling with depression
Access to clinical trials

Eating disorders

Anorexia
Binge-eating disorder
Bulimia

Mood disorders
Personality disorders
Thought disorders

Delusional disorder
Psychotic bipolar disorder
Schizophrenia

Trauma adjustment disorders

Posttraumatic stress disorder