Skip Navigation
Cardiac Monitoring Systems
Cardiac Monitoring Systems
Monitoring your heart helps capture important information your doctor needs to determine the state of your heart health. Sometimes, monitoring devices are used to diagnose a heart condition. Other times, they are used to help manage a heart problem.
The types of heart monitoring systems used at The University of Kansas Health System in Kansas City represent the latest in the industry. We offer a variety of diagnostic and remote cardiac monitoring devices for both short-term and long-term care. We provide cardiac monitoring systems for people with all types of heart conditions.

Innovations in cardiac monitoring systems
Heart monitoring devices are more compact, sophisticated and insightful than ever before. In the past, patients were responsible for recording symptoms of their heart condition on pen and paper, taking their blood pressure several times a day and relaying this information to their doctor. Now, heart monitoring devices do all the work. Important data can all be monitored, recorded and submitted to your doctor instantly. This eliminates the need for repeated visits to your doctor's office and allows your care team to manage your heart health from a distance.
Cardiac monitoring systems can vary depending on whether the device is temporary or permanent and what type of information needs to be captured. If your doctor suspects a health condition related to your heart, or wants to ensure your heart works properly after a surgery or new cardiac diagnosis, they may recommend a monitoring system.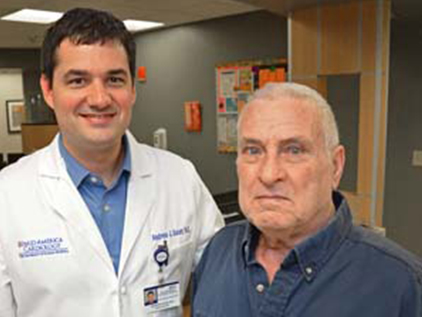 Managing heart care from home
Thanks to the CardioMEMS™ system, Charlie Chatman can now avoid making several 6-hour trips to The University of Kansas Health System. Find out how cardiologists are able to monitor his heart failure symptoms remotely.
Read Charlie's story
Temporary monitoring
Our cardiologists were among the first in the nation to offer Reveal LINQ – a tiny device that wirelessly monitors the heart for up to 3 years. Reveal LINQ is smaller than a triple-A battery. It's inserted beneath the skin in about 30 seconds in a doctor's office, rather than an operating room.

Reveal LINQ can help your doctor answer unexplained fainting or other potential heart-related problems without interrupting your lifestyle. You're also given a small device to hold up to your chest if you feel dizzy, lightheaded or faint. This triggers an alert to your doctor's office and begins transmitting real-time information for quick analysis and possible treatment.

To detect an abnormal heart rhythm, your doctor may recommend the BioMonitor 2. BioMonitor 2 can accurately detect and diagnose atrial fibrillation, ventricular tachycardia and fibrillation, and syncope. It is MRI-compatible, so you have access to important imaging technology when needed. Much like Reveal LINQ, this technology can be easily placed under the skin in a simple, minimally invasive procedure.

This small, discrete, wireless patch helps detect irregular heart rhythms. It can be worn during day-to-day activities, including sleeping, showering and exercising without discomfort. Zio contains no wires and can be easily hidden under clothing. It is placed directly on your chest without the need for incisions.
Remote monitoring
If you have heart failure, CardioMEMS can help your care team monitor your heart failure symptoms while you're at home. The implantable wireless sensor measures pulmonary artery pressure and monitors your heart rate. This information is then transmitted to your heart care team so that they can adjust your medications accordingly – helping you avoid unnecessary visits.

The St. Jude Medical Merlin@home system is a remote monitoring option for people with implantable cardiac devices. This wireless transmitter is part of Merlin™ Patient Management – a combination of systems that provides your physician with important information to support informed decisions about your care. Merlin@home monitors your heart function and device performance regularly and submits reports to your care team.

If you have an implantable cardiac device, such as a pacemaker or defibrillator, LATITUDE can help monitor your device and communicate with your care team between visits. LATITUDE reads data from your implantable device at scheduled times, and then wirelessly sends that information to your care team. All you have to do is push a button.

BIOTRONIK provides continuous monitoring around the clock for people with cardiac monitors, pacemakers, implantable defibrillators (ICDs) or cardiac resynchronization therapy (CRT) devices. BIOTRONIK records your heart rhythm and function, as well as your device function, and can alert your care team to changes in your health or device status. This is the world's first cell phone-based remote monitoring system that allows for automatic, reliable follow-up care for you and your implanted device.
Why choose us
Our cardiologists are often the first in the region to adopt new cardiac monitoring technology that improves patient care and comfort.
Patient satisfaction consistently ranks in the 99th percentile for our cardiology and heart surgery programs.
Our physicians were among the first in the nation to offer Reveal LINQ.
Although we take care of sicker patients, our mortality rate is better than the national standard.
What to expect
Your cardiologist and heart care team will determine if a cardiac monitoring system is right for you. Depending on which method of monitoring is recommended, you may have a minor outpatient procedure to implant the device. Your care team will discuss the benefits and risks of your procedure.
Once in place, your monitor will begin recording personal information about your heart health. You will receive written and oral instructions on how to use your new device. Your doctor or nurse may recommend a trial run or test to ensure your monitor functions properly.
Your care team will monitor your heart function remotely, while you are at home. If anything unusual or alarming is detected, you will be contacted. You will continue scheduled visits to see your care team on a regular basis.
Related links