Skip Navigation
Critically ill and premature infants need highly specialized care. Our family-centered team of obstetricians, perinatologists, pediatric surgeons, nurses, therapists, social workers and administrative and support staff work with your physician to provide an unbroken chain of care for you and your infant.
Our neonatologists are on-call 24 hours a day, 7 days a week. We are always available to assist physicians in the greater Kansas City area or across the state of Kansas, whether they request a simple consultation or immediate help from our neonatal transport service.
Care can begin before birth and continue in our Level 3 neonatal intensive care unit, or NICU, and on to our Neonatal Medical Home. Throughout, we welcome family and friends, balancing the needs of quality medical care and the psychological well-being of the infant, parents and siblings.
As an academic medical center, we're always discovering better ways to help children stay healthy and get well faster. Our physicians and staff are active in teaching, research and national trials. As a result, emerging treatments can often be offered to our patients before they are widely available.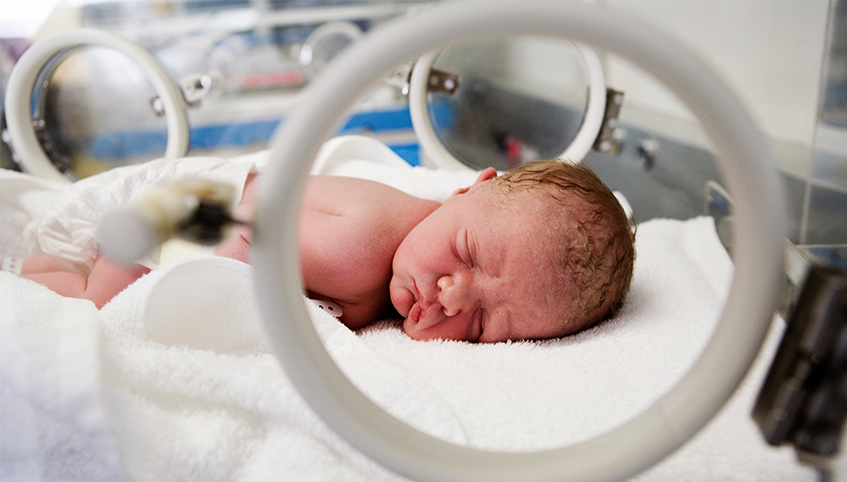 Specialized care each step of the way
For parents-to-be, having access to the best care means peace of mind. At The University of Kansas Health System, we work with you every step of the way to make sure mother and baby have the best start in their new journey together.
The care we provide is tailored to each pregnancy. Our physicians are some of the most experienced in the area, whether you need routine care or help managing a high-risk pregnancy. Our services are backed by leading-edge research and some of the most high-tech advances, both for moms and babies – a combination you'll only find at an academic medical center.
Neonatal Intensive Care Unit
We know that premature babies are born fighters. Our neonatal intensive care specialists can help you and your brave little champ from the first big battle and long into the future.
As a Level 3 nursery, our hospital is one of the few in greater Kansas City that provides comprehensive neonatal care in one location. Our highly experienced physicians and staff provide around-the-clock, multidisciplinary care for newborns. We consistently meet or exceed national standards on survival rates recently seen in premature and other at-risk infants.
Our staff helps mothers and fathers bond with their babies, and visits from family and friends are welcome. This helps balance the emotional well-being of the baby, parents and siblings with high-quality medical care.
Visiting the NICU can be an overwhelming experience. We encourage you to visit and fully participate in your baby's care. We are happy to answer any questions.
Our doctors
Our physicians are some of the most experienced in the area, whether you need routine care or help managing a high-risk pregnancy.
For families preparing for a new little one, this advanced level of care means peace of mind. Our care is paired with leading-edge research and some of the most high-tech advances. It's a combination you'll only find at an academic medical center.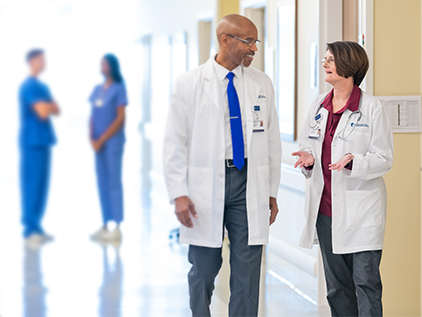 Neonatal Medical Home
Once your child has graduated from the NICU, follow-up appointments will be held in the Neonatal Medical Home. Here, board-certified neonatologists provide primary care to children, up to age 5, with medical complexities.
Our specially trained staff provides well-child visits, acute care, retinopathy exams, breastfeeding support and RSV prophylaxis. Physical, occupational and speech therapists, subspecialists, dieticians, nurses, pharmacists, case managers and social workers are available to provide care at the clinic.
Located on the hospital's first floor, the Neonatal Medical Home offers families the ease of a single point of contact for this highly specialized medical care. The clinic features five exam rooms specially designed for neonatal patients and their specialists.
Office hours are 8 a.m.-4:30 p.m. weekdays. To schedule an appointment or speak with a Neonatal Medical Home team member, call 913-588-6337.
Family-centered care
We encourage moms-to-be to include family members as part of their maternity journey. Dads or other support persons can actively take part in the educational process, labor, birth, postpartum and newborn care. Our state-of-the-art labor and delivery suites give family members and visitors a comfortable place to visit their new little ones. It's the first place you'll stay with your baby. We make sure your stay is comfortable and gives you as much one-on-one time with your little one as possible.
Care for moms
For moms with health challenges, the hospital serves as one location for all of your maternity and specialty care needs. An expert team of physicians is on hand to treat and monitor health problems during pregnancy and delivery – and to coordinate care along the way.
Care for babies
When babies need an extra level of care before birth, physicians and researchers with the Center for Advanced Fetal Care provide the latest fetal diagnosis and treatment. Newborns who need an extra level of care benefit from our Level III NICU. Here, premature babies and those with all types of serious medical conditions survive and thrive more often than those cared for at many other hospitals.
The care we provide grows with them into adulthood. The babies in our care can transition to our pediatric and adult care programs. No other health system in the region provides care throughout every stage of life.
We accept most major insurance plans, including Kansas Medicaid.
NICU location
1. The University of Kansas Hospital

Neonatal Intensive Care Unit
4000 Cambridge St., 5th Floor
Kansas City, KS 66160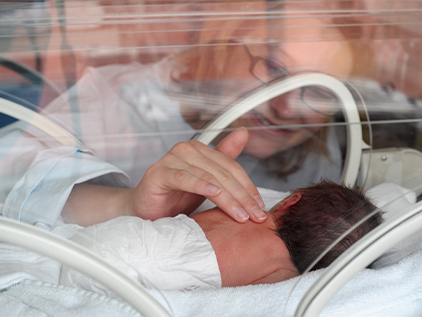 Donate to The University of Kansas Health System
When you donate to The University of Kansas Health System, you give more than money. You give hope to future patients and their families by helping us provide world-class care and the most medically-advanced treatments.
Support the NICU