Skip Navigation
Innovations
In keeping with our mission to lead the nation in caring, healing, teaching and discovering, our neurosciences team is consistently at the leading edge of new treatments and technologies that promote positive outcomes. Our neurologists and neurosurgeons explore and embrace the best tools and techniques to obtain accurate diagnoses and provide precise, personalized care.
These efforts ensure that you have access to the most advanced approaches to treating complex conditions of the brain, spine and nervous system.
Discover our innovations
From the region's first intraoperative MRI – which provides surgeons with images during surgeries to guide next steps – within the operating suite, to brain mapping that determines how surgical procedures will affect speech, movement and cognitive abilities, and so much more, the innovations we provide help patients do better. Some of our innovations include:
iMRI: The region's only intraoperative MRI adjacent to the operating room allows our neurosurgeons to capture scans during surgery.
Infinity™: Infinity is an iOS-compatible device that helps with Parkinson's disease and essential tremor.
Inspire®: Our specialists are among the few in the U.S. to offer the Inspire device for sleep apnea.
Rosa®: ROSA allows for more accuracy and shorter procedure time in placing depth electrodes in neurosurgeries.
Technologies
Sophisticated technologies complement clinical expertise to help our healthcare team deliver the best diagnoses and treatment plans. Advanced tools help us plan procedures with personalization and precision and assist in achieving the best possible outcomes.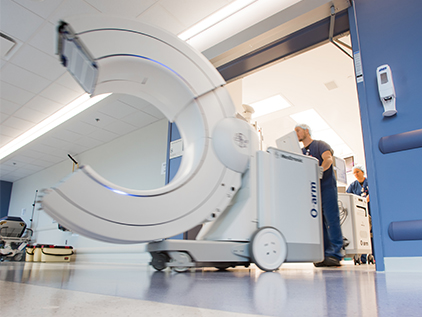 OmniTom®
The OmniTom mobile CT scanner is a major innovation for patient care and safety. It is the only CT scanner with wheels that move in all directions, including up and down, to allow providers to capture high-quality images without moving patients from the ICU. We are among few hospitals in the nation and the only one in the region to use this state-of-the-art technology.
Treatments
To deliver world-class care, we use the latest treatments. We strive to bring the newest and best techniques into our practices to give you the most advanced care.

Our neurosciences teams are increasingly using minimally invasive surgical options. These reduce risk by:

Decreasing the potential for infection
Speeding recovery time
Reducing scarring and functional concerns

One condition that can often be resolved through minimally invasive surgery is the removal of skull base brain tumors.

Brain mapping helps plan treatment for brain disorders. Our specialty-trained, board-certified neuropsychologists use brain mapping to examine cognitive and behavioral functions. This information is used to guide care teams in planning surgeries – epilepsy surgery or brain tumor removal – to control symptoms while preserving functions like speech and memory.

As the region's leading academic medical center, we participate in clinical trials often not available elsewhere. Our physicians, who also serve as researchers of the University of Kansas Medical Center, provide the latest treatments to patients who may have run out of options.

Explore the clinical trials

our teams participate in.
Deep brain stimulation
Deep brain stimulation (DBS) helps control symptoms and improve quality of life for patients with movement disorders. While movement disorder specialists have used DBS for many years, recent developments have made the treatment more precise and effective.
About DBS
The power of academic medicine
Our neurosciences specialists are devoted to providing the best available patient care while leading research to change the future of healthcare and educating the next generation of physicians. It is our challenge, but also our passion. This 3-pronged mission enables advancements that ensure our patients have access to the latest and best treatments and technologies.
Related links