Skip Navigation
Your doctor may recommend a colposcopy if your Pap smear result is abnormal. A colposcopy lets your doctor examine abnormal cervical cells more closely to decide the best way to proceed.
The University of Kansas Health System offers evidence-based care for abnormal Pap smear results. Our board-certified and fellowship-trained physicians provide leading-edge diagnosis and treatment for women with abnormal Pap smears.
What is a colposcopy?
A colposcopy allows your doctor to examine your vulva, vagina and cervix using a colposcope, a device that magnifies the doctor's view. This magnification lets your doctor better evaluate any irregular cells.
Your doctor may also perform the loop electrosurgical excision procedure (LEEP) during your colposcopy. After identifying suspicious tissue, your doctor can use the LEEP tool to remove the abnormal tissue.
LEEP can be used to detect cervical cancer and other conditions of the cervix or vagina, and may be used for diagnosis, treatment or both. Additional treatment options for abnormal cervical cells include referral for laser treatments or freezing of the abnormal tissue.
Who needs a colposcopy?
Doctors will perform a colposcopy for women who have had Pap smear results that indicate abnormal cervical cells. In some cases, your doctor may want to schedule a colposcopy to find out the causes of other vaginal health concerns, such as unusual bleeding.
What does a colposcopy diagnose?
A colposcopy can look for:
Cervical inflammation
Genital warts
Precancerous changes in the cervix, vagina or vulva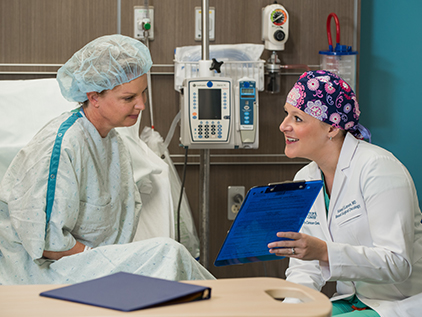 Cancer care you can count on
The University of Kansas Health System is part of The University of Kansas Cancer Center – 1 of fewer than 60 NCI-designated comprehensive cancer centers in the nation.
Our cancer care
What are the risks of colposcopy?
Getting a colposcopy is considered a safe procedure with few risks. Detecting cervical cancer early can be lifesaving. In rare cases, there may be complications after a colposcopy such as heavy bleeding, infection or pelvic pain. The potential for risks associated with colposcopy is reduced by the expertise of your physician.
Before your colposcopy
To prepare for your colposcopy, your doctor may ask you to stop any vaginal treatments that could affect the procedure. You will also need to refrain from tampon use and vaginal sex for 1-2 days before your colposcopy. Also, a colposcopy can't be performed during your period.
Some women take an over-the-counter pain medication before their colposcopy to limit discomfort from the procedure.
What to expect during your colposcopy
Getting a colposcopy feels similar to getting a Pap test or other pelvic exam, and takes place on a table with your feet in supports. The procedure generally takes 10-20 minutes. During your colposcopy, your doctor will first use a speculum to open your vagina, then positions the colposcope to check the affected area. The colposcope has a light as well as a magnifying lens.
In addition to a visual exam, your doctor may apply a vinegar solution that will help identify any suspicious tissue that should be biopsied, or removed for assessment. The tissue is delivered to a pathologist for analysis. Your care team will discuss the pathology results with you and recommend a care plan if necessary.
Recovery and results for colposcopy
After your colposcopy, you can expect some pain and spotting that lasts 1-2 days. You should continue to abstain from vaginal intercourse and tampon use or vaginal medication for as long as your doctor recommends.
Why choose us for colposcopy
Our nationally recognized physicians specialize in the leading-edge treatment of gynecological conditions for women who receive abnormal Pap smear results.

Still the best
Our hospital continues to rank as the best in Kansas City and in Kansas according to U.S. News & World Report.

Magnet-recognized
The University of Kansas Hospital has been designated a Magnet® facility by the American Nurses Credentialing Center since 2006.

Respect for all people
Named a leader in LGBTQ+ Healthcare Equality by the Human Rights Campaign.