Skip Navigation
Cornea cross-linking (sometimes called corneal collagen cross-linking) is a minimally invasive procedure designed for people who have keratoconus, an inherited eye disorder. People with this condition have a thin, weak cornea that takes an irregular cone shape rather than a normal dome shape. This results in a number of eye and vision problems, such as blurred vision, glares and halos at night and the streaking of light, among others. Keratoconus can develop in just 1 eye but usually spreads to both. Without early treatment, astigmatism and vision changes worsen over time. Eventually, a cornea transplant is needed.
Who should have cornea cross-linking?
Cornea cross-linking is most often recommended for people who have keratoconus. However, it can be useful in other conditions that result in thinning of the cornea. Additional candidates for this procedure include people who have:
Nearsightedness with irregular astigmatism, and who experience frequent lens prescription changes
A family history of keratoconus, pellucid marginal degeneration or atopy (allergy)
Had vision correction (surgical or laser) with instability of vision
Down syndrome with associated lip margin irritation and frequent eye rubbing
Benefits and risks of cornea cross-linking
When used early – before the shape of the cornea becomes too irregular or vision loss has become significant – cornea cross-linking can improve the shape of the cornea, prevent further corneal weakening and sometimes enhance vision. This procedure can also improve contact lens wear. Helping those with keratoconus avoid a cornea transplant is the biggest benefit of treatment.
The risks of cornea cross-linking are like that of any eye surgery and include eye pain, swelling and changes in vision. Infection and damage to the cornea are also possible, but rare.
To avoid complications and get the best results from your treatment, it's important to choose a surgeon you trust. Our board-certified ophthalmologist Kenneth Goins, MD, is highly experienced in cornea cross-linking surgery. His experience, skill and expertise ensure that you receive a safe, effective procedure.
Cornea cross-linking diagnosis
You will receive a thorough evaluation to determine if cornea cross-linking is right for you. Your doctor will ask you about your personal vision history – including any eye surgeries – and conduct an eye examination. Then, if necessary, a diagnostic test called corneal topography will be used to determine the thickness of your cornea. This will help confirm your diagnosis and identify the stage and severity of your condition, which typically falls into 1 of 3 categories:
Cornea cross-linking treatment
Cornea cross-linking eye surgery is a minimally invasive procedure that requires only topical anesthetic. During treatment, you will relax in a reclined position and riboflavin drops will be placed in your eye. After about 20 minutes, ultraviolet light is used to gently ablate the surface of the cornea. This will take around 30 minutes. Then, a bandage contact lens will be placed to protect the eye and help it heal. The entire procedure, from start to finish, lasts about 1 hour.
In patients with more advanced keratoconus, corneal cross-linking may be combined with other procedures for even better results. For example, your doctor may also implant small corneal inserts called Intacs®. Intacs can help reshape the front surface of the eye and stabilize the cornea in severe cases of keratoconus. Scleral contact lenses can also be an excellent option for improving eyesight in people with keratoconus. Your doctor will work with you to develop a customized treatment plan that best fits your condition.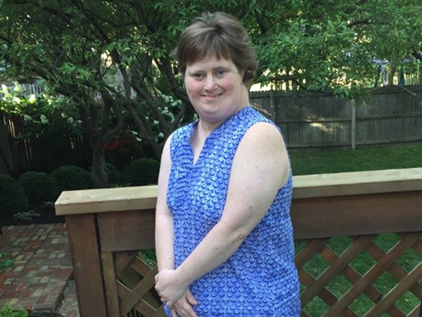 Scleral lens, cataract surgery help patient see again
Susan went from not seeing out of her right eye to 20/30 vision with the help of a scleral lens and cataract surgery.
Read her story
Cornea cross-linking recovery
After treatment, you will need someone to drive you home. You will receive special eye drops and antibiotic ointment to help prevent infection. For 3-7 days, you will need to avoid sun exposure and stay in a quiet, dark room. You will also receive an eye shield to wear at night to keep you from rubbing your eyes while sleeping. Pain medication will be prescribed to help you manage any discomfort.
About 1 week after your procedure, you'll return for a follow-up visit. During this visit, Dr. Goins will evaluate your healing and remove your bandage lenses. He will also let you know if it is safe to resume your normal activities, or if further recovery is needed.
Most people who have cornea cross-linking will enjoy their results for several years. Additional follow-up treatments may be needed to maintain corneal stability.
Why choose us
Advanced treatment
We offer the only corneal cross-linking platform that is FDA-approved for the treatment of progressive keratoconus in the U.S. This is the safest, most trusted system available and has been shown to offer rapid, dramatic improvement when used by a highly trained ophthalmologist.
Superior expertise
Dr. Kenneth Goins is a fellowship-trained, board-certified ophthalmologist who is a recognized expert in cornea cross-linking surgery. He was the first in the region to perform the procedure and is highly sought-after for his knowledge, skill and expertise.
Affordable financing
For those whose procedure is not covered by insurance, or for those without insurance, we offer CareCredit®. CareCredit allows you to pay for your procedure affordably, at your own pace.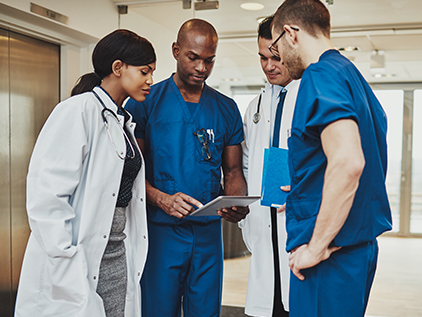 Leading research and clinical trials
As part of one of the nation's premier academic medical centers, our care providers are committed to research and scientific discovery through the University of Kansas Medical Center. We can often include our patients in potentially lifesaving clinical trials and treatment options not available anywhere else.
Our Research