Skip Navigation
Hyperbaric Oxygen Therapy
Hyperbaric Oxygen Therapy
Located in the Kansas City area, The University of Kansas Health System's state-of-the art, individual hyperbaric oxygen chambers provide effective treatment for a range of acute conditions and complex wounds, including carbon monoxide poisoning, wounds that won't heal and infections. Our health system offers the only hyperbaric care facility within 150 miles of the Kansas City metro area that provides 24/7 emergent care.
What is hyperbaric oxygen therapy?
Hyperbaric oxygen therapy (HBOT) is a medical treatment in which the patient breathes pure oxygen under pressure. The air we breathe normally is 21% oxygen at 14.7 pounds of pressure per square inch (psi). In the hyperbaric chamber, the pressure can be increased up to 3 times normal (about 44.1 psi), and the patient breathes 100% oxygen. The increase of oxygen through the blood system improves healing and helps control infection, especially in wounds that won't heal. HBOT is also a lifesaving treatment for patients such as scuba divers with decompression sickness, or the bends.
Your doctor must refer you to one of our physicians for evaluation to determine if HBOT is appropriate for your condition. You will receive personalized care from our dedicated, experienced team that includes HBOT physicians and specialty trained nurses and technicians.
What are the benefits of hyperbaric oxygen therapy?
Increases oxygen concentration in all body tissues.
Stimulates new blood vessel growth in locations with reduced circulation.
Helps treat infection by improving white blood cell action.
Who can have hyperbaric oxygen therapy?
This advanced therapy uses pressurized, pure oxygen to increase the amount of oxygen in the patient's blood stream and enhance healing of a number of acute conditions and complex wounds, including:
Acute exceptional blood loss anemia
Arterial gas embolism
Carbon monoxide poisoning
Compartment syndrome (increased pressure in a grouping of muscle, nerves and blood)
Crush injuries
Decompression sickness (also called divers' disease)
Diabetic wounds (lower extremity)
Gas gangrene
Hearing loss (occurring suddenly and without a known cause)
Necrotizing fasciitis or flesh-eating disease
Radiation injury
Skin and bone infections (some types)
Skin grafts and flaps
Vision loss (caused by blockage of blood flow in 1 eye)
What to expect during HBOT treatment
Hyperbaric oxygen therapy sessions last about 2 hours. The number of sessions depends on your condition. If you require more than 1 session, you will have treatment daily, Monday-Friday, until your therapy is complete. One of our HBOT nurses will be at your side to monitor and help you throughout your session.
Although HBOT is painless and noninvasive, you may experience temporary physical sensations that are not harmful. These include:
Your ears may pop at the beginning and end of your session. We will show you how to equalize pressure in your ears.
You may feel warm for a few minutes as the chamber pressurizes.
If you wear reading glasses, you may not need them for a few weeks after your treatment.
If your eyes are normal, your vision may temporarily worsen.
Special considerations
Those with heart conditions may be monitored each session. We will check blood sugar levels of patients with diabetes before and after each session.
Clothing, food and safety
We provide you with an all-cotton garment to wear in the chamber.
You may wear your eyeglasses or soft contact lenses.
Remove all jewelry, including rings and watches, and other man-made materials.
Do not wear cosmetics such as makeup, hair spray, nail polish, lotions, deodorant, perfume or cologne before treatment.
You may eat a regular meal before your treatment.
Battery-powered devices such as hearing aids and cell phones are not allowed in the chamber.
Do not bring lighters or matches.
Tobacco use constricts blood vessels and diminishes the benefits of HBOT.

If you smoke, stop smoking for the duration of your treatment.
Patients who are unable to stop smoking are not eligible for HBOT.
If you want to quit smoking, we can help.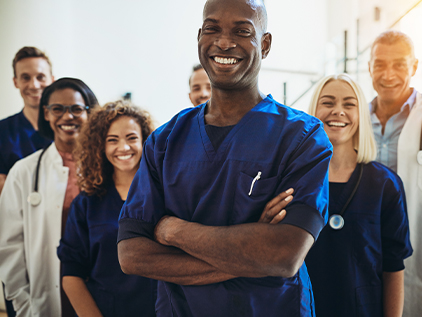 Find a doctor
Doctors at The University of Kansas Health System are care providers and researchers at the forefront of new medical discoveries. From primary care to complex conditions, we offer hundreds of specialists.
Find a doctor
Why choose us for hyperbaric oxygen therapy
We are the only hyperbaric care facility within 150 miles that provides 24/7 emergent care.
Our state of the art, individual hyperbaric oxygen chambers provide effective treatment for a range of acute conditions and complex wounds.
We are 1 of 167 accredited centers verified by the Undersea Hyperbaric Medical Society.
Our board-certified physician team includes specialists certified in Undersea and Hyperbaric Medicine.
The University of Kansas Health System has a Memorandum of Agreement with Whiteman Air Force Base, in Knob Noster, Missouri, for the treatment of military personnel with altitude-induced decompression illness.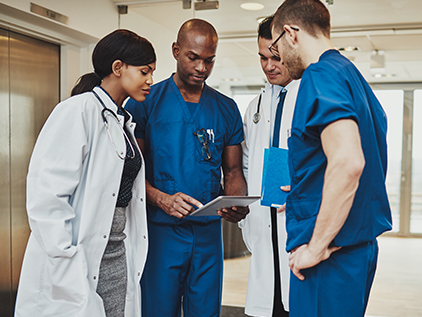 Leading research and clinical trials
As part of one of the nation's premier academic medical centers, our care providers are committed to research and scientific discovery through the University of Kansas Medical Center. We can often include our patients in potentially lifesaving clinical trials and treatment options not available anywhere else.
Our Research