Skip Navigation
Minimally Invasive Head and Neck Surgery
Minimally Invasive Head and Neck Surgery
When medication and other nonsurgical treatments are not effective, surgery is the recommended treatment for conditions affecting the head and neck. Risks of traditional surgery can include pain, scarring and longer hospital stays and recovery times.
For common or complex conditions, robotic-assisted surgery with the da Vinci® Surgical System may be the most effective and least invasive treatment choice. Our surgeons use the da Vinci system to perform procedures, including:
Radical tonsillectomy
Base of tongue resection
Supraglottic laryngectomy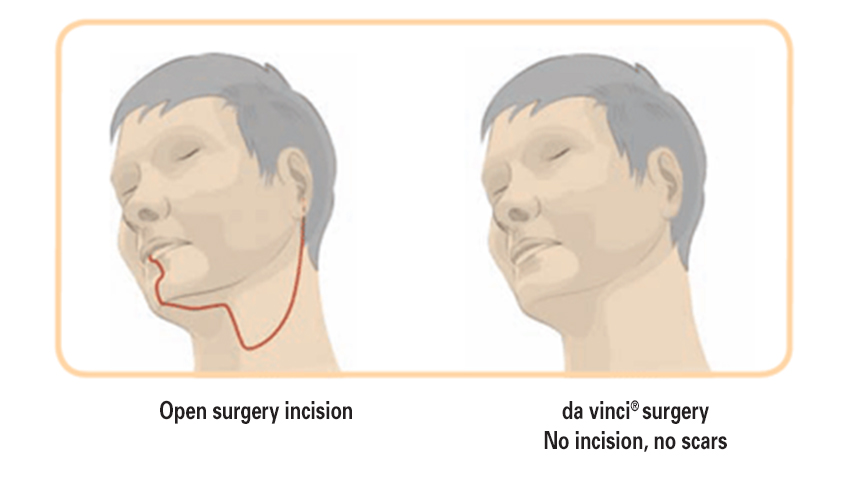 Trans-oral endoscopic surgery
Our head and neck surgeons are the first in the region to use da Vinci to remove noncancerous and small cancerous tumors of the tonsils, larynx and base of the tongue in adults. The procedure requires no outside incisions.
Da Vinci's 3D camera allows our surgeon to remove tumors while preserving healthy tissue and normal functions of swallowing, breathing and voice.
Benefits
For surgeons, the da Vinci can allow greater precision and control. For patients, benefits can include:
Significantly reduced blood loss
No visible scarring or disfigurement
No tracheotomy
Reduced or eliminated need for chemoradiation therapy
Preservation of the larynx
Reduced risk of larynx nerve damage
Fewer complications
Shorter hospital stays and recovery times
Faster return to normal speech and swallowing
You and your doctor will determine the best surgical options for your condition.