Skip Navigation
Minimally Invasive Spine Surgery
Minimally Invasive Surgery
Minimally Invasive Spine Surgery
Back problems bring thousands of Americans to their doctors every year. Injury, aging, diseases such as scoliosis and normal wear and tear can all cause back pain. People with ongoing back pain and spinal problems that can't be corrected through other methods may need surgery.
Our spine care surgeons are experts in minimally invasive spine surgery, which uses a tiny camera and long, thin surgical instruments inserted through very small incisions. The result is less pain, shorter hospitalization and faster recovery. Many people who have minimally invasive spine surgery are able to go home the same day.
What is minimally invasive spine surgery?
The goal of spine surgery in general is to stabilize the vertebral bones and spinal joints. Another common goal of spine surgery is to relieve pressure being applied to the spinal nerves, which can cause pain and impaired function in parts of the body.
Traditionally, spine surgery has required invasive procedures, resulting in large incisions followed by a long stay in the hospital. Open spine surgeries require the spinal column to be exposed by removing the skin and muscle tissue that wraps around it.
Minimally invasive surgery has been made possible due to advancements in physician training, engineering and computer technology. These procedures use tiny instruments mounted on wires called catheters to be inserted with only a few small incisions.
Also called laparoscopic or endoscopic surgery, minimally invasive spine surgery allows complex procedures to be completed with greater accuracy and fewer complications. Robot-assisted surgery refers to a type of minimally invasive surgery where doctors have advanced imaging tools and instruments enhanced to increase precision.
Who can have minimally invasive spine surgery?
Some problems with the spine can be treated with exercise, medication and other noninvasive treatments. However, people with severe complications who do not respond to these treatments may benefit from spine surgery.
Those who experience chronic pain or loss of function in limbs and organs due to an injury or disorder in the spinal column may be candidates for spine surgery. Some of the conditions that can warrant minimally invasive spine surgery include:
Bone spurs and degenerative disc disease
Herniated discs
Lumbar spinal stenosis
Scoliosis
Spinal instability, such as severe spondylolisthesis
Spinal tumors
Vertebral compression fractures
How does minimally invasive spine surgery work?
Minimally invasive surgeries use catheters: wires that hold miniaturized instruments, which function as the eyes and hands of the modern surgeon. These tools allow surgeons to bypass skin and muscle tissue with minimal cutting.
Tubular retraction is a common method for catheter insertion. Soft tissue in the muscle is dilated, allowing access to the wires used to perform the operation with no incisions in muscle tissue.
Sometimes screws and rods must be placed to stabilize the spinal column for surgical procedure. In these cases, percutaneous placement may be an option. Guidewires are placed through the skin using X-ray imaging, which allows robot-assisted placement of screws and rods with little damage to surrounding tissue.
The spine is a delicate and critical organ that is difficult to safely operate upon. Robot-assisted spinal surgery decreases time in surgery, enhances safety, improves accuracy and reduces exposure to radiation.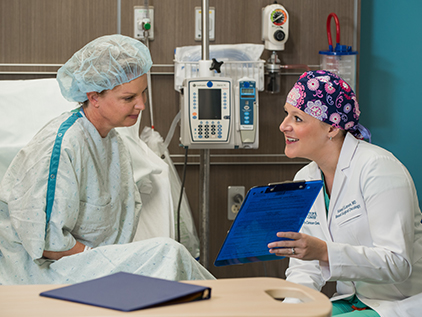 Cancer care you can count on
The University of Kansas Health System is part of The University of Kansas Cancer Center – 1 of just 71 NCI-designated cancer centers in the nation.
Our cancer care
Benefits and risks of minimally invasive spine surgery
All surgery comes with some risk. Infection, medicinal complications and bleeding are all concerns that surgeons must plan for. Minimally invasive spinal surgeries carry far less risk, however. This is because the damage to surrounding tissue that must occur to operate on the spine is less than with a traditional surgery. Modern advances have also resulted in tools and instruments that enhance the spinal surgeon's sight and dexterity, greatly improving outcomes.
What happens during minimally invasive spine surgery?
Compared to traditional open surgery, minimally invasive spinal surgeries typically result in faster recovery and healing. Some of the specific surgical procedures doctors use to treat problems with the spine include:

Still the best
Our hospital continues to rank as the best in Kansas City and in Kansas according to U.S. News & World Report.

Magnet-recognized
The University of Kansas Hospital has been designated a Magnet® facility by the American Nurses Credentialing Center since 2006.

Respect for all people
Named a leader in LGBTQ+ Healthcare Equality by the Human Rights Campaign.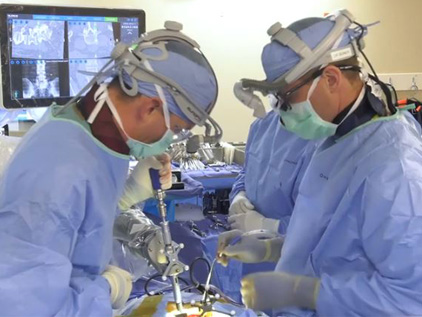 Robot-assisted spine surgery
These procedures provide the best in patient care using robotics and navigation. Robot-assisted spine surgery decreases time in surgery, enhances safety, improves accuracy and reduces exposure to radiation.
Learn more
Related links