Skip Navigation
Minimally Invasive Transnasal Endoscopic Surgery
Minimally Invasive Surgery
Minimally Invasive Transnasal Endoscopic Surgery
Doctors at The University of Kansas Health System are among the nation's pioneers in using advanced approaches to remove complex brain tumors, often without a single incision.
Minimally invasive transnasal endoscopic surgery is an approach to skull base surgery that involves a thin lighted tube with a tiny camera on the tip. Using state-of-the-art imaging equipment, specialists from across The University of Kansas Health System collaborate to ensure you receive the highest level of care.
What is transnasal endoscopic skull base surgery?
Supporting the underside of the brain, the skull base protects delicate and complex structures that include cranial nerves and multiple arteries controlling hearing, vision and balance.
Endoscopic skull base surgery lets the surgical team access the intricate, narrow areas within the skull base while simultaneously allowing for detailed views during surgery. This combination lets your surgeon fully visualize and access your tumor or skull base disorder without needing to remove a portion of the skull.
Who can have transnasal endoscopic surgery?
Not every person is a candidate for minimally invasive skull base surgery. Your doctor will go over all your treatment options with you. In addition to treating tumors and skull base disorders, transnasal endoscopic surgery can be used to:
Decompress the cranial nerves
Litigate the arteries
Treat aneurysms
Treat cerebral spinal fluid leaks
How does transnasal endoscopic surgery work?
Rather than opening a portion of the skull to allow access to the skull base, transnasal endoscopic surgery involves inserting a lighted camera into your nose. Guided by highly detailed computer images, the team then employs a minimally invasive approach to treat both cancerous and noncancerous tumors of the brain, spine, nose, sinuses and eye sockets.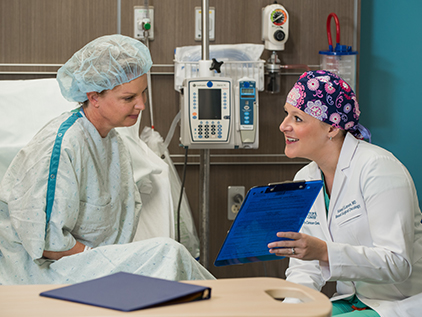 Cancer care you can count on
The University of Kansas Health System is part of The University of Kansas Cancer Center – 1 of just 54 NCI-designated comprehensive cancer centers in the nation.
Our cancer care
Benefits and risks of transnasal endoscopic surgery
Previously, the only way a surgeon could address tumors or growths within the skull base was by making an opening right in the skull itself. The more invasive nature of traditional open surgery carries a greater degree of risk than transnasal endoscopic skull base surgery. Typically, endoscopic procedures require a shorter hospital stay and allow for a faster recovery time compared to traditional open surgery.
What happens during transnasal endoscopic skull base surgery?
Using the nose and nasal passages as a corridor, the team navigates an endoscope through the skull base to reach the tumor. From there, doctors use images on a computer screen to guide the procedure with great detail and accuracy.
Why choose us for transnasal endoscopic skull base surgery
We are 1 of only a few in the nation that specializes in removing skull base tumors using virtually all types of standard and minimally invasive techniques. Our unique collaborative culture and interdisciplinary approach has put our skull base surgery program on the map.
Our skull base surgery program collaborators include specialists from the following areas:
Related links