Skip Navigation
Obesity is a leading cause of death, disability and healthcare costs in the United States, and more than 70% of Americans are overweight or have obesity. It is a chronic, relapsing, hormonally-driven metabolic disease that affects virtually every system in the human body. Yet is often stigmatized and under-treated.
At The University of Kansas Health System in Kansas City, our interdisciplinary team has expertise in the evaluation and treatment of patients with obesity. It consists of physicians and surgeons who specialize in obesity medicine, registered dieticians, psychologists and nationally recognized obesity and weight management research specialists. We collaborate closely with specialists throughout The University of Kansas Health System to help patients manage obesity. In our patient-centered practice, free of weight bias, we partner closely with you to develop a tailored approach that meets your needs, lifestyle challenges, and health and wellness goals.
Who can get treatment for obesity?
Although many adults may benefit from weight loss, those with a BMI of 30 or greater are candidates for obesity treatment. Your primary care provider or a specialist may refer you for weight management since treating obesity not only benefits your overall health but can help to treat conditions with weight-related symptoms. Common referrals include:
Cardiology – to reduce risk of cardiovascular disease
Endocrinology – to treat diabetes
OB-GYN – to treat infertility, menopause and other gynecologic conditions
Orthopedics – to reduce joint pain and inflammation, to improve outcomes following joint replacement surgery
Primary care – to improve cholesterol, blood pressure and some mental health conditions
Sleep medicine specialists – to improve obstructive sleep apnea
Urology – to improve testosterone deficiency and reduce the risk of kidney stones
Oncology – to reduce the risk of some types of cancer or cancer recurrence, to improve treatment outcomes
If you are looking for treatment for pediatric obesity, learn more about our Healthy Hawks program.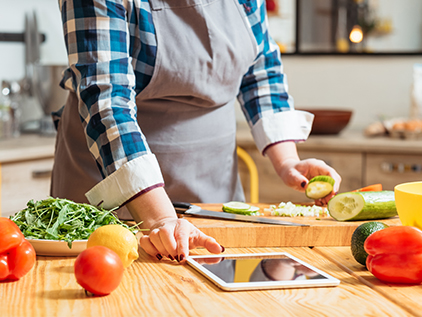 Reach your health goals through healthy cooking
Enjoy your meals more – and achieve your blood sugar goals – with cooking demos from Cooking with Cray. Visit their website to register for cooking classes, see how-to videos and meet the expert team behind it all.
Make more of your meals
Obesity treatment options
Obesity is a complex disease with roots in genetics, pharmacotherapy, stress and sleep patterns, related health conditions, environment, activity level and ability, nutrition availability and nutrition control. It is a chronic disease with no cure currently. However, there are effective treatments that may help you achieve and sustain a healthy weight while improving or preventing weight-related conditions and enhancing your overall health and well-being.
To help manage your unique disease, we start with a physician visit to determine the most likely contributors to the development of obesity as well as what areas may offer the best opportunities for treatment.
The recommendations that may come out of this visit are vast but may include:
Anti-obesity medications may be recommended by your doctor if appropriate.
These medications are indicated for patients with a BMI over 30 or those with a BMI over 27 and a medical condition associated with excess weight.

Learn more about bariatric weight-loss surgery at the health system, including noninvasive bariatric endoscopy.
Bariatric surgery is generally indicated for patients with a BMI over 40 or those with a BMI over 25 and a medical condition associated with excess weight.

This is a nationally recognized lifestyle change program of the Centers for Disease Control and Prevention proven to prevent or delay type 2 diabetes.
The diabetes prevention program is a structured lifestyle change program in which a trained lifestyle coach leads group classes to help you change aspects of your lifestyle, like eating healthier, reducing stress and getting more physically active.

Get a discounted Kirmayer Fitness Center gym membership.
Receive a pedometer.

Get 1-on-1 nutrition and lifestyle counseling with a registered dietitian as well as individualized medical monitoring by a physician.
Content includes mindful eating, stimulus control, meal planning and more. Medications to assist with weight-loss may be prescribed by your doctor.
This is for patients with a BMI of 30 or greater.
Sessions are held every 3-4 weeks for 6 months either in person or via telehealth and billed directly to insurance.

We will order laboratory studies to better assess your condition and monitor any underlying disorders.
This can include basic blood tests or more advanced imaging or pathology.

The nationally recognized meal replacement program is an evidence-based approach to weight loss provided in collaboration with the University of Kansas and the University of Kansas Medical Center.
This is a cash-pay program with structured prepackaged meal plans, including a choice of low-calorie or very low-calorie meals.
We identify patients that are a good fit but do not actively manage their structured program.

Our physical therapy team can help rehabilitate injuries or work with you to improve your flexibility and mobility so you can exercise with less pain.

Having depression or anxiety can affect your success at losing weight.
Additionally, an eating disorder should be treated before engaging in a weight-loss program.
Psychiatrists at the health system can diagnose and treat these conditions and more.

People with obesity often have other medical conditions like diabetes, hypertension, asthma and more.
We will work with you to understand how medications for those diseases work with your weight-loss program, and how they may need to change over time as you have success reducing your weight.

Testing can be done at home or in a lab to determine if you have an underlying sleep disorder that may be affecting weight gain

WEL provides comprehensive nutrition and lifestyle counseling in a group setting.
Additionally, get individualized medical monitoring with a physician.
Content includes mindful eating, stimulus control and meal planning.
This is billed to insurance and is available for patients with a BMI of 30 or greater.
Sessions are held by a registered dietitian biweekly for 6 months.
After weight loss has been achieved, we also have a weight maintenance program that can provide ongoing services, like eating guidelines, personalized nutrition plans and exercise education.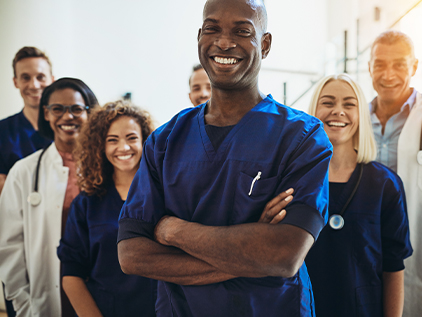 Find a doctor
Doctors at The University of Kansas Health System are care providers and researchers at the forefront of new medical discoveries. From primary care to complex conditions, we offer hundreds of specialists.
Find a doctor
Benefits and risks of treating obesity
More than 100 medical and psychological obesity-related complications can improve with weight loss. Recognizing and treating obesity can help prevent the development or progression of many of these conditions. These conditions include, but are not limited to, cardiovascular disease, at least 13 different types of cancer, type 2 diabetes, hypertension, nonalcoholic fatty liver disease, osteoarthritis, connective tissue disease, asthma, infertility, depression and disordered eating. In addition, weight loss lowers surgical complications and prolonged hospitalizations.
Although there are also risks associated with obesity treatments, they are generally considered lower than the risks of continuing to live with obesity. However, it is always important to consider the specific risks associated with each weight-loss activity. Some examples:
Increased costs: medications, supplements, surgery, gym memberships and food may all increase your spending
Mental health: changing your eating and exercise behaviors could lead to disordered eating for some
Physical injuries: increasing your activity level can also increase your risk of injuries like sprains and strains
Talk to your doctor about any potential risks before starting weight-loss activities.
Why choose us for obesity treatment?
Obesity is a chronic disease with many contributors that requires intensive, interdisciplinary treatment for improved outcomes. Our robust team covers all the areas you will need to be successful in your weight-loss journey. Our physicians are board-certified in both internal medicine and obesity medicine. We have a dedicated staff of registered dietitians and behavioral specialists who focus all of their effort toward supporting weight-loss journeys.
As part of the health system, we collaborate with other specialists to provide comprehensive care for our patients. That includes working closely with bariatric surgery specialists, which allows for seamless coordination of care for those who may benefit from surgical weight management tools.
We also partner with our research team, offering participation in clinical trials when appropriate. About 30% of our patients participate in research studies through the University of Kansas Center for Physical Activity and Weight Management. We collaborate closely with that research group, but their activities take place in different locations than clinical visits.
Importantly, our staff is trained to recognize and avoid weight bias, thereby creating a safe environment for patients to receive the care they need without feeling stigmatized or shamed.
Our locations
The health system weight management team usually sees patients at Kirmayer Fitness Center in Kansas City, Kansas, but we're in a temporary space while our permanent home is renovated. While we roll out improvements to enhance our patients' experience at Kirmayer, we're providing care at 10790 Nall Ave. in Overland Park, Kansas, on our Indian Creek Campus, which offers free parking.
The weight management research team will work out of several other temporary locations during the Kirmayer renovation. If you are involved in research studies, you'll be contacted directly with location details for your participation.
Call 913-945-8184 to schedule a program orientation. You may also email us at WeightLoss@KUMC.edu. Follow us on Facebook and on Twitter @KUWeightloss.