Skip Navigation
Positron Emission Tomography (PET) Scan
Positron Emission Tomography (PET) Scan
A positron emission tomography (PET) scan can show the structures and processes in your body. With the help of a PET scan, your care team views your cells, tissues, organs and bones. Your care team can use the results of your PET scan to help diagnose many different types of disease and injury in various parts of the body.
What is a PET scan?
A PET scan uses small amounts of a radioactive substance, or tracer, and a camera. The tracer can be injected, swallowed or inhaled, depending on the specific area of the body that requires images. The targeted organs and tissues then absorb the tracer, which emits a small amount of radiation that the camera can detect.
The tracer concentrates more where there is disease or injury, showing up as bright spots in the PET scan images. These bright spots help doctors identify the areas that are affected by your condition, as well as the ways in which they might be affected. A PET scan can measure different body functions, including blood flow, oxygen use and the way your body uses sugar.
Who can have a PET scan?
Most people can have PET scans, although not everyone is a candidate. Your doctor will recommend the imaging test that he or she feels is best for your condition. PET scan images can indicate changes at a cellular level before results can be seen on a CT scan or an MRI. In some cases, your doctor may perform a combination PET-CT scan for more detailed images.
What does a PET scan diagnose?
Your doctor may order a PET scan to check for:
Brain or central nervous system disorders
Cardiovascular conditions
However, there are many different health conditions that can be detected with a PET scan, including Alzheimer's disease and epilepsy.
What are the risks of a PET scan?
The risk of radiation exposure during a PET scan is quite low. Radiation exposure risks from a PET scan are considered minimal compared to the potential benefits of early detection and diagnosis of a potentially serious health condition. However, some people may not be able to have a PET scan if they are allergic to any ingredients in the tracer. Certain medications may also increase the risk of allergic reaction.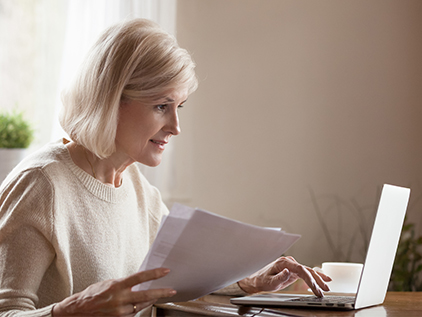 Get started as a new patient
Before your first appointment, sign up for MyChart. MyChart allows you to fill out new patient paperwork, get directions to your appointment and communicate with your care team.
Sign up now
Before your PET scan
It is important to follow instructions, or we may have to schedule a new appointment:
You can take any normal daily medicines unless you receive different instructions
You may need to change your diet or stop eating or drinking for several hours
You may need to remove your jewelry or any clothing with metal on it
Please arrive 90 minutes prior to your exam at the hospital or 30 minutes prior to your exam at a community location.
What to expect during your PET scan
Please allow about 2 hours for your visit. About an hour before your PET scan, you will receive the tracer by an injection through an IV.
At the time of your exam, you may need to change into a gown. Your technician will ask you to lie on a table that slides into a doughnut-shaped hole in the scanner. During the test, your care team will ask you to stay still. The PET scan can take 25-45 minutes, and you will be able to speak with your care team during the exam.
Recovery and results for your PET scan
You may be asked to stay in the exam area while we review your images. You can return to normal activities and medicines after your exam, unless you receive different instructions. Drink plenty of fluids to help the tracer pass through your system.
Our radiologist will review your exam and report the results to your doctor within 24-48 hours. Your doctor will contact you with the results.

Still the best
Our hospital continues to rank as the best in Kansas City and in Kansas according to U.S. News & World Report.

Magnet-recognized
The University of Kansas Hospital has been designated a Magnet® facility by the American Nurses Credentialing Center since 2006.

Respect for all people
Named a leader in LGBTQ+ Healthcare Equality by the Human Rights Campaign.