Skip Navigation
Zephyr Endobronchial Valve Treatment
Zephyr Endobronchial Valve Treatment
The expert pulmonology team at The University of Kansas Health System offers a new treatment for adults with severe emphysema or chronic obstructive pulmonary disease (COPD). We are among the first in the region to offer Zephyr® endobronchial valve treatment.
The endobronchial valve is placed during a minimally invasive procedure. It improves lung function and quality of life. It is a good option for people who have not improved with medications alone and are not able to have traditional surgery or transplant.
What is Zephyr endobronchial valve treatment?
Severe emphysema or COPD restrict lung function and limit quality of life. Medications delivered by inhaler and pulmonary rehabilitation – exercise therapy – have traditionally been the only noninvasive therapies. Surgery, including lung transplant, is another treatment standard, but not everyone is a good candidate for surgery. Many emphysema or COPD patients are unable to have surgery.
The endobronchial valve procedure is a type of bronchoscopic lung volume reduction. Bronchoscopic lung volume reduction is often recommended for people with severe emphysema or COPD who have not achieved relief with medical or rehabilitative treatment and cannot have surgery. The valve is used to perform this procedure for overinflated lungs.
Narrator: The Zephyr endobronchial valve treatment for emphysema, when medical management alone isn't enough.
Narrator: The Zephyr endobronchial valve is a proven, minimally invasive treatment designed to improve breathing, activity and quality of life for emphysema patients who are breathless despite maximum medical therapy.
Narrator: The Zephyr valve procedure is performed under general anesthesia or conscious sedation where a standard bronchoscope and flexible delivery catheter are used to guide the valves into the target lobe and desired airway. Multiple valves are implanted to ensure complete occlusion of all airways leading to the target lobe of the lung. Valves may be placed at the low bar, segmental or subsegmental levels dependent on the airway anatomy.
Narrator: Trapped air in the treated lobe escapes through the Zephyr valves until the lung volume of the treated lobe is reduced. The valves can be removed and replaced if needed. After treatment, the remaining lobes can expand more fully and pressure on the diaphragm is relieved, improving breathing mechanics and overall lung function. Patients who respond to Zephyr valve treatment often experience meaningful improvement within 45 days.
Narrator: The Zephyr valve is the first endoscopic emphysema treatment proven in multiple clinical trials to deliver clinically meaningful benefits across several important patient measures, quality of life, exercise capacity, dyspnea, and lung function.
Narrator: With thousands of patients treated worldwide over the last decade, Zephyr valves are intended to be a long term solution to help emphysema patients breathe better, do more and enjoy a better quality of life.
Who can have Zephyr valve treatment?
Minimally invasive bronchoscopic lung volume reduction with the endobronchial valve is recommended for adults whose quality of life is limited by reduced lung function due to shortness of breath from severe emphysema or COPD. Zephyr may be considered for such people who have not experienced improvement with medication delivered by inhaler.
Zephyr is not appropriate treatment for people who:
Have active lung infection
Are allergic to the materials that make up the valve (nitinol, nickel, titanium or silicone)
Are active smokers
Have an air pocket greater than ⅓ the size of the lung
About 1 in 5 people evaluated for this valve placement prove eligible.
How does the Zephyr valve treatment work?
During the placement procedure, a doctor called an interventional pulmonologist uses a flexible tube to place the valve in the airways that lead to the diseased part or parts of the lung. The procedure is likely to provide benefit while presenting relatively low risk.
Once placed, the valve closes when the person inhales, keeping air out of the diseased area of the lung. It opens when the person exhales, allowing air to exit the lung and reducing the shortness of breath that occurs when the damaged part of the lung works hard to try to take in and push out air. By closing the diseased parts of the lungs off from the respiratory process, the endobronchial valve allows the healthy parts of the lungs to do their job better.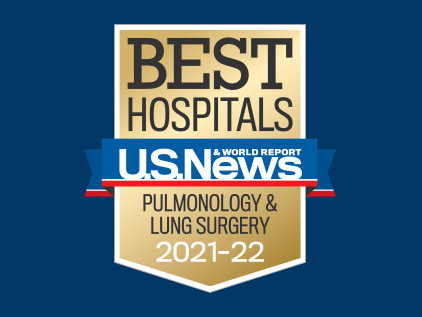 Ranked among the nation's best
Our program ranked No. 33 among the nation's best in U.S. News & World Report's Best Hospitals 2021-22. Rankings are based on measurable achievements in quality, safety, nursing excellence and more. We are proud to provide you and your loved ones with nationally recognized pulmonology care.
Read about this honor
Benefits and risks of Zephyr valve treatment
For patients with limited respiratory function due to severe emphysema or COPD, valve placement is a minimally invasive treatment option. It provides improvements when inhaled medications and rehabilitation don't, yet carries less risk and reduced recovery time as compared with traditional open surgery.
Lung collapse is a risk that occurs in 20-30% of people, but your care team will monitor for this closely during your recovery at the hospital.
What happens during the Zephyr treatment process?
People interested in considering endobronchial valve placement must receive a complete evaluation by our interventional pulmonary team. During the evaluation, your care team will:
Perform a lung test to determine respiratory function. It must be at less than 50% for your heart and age to qualify for the treatment.
Test you on a 6-minute walk to consider your ability to tolerate the procedure.
Take a CT scan of your lungs to detect separation of your upper, middle and lower fissures.
Confirm you are not a current smoker.
This valve treatment takes a few hours and usually requires a 3-night hospital stay. You will be placed under general anesthesia. Doctors use a flexible tube to insert and implant the valve, making only very small incisions. Multiple valves may be placed, blocking off all areas of damaged lung tissue so that the healthier lung tissue can work more efficiently.
Your care team will want to follow up with you – or communicate with your local pulmonologist – at day 15 and day 45 after the procedure. We will then want to see you once each year.
Many people who receive this valve experience improvement in pulmonary function scores. This is a measure of lung function based on the amount of air you can blow out after breathing in deeply. This translates to easier breathing and greater ability to move about for better quality of life.
Why choose us for Zephyr valve treatment
We are the only provider in the state of Kansas offering this valve and among just 2 providers in the Kansas City metro area. We receive referrals from multiple surrounding states.
Our advanced team of more than 40 pulmonologists offers unparalleled experience. Our experts collaborate with specialists across disciplines – such as thoracic surgery and rehabilitation – to provide each person with comprehensive, personalized care.
We partner with local providers to ensure you receive the best, most convenient care as close to home as possible.
Our Zephyr specialists