Skip Navigation
Pulmonary and critical care physicians at The University of Kansas Health System provide medical care for patients in our intensive care units. They also diagnose and treat disorders affecting lungs and breathing.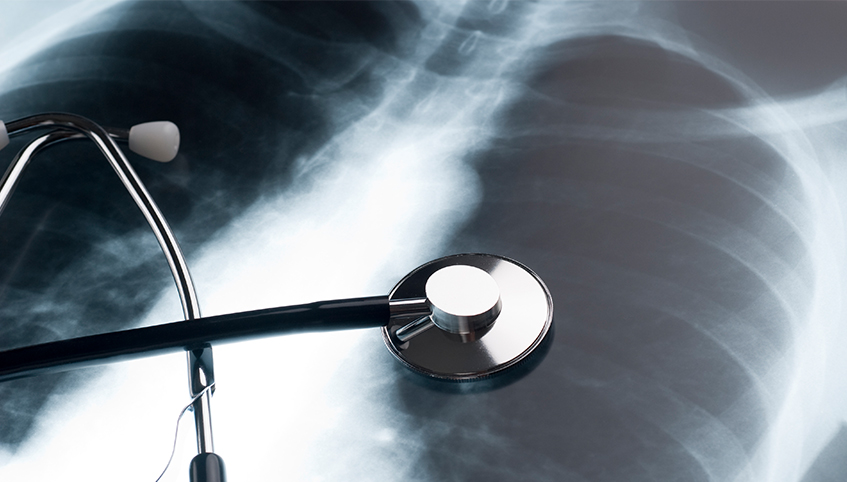 Regional leaders
Our physicians are the region's leaders in treating patients with pulmonary hypertension. We also have the only adult cystic fibrosis center in the Kansas City metropolitan area.
All of our physicians are faculty members at the University of Kansas School of Medicine. As experts in their field, they teach medical students, residents and laboratory professionals innovative approaches for diagnosing, preventing and treating disease.
Exceptional care for critically ill patients
The level of care provided to patients with life-threatening conditions sets The University of Kansas Health System apart from community hospitals. In fact, other hospitals often transfer their sickest patients to one of our specialized intensive care units.
In these state-of-the-art ICUs, highly skilled nurses and intensivists (physicians with extensive training in critical care medicine) staff our ICUs around the clock.
According to medical studies, this intensivist staffing model improves the quality of care and reduces the risk of medical errors. Statistics show patients spend fewer days in the ICU and are discharged from the hospital sooner.
Teaming up to tackle a perilous lung disease
While it may be considered a "rare" disease, pulmonary fibrosis accounts for 40,000 deaths in the U.S. each year — the same number of lives claimed by breast cancer. The disease is so complex and misdiagnosed that the Pulmonary Fibrosis Foundation has named 21 medical facilities "Pulmonary Fibrosis Centers of Excellence." The University of Kansas Health System is one of them.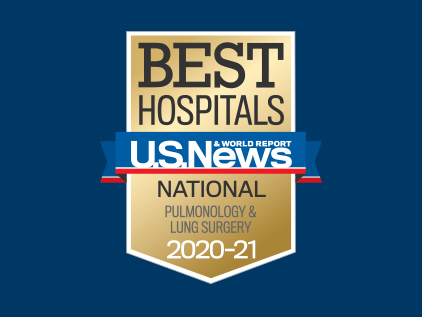 Ranked among the nation's best
Our program ranked among the nation's best in U.S. News & World Report's Best Hospitals 2020-21. Rankings are based on measurable achievements in quality, safety, nursing excellence and more. We are proud to provide you and your loved ones with nationally recognized pulmonology care.
Read about this honor
Helping patients breathe easier
Pulmonary and Critical Care physicians at The University of Kansas Health System provide comprehensive diagnosis and treatment for conditions affecting lungs and breathing.
Conditions include
Acute respiratory failure
Bronchiectasis
Chronic bronchitis and cough
Chronic obstructive pulmonary disease, or COPD
Chronic respiratory failure
Diaphragm disorders
Emphysema
Interstitial lung disease
Lung cancer
Lung disease
Mediastinum disorders
Nontuberculosis mycobacteria (NTM)
Pleural disorders
Pleurisy
Pneumonia
Primary ciliary dyskinesia (PCD)
Pulmonary disorders
Pulmonary fibrosis
Pulmonary hypertension primary and secondary
Sarcoidosis
Sepsis
Tobacco related lung disorders
Tuberculosis
Vaping related illness
Services include
Bronchoscopy and lung biopsy
Comprehensive lung function testing
Critical care ultrasound
Emphysema surgery evaluation
Exercise evaluation
Lung transplant evaluations
Medical intensive care
Methacholine inhalation challenge a test for asthma
Multidisciplinary treatment plans
Nasal nitric oxide test interpretations
Oxygen therapy evaluation
Stent placement to keep airways from collapsing
Swan-Ganz insertion
Sweat chloride test interpretation
Thoracentesis
Tumor treatment laser or radiation
Ventilation placement and monitoring
Ventilator management
Our doctors
Locations
1. Medical Pavilion

2000 Olathe Blvd.
Level 4, Suite D-F
Kansas City, KS 66160

Mon

8:00 a.m. - 4:30 p.m.

Tues

8:00 a.m. - 4:30 p.m.

Wed

8:00 a.m. - 4:30 p.m.

Thur

8:00 a.m. - 4:30 p.m.

Fri

8:00 a.m. - 4:30 p.m.

Sat

Closed -

Sun

Closed -

2. Quivira Specialty Care

12000 W. 110th St.
Overland Park, KS 66210

Mon

8:00 a.m. - 4:30 p.m.

Tues

8:00 a.m. - 4:30 p.m.

Wed

8:00 a.m. - 4:30 p.m.

Thur

8:00 a.m. - 4:30 p.m.

Fri

8:00 a.m. - 4:30 p.m.

Sat

Closed -

Sun

Closed -

3. KU MedWest

Pulmonology
7405 Renner Road, Pod C
Shawnee, KS 66217

Mon

8:00 a.m. - 4:30 p.m.

Tues

8:00 a.m. - 4:30 p.m.

Wed

8:00 a.m. - 4:30 p.m.

Thur

8:00 a.m. - 4:30 p.m.

Fri

8:00 a.m. - 4:30 p.m.

Sat

Closed -

Sun

Closed -