Skip Navigation
An executive physical provided by The University of Kansas Health System offers a comprehensive medical screening evaluation, customized to each executive's age, gender and health risks. Your personalized array of screening tests will take place over the course of a business day. Each package of services includes a comprehensive physical health assessment based on academic medicine quality standards combined with the expertise of our executive health team.
We are dedicated to meeting the needs of every busy executive. Your package will be customized to meet your health, family history and personal needs. As a member of the executive health program, you will have the opportunity to establish your primary care with our team and enjoy the benefits of an advanced primary care membership.
A physical designed just for you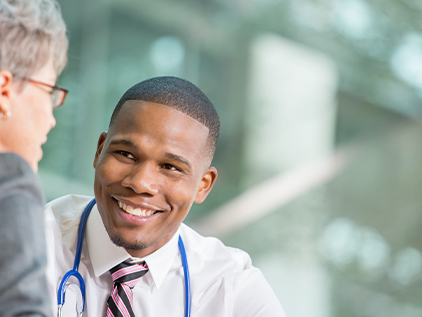 An executive physical offers an assessment of your health and the opportunity for early intervention, if needed. Early detection and diagnosis of serious health conditions are essential to the best treatment options and long-term well-being.
Services
Executive physical package and options
Your visit
Quality care close to home
You will have access to some of the nation's top physicians representing more than 200 specialties. You will benefit from the multidisciplinary collaboration of these experts who provide the latest diagnostic and treatment options.
For employers
Explore the benefits of providing an executive physical program to your leadership team through corporate enrollment
Location
1. Executive Health

10700 Nall Ave.
Suite 100
Overland Park, KS 66211
The academic medical center advantage
The University of Kansas Health System is recognized among the nation's top academic medical centers. Our experienced team of specialized physicians, nurses and other professionals provides expert diagnosis and treatment for even the most serious conditions. Here, compassionate care, research and education come together to deliver superior outcomes and a world-class patient experience.
Related links