February 01, 2022
For most people, mild or moderate COVID-19 lasts about 2 weeks. But what about those people who can't shake the symptoms and even test negative? The general public has dubbed these patients COVID-19 long-haulers. They survive their initial infection but continue to deal with persistent symptoms that are complex in themselves and can reduce overall quality of life.
There is no correlation between severity of illness and post-COVID syndrome. Even patients who had mild disease and were not hospitalized may have prolonged symptoms. It remains unclear who or why some people are affected longer than others. These symptoms can persist 4 or more weeks after first being infected. Post-COVID-19 symptom management can become a serious health concern, causing a variety of challenges in life, such as the inability to return to work.
Post-COVID-19 symptom management
What are COVID-19's long-term effects on the body? What are the symptoms of a COVID-19 long-hauler? As this is a new disease, the medical community is still learning about the long-term effects. People who have COVID-19 symptoms for 4 weeks or longer following their initial illness, report different combinations of the symptoms listed below:
Difficult breathing or shortness of breath
Symptoms that get worse after physical or mental activities
"Brain fog" (confusion, short-term memory loss, difficulty concentrating)
Chest or stomach pain
Cough
Fatigue
Headaches
Heart palpitations
Joint or muscle pain
Pins-and-needles feeling
Diarrhea
Sleep problems
Fever
Lightheadedness
Mood changes
Changes in smell or taste
Changes in menstrual cycles
Rash
It is important to remember that COVID-19 can be a very serious disease. Surviving the initial infection is the immediate goal, but ongoing recovery and COVID-19 symptom management also requires attention. It takes time to reach full strength and return to normal life, and the timeline differs from person to person.
If you experience ongoing COVID-19 symptoms for 12 weeks or more following recovery from your initial infection, call your primary care provider. If a referral is needed, we have specialists here for your care and support. And as part of one of the nation's premier academic medical centers, our care providers are committed to the advancement of medicine. Long-haul COVID is a new condition that benefits from ongoing clinical research trials at the University of Kansas Medical Center.
Don't have a primary care provider? Call 913-588-1227 for help establishing one.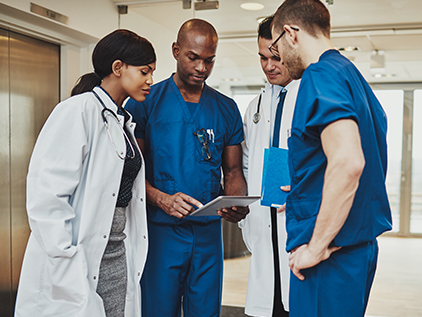 Leading research and clinical trials
As part of one of the nation's premier academic medical centers, our care providers are committed to research and scientific discovery through the University of Kansas Medical Center. We can often include our patients in potentially lifesaving clinical trials and treatment options not available anywhere else.
Our Research