May 10, 2019
Denise Taylor, 50, loves to have family – a son, 2 daughters and a granddaughter – around her. She lives in Kansas City, Kansas, with her partner, Shelly Simpson. They share their home with their daughters and granddaughter as well as 3 sweet dogs and 5 adorable cats – an extended family.
Due to serious foot problems and lymphedema in both legs, Denise relies on Shelly for round-the-clock care. She needs help getting into her wheelchair to travel from room to room or outside their home.
Thinking FAST
At 6 a.m. on February 10, 2019, Shelly assisted Denise to the restroom. After 20 minutes, Shelly grew concerned.

"I remember Shelly calling to me through the door and the tone of her voice went from annoyed to panicky," remembers Denise. "I couldn't say anything. All I could do was moan or grunt."

Shelly entered the bathroom and found Denise slumped over. The right side of her face drooped, and she couldn't move her right arm or leg.

Daughters Tina and Renee were standing in the hallway. Tina recognized the symptoms of stroke, and Renee used her mobile phone to call 911. "The ambulance got here really fast," Shelly recalls. "They said we needed to get to a stroke hospital right away."

Because her loved ones did everything right, Denise arrived at The University of Kansas Hospital in Kansas City less than 30 minutes after her symptoms began. The faster a stroke patient gets to an Advanced Comprehensive Stroke Center, the greater the opportunity to achieve a good outcome.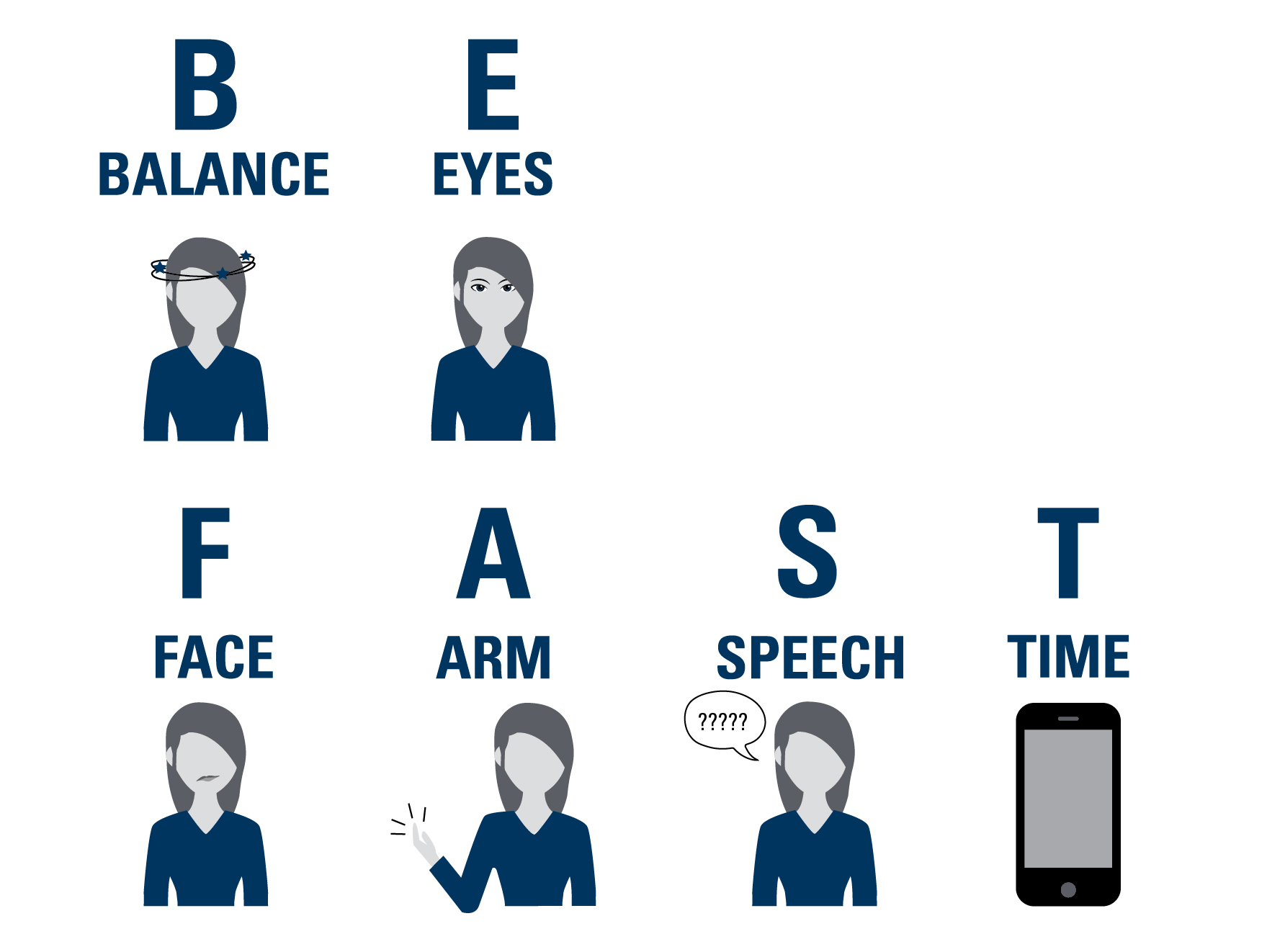 BE FAST: Know the signs of stroke
Balance: Imbalance, headache, dizziness?
Eyes: Is vision in 1 or both eyes difficult?
Face: Does 1 side of the face droop or is it numb?
Arms: Is 1 arm or leg weak or numb?
Speech: Is speech unclear or slurred?
Time: If the person shows any of these symptoms call 911.
Skilled assessment
In the emergency department, attending neurologist Yunxia Wang, MD, quickly assessed Denise's condition using the National Institutes of Health Stroke Scale. On a scale of 0-42, with 0 being normal, Denise's score was 27, suggesting she had experienced a severe stroke. Realizing that Denise was experiencing a major stroke likely from a blood clot to one of the large blood vessels that supplies blood flow to the brain, Dr. Wang notified endovascular surgeon Koji Ebersole, MD, to call in the interventional radiology team immediately.
Within 16 minutes of Denise's arrival, the stroke team started clot-busting medication called IV tPA. While Denise was receiving tPA, a second CT scan with RAPID perfusion imaging software confirmed Denise had a blood clot in her brain.
"The advanced perfusion image revealed Denise was going to have a massive ischemic stroke – a blockage of blood flow – on the left side of her brain," explains Dr. Wang. "She would have major permanent brain damage if we did not restore the blood flow to her brain quickly."
Clot retrieval
When Denise arrived to the interventional radiology suite, the team was waiting. Dr. Ebersole guided a catheter and clot retrieval device into the femoral artery in Denise's thigh and up to her brain. He successfully pulled out the clot.
Thanks to her physicians' skill, dedication and smooth teamwork, Denise's blood flow was successfully restored 75 minutes after her arrival to the emergency department.
"I felt like I was in an alien spaceship. I was under conscious sedation, so I couldn't feel anything, but I could see what they were doing on the monitors," she recalls.
Immediately following the procedure, Denise was still unable to speak or move the right side of her body. But after a brief time, she experienced a dramatic transformation.
"After a couple hours in my room, everything came back just like it had never been gone," she explains.
"Pulling the clot out saved the left side of her brain," adds neurologist Laith Maali, MD, who cared for Denise the next day.
If the full stroke had occurred, Denise would likely have been completely paralyzed on her right side and unable to speak or understand. She might have experienced life-threatening brain swelling.
"Instead, she was back to baseline the same day. Back to herself, with very subtle deficits, if any," says Dr. Maali.
The next day, a nurse who cared for Denise in the stroke ICU came to see her. "She couldn't believe I was smiling and talking," says Denise. "I think the stroke unit is great. I was very impressed with everything."
After rehabilitation sessions with a physical therapist and occupational therapist, Denise went home. She was back under her own roof the day after the stroke occurred.
Post-stroke detectives
Once a person suffers a stroke, they are more likely to experience another. That's why the experts at The University of Kansas Health System makes every effort to discover the cause of every stroke.

In Denise's case, the neurology team ordered genetic testing to check for a blood-clotting disorder. The cardiology team also asked her to wear a heart monitor at home to see if she has atrial fibrillation. Both conditions can lead to stroke.

"My risk factors are high blood pressure, high cholesterol, diabetes and being overweight and inactive," shares Denise.

"We still need to do more testing to rule out other problems. Of course, even with a full workup, for 1 out of every 5 patients, the reason for their stroke remains undetermined," explains Dr. Maali.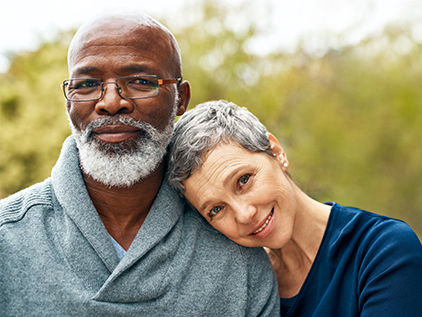 Do you know your numbers?
Stroke is the leading cause of death and disability in the United States. You can proactively manage and control your risk factors. Take our personalized quiz to learn your stroke risk and take steps to reduce it.
Take the Quiz
Wake-up call
When Denise returned home from the hospital on February 11, she walked unassisted from the driveway into her house. It was the farthest she had walked in quite some time. "I thought she seemed stronger than before," Shelly comments.
Dr. Maali notes that strokes often motivate patients to take better care of themselves. "After a stroke, it's important to follow up with your physician, be compliant with medication and modify your risk factors," he says.
"The stroke made me more aware of things I need to improve in my life. I'm trying to be calmer. I want to start using my walker more. I want to get the weight off," says Denise.
As a registered nurse herself, Denise always imagined she would be taking care of Shelly, not the other way around.
"I don't know what would have happened without my family watching out for me," she says. "I'm thanking my lucky stars every day. I'm sharing my story so others understand the importance of acting FAST. Know and recognize the signs of stroke and get treatment quickly."