May 24, 2019
When Robert Levene, MD, retired from a 40-year career practicing family medicine in St. Joseph, Missouri, he had ideas. A lifelong thinker and learner, he might return to school. He had outlines for books he might write. He enjoyed a trip to the California coastline with his sons and contemplated his next chapter.
But then, his path took a sudden and unexpected turn. He had a stroke.
"When you're someone who's always well, having a stroke is a very strange experience," Bob says.
Seeing the signs
Accustomed to good health, Bob easily explained away the symptoms that, in retrospect, were telling. During a phone call, his cousin on the line commented that his words sounded slurred. A few hours later, while taking the stairs to his home's second floor, Bob's leg gave out.
"I didn't hear myself slurring my words," he says. "I sounded normal to myself. When my leg gave out, I thought I was just deconditioned, out of shape. I'm always meaning to exercise more. The thought of a stroke never crossed my mind."
Without strength or movement in his leg, Bob dragged himself to his upstairs bedroom.
"I still didn't realize something serious was happening," he recalls. "I thought I was just being a wuss. I felt really embarassed about it, but I called my kids to come over and give me some help."
Bob's sons arrived quickly. Ian, an EMT and firefighter, is trained to identify the signs of stroke, but Eric, an investment analyst, just as quickly recognized what was happening.
"They saw one side of my face badly drooping and immediately knew it was a stroke," Bob says. "I said, 'This is ridiculous. It can't be a stroke.'"
But his sons knew otherwise.
"It was obvious to both of us," says Ian. "In more than 3 years as an EMT, I don't remember a case where the visual signs were so clear – the facial drooping, the left-side weakness. We knew it was serious and that his condition could decline very quickly."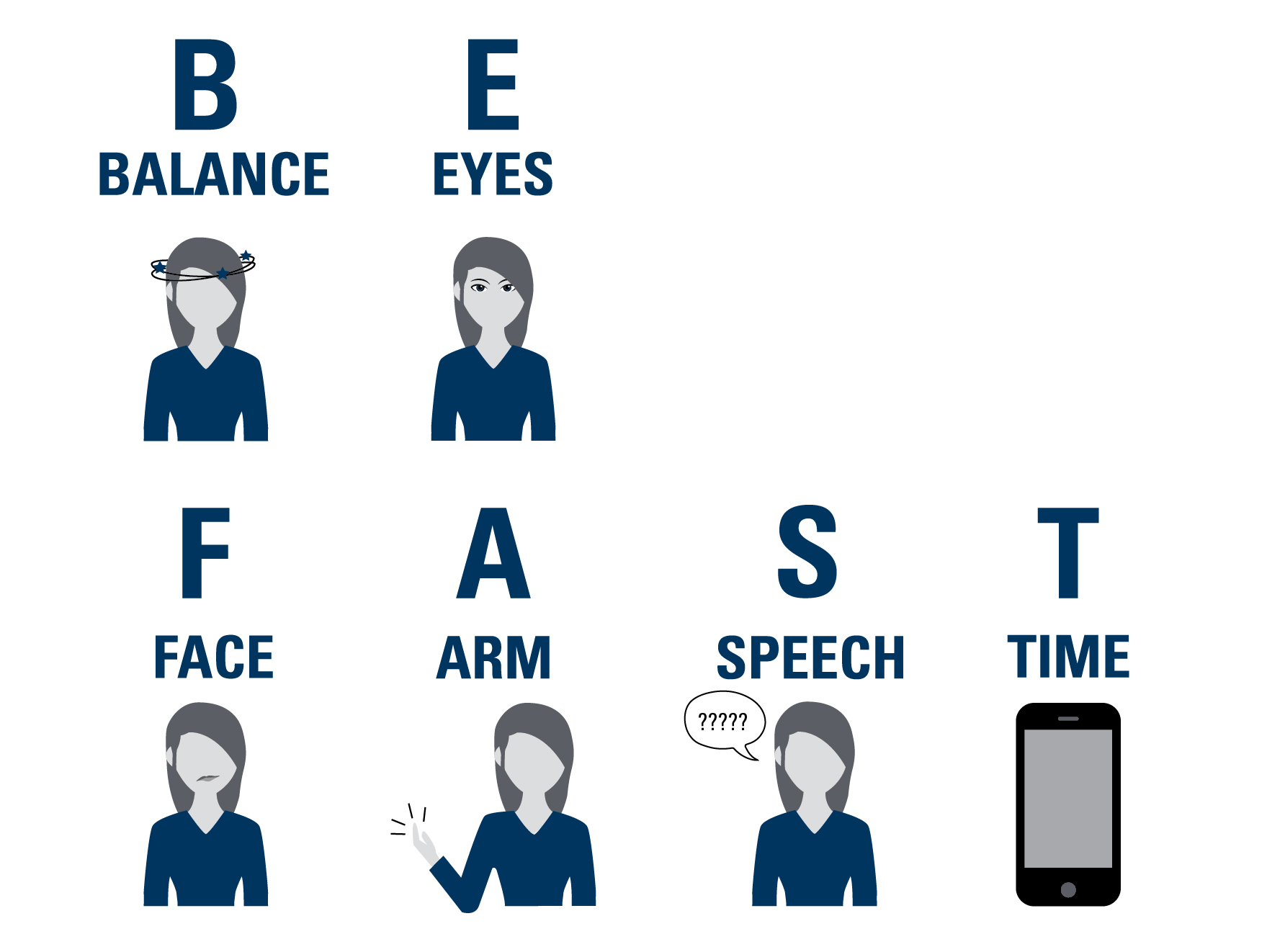 BE FAST: Know the signs of stroke
Balance: Imbalance, headache, dizziness?
Eyes: Is vision in 1 or both eyes difficult?
Face: Does 1 side of the face droop or is it numb?
Arms: Is 1 arm or leg weak or numb?
Speech: Is speech unclear or slurred?
Time: If the person shows any of these symptoms call 911.
Seeking help, fast
Eric and Ian insisted upon driving Bob to the nearest emergency department. A CT scan showed a clot blocking blood flow to Bob's brain. It was too late for Bob to receive clot-busting tPA medication – it must be given within 3-4½ hours of the start of the symptoms – so he was transferred by ambulance to The University of Kansas Health System for advanced treatment.
"Within 15 minutes of his arrival there, the clot was being removed," says Eric. "The team was mobilized and ready to act."
Neurointerventionalist Michael Abraham, MD, evaluated Bob and performed the clot retrieval procedure. The stroke care team had decisions to make in determining how best to treat Bob. His stroke score – which measures the severity of impairment – was not extremely high, but significant blockage remained.
"There is always risk that invervention can cause harm, but occlusions left untreated can worsen, causing permanent brain loss," Dr. Abraham says. "We usually opt to intervene in these scenarios, and we recommended that path for Bob."
"Once the clot was removed, the stroke symptoms disappeared and my dad improved significantly," recalls Eric. "It was a near-immediate change."
Powerful care, positive results
Bob spent 2 days recovering in the hospital.

"And then I was home again, fully functioning, doing everything I had done before," he says. "The neuro ICU is quite a remarkable unit. The care was absolutely amazing. I could not ask for better."

His sons agreed.

"I was very impressed by the whole team," says Ian. "They were cordial, informative and patient. Most people who enter the field of healthcare do so because they have a desire to help others. That was true of this team and very clear to us throughout this experience."

Bob has some fatigue and some memory issues, but his care team expects both of these stroke effects to improve, and his doctors stressed the importance of staying active. Bob is thankful to his sons and medical providers for the fast action that led to his positive outcome.

"I felt a little confused that day, a little disoriented, but despite 40 years of medical practice, I still wasn't thinking 'stroke' when it happened to me," he says. "It's easy to reason the symptoms away, to rationalize. But it is so important to acknowledge the symptoms and have them checked out fast."

The best opportunities
Advances in stroke treatment and access to an academic medical center that offers the most specialized expertise and innovative technologies contributed to Bob's successful recovery.

"In the last 10 years, there have been tremendous advances in clot removal," says Dr. Abraham. "As a comprehensive center, we are always on top of these developments and take part in clinical trials to fine-tune new techniques. We have excellent communications among our team that help us prepare and collaborate. And in this case, we also had Bob's sons. They took quick action and got the ball rolling fast."

"If you're worried, seek medical help," concludes Ian. "Everything else can wait. We're so fortunate to have gotten the best-case outcome for my dad."