May 21, 2019
As many athletes know, being diagnosed with a sports injury can be devastating. For Daniel Jackson, a receiver for Bishop Miege High School, it was not 1 but 2 injuries that kept him from playing his favorite sport for the entire 2018 season.
Taking a time out from football
During the first football game of the season on August 31, Daniel was sideswiped by another player, who hit his knee, causing it to cave in. The diagnosis? An ACL and MCL tear. On September 12, he had reconstructive surgery with Vincent Key, MD, an orthopedic surgeon at The University of Kansas Health System. Daniel was put on bed rest for 2 weeks before he could return to school. Three months later, he began physical therapy with Meghan Cassady-Kramer, PT, DPT, CSCS. After he completed therapy, she referred Daniel to Megan Bechtold, PT, DPT, OCS, CMPT, who leads the ACL bridge program at The University of Kansas Health System Sports Medicine and Performance Center.
"After finishing physical therapy with Meghan, she told me about the ACL bridge program. Since I had already been injured, she thought I would be a good candidate for the class," says Daniel.
A program for the proactive athlete
It's because of athletes like Daniel that the experts at the Sports Medicine and Performance Center created the 6-week ACL bridge program. Bechtold recommends it for the athlete who wants to learn how to reduce the risk of an ACL or other sports-related injury in the future.

"While the program is recommended for a youth or high school athlete, anyone is welcome to join, especially those who have been injured. It really helps students gain a better understanding of the strength and conditioning exercises they should be doing. They also learn correct jumping and landing techniques, which is so important. We also help them identify injury risk factors and how to remedy them," Bechtold explains.

It's not just for football players
While football, basketball and soccer are considered high-risk sports for ACL injuries, cheerleading and dance are also on the list. Krista Logan knows firsthand what it's like to suffer a setback from her favorite activity.

Krista, who grew up dancing, injured herself while performing in the fall of 2013. At the time, she was diagnosed with a dislocated kneecap. She stayed away from most athletic activities, including dancing, because of the constant instability she felt in her knee. When she decided to return to dancing in March 2018, she felt another pop in her knee. This time, she chose to see an orthopedic surgeon at The University of Kansas Health System. That's when she discovered her injury was much worse than she thought.

After examining her knee and performing an MRI, her care team determined she needed medial patellofemoral ligament reconstruction. During the procedure on May 23, orthopedic surgeon Jeffrey Randall, MD, discovered her 5-year old ACL tear and a new meniscus tear, which did not show up on her MRI scan. The meniscus tear was repaired during surgery, but Krista chose to wait until July 10 to have ACL reconstruction. The recovery process, she says, has been a journey.

"Recovering from ACL reconstruction is a lifelong process. Since my surgeries, I've learned to celebrate the small milestones. Now I'm more appreciative of my body and what it is capable of," she says.

The road to recovery
After their experiences with ACL reconstruction, both Krista and Daniel chose to complete the ACL bridge program with Bechtold. One of the key takeaways for both athletes was learning how to properly warm-up before a workout. They also agree that strengthening their muscle weaknesses was a benefit of the program.

"During the program, I discovered I have a muscle imbalance on my left side," says Krista. "Thanks to the strength, conditioning and agility exercises I learned, I now know what I need to incorporate into my routine so I can avoid another injury."

"There was a lot of emphasis on lower body exercises in the program, which I needed after surgery," says Daniel. "Since completing physical therapy and the ACL bridge class, my strength has really improved. I'm running track again, and I'm ready to play football in the fall."

Bechtold hopes to help more young athletes like Daniel and Krista reduce their risk of injury in the future.

"My goal with the program is to educate even more athletes like Krista and Daniel on the importance of proper training and how it can reduce their risk of sports injury. Our mission is really to extend what we know to all athletes and active people," she says.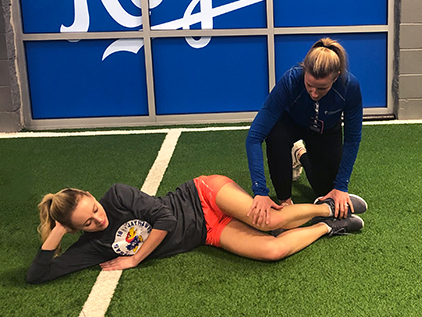 Reduce your risk
To learn more about the ACL bridge program at The University of Kansas Health System Sports Medicine and Performance Center, call 913-574-1240.

Sign up for the class now