February 11, 2021
In April 2019, Mark Mitchell was practicing at USA Basketball Camp, hoping to play with the team internationally in the summer. On the last day of camp, the unexpected happened.
"I was on a fast break," Mitchell says. "I tried to dunk on a guy, and I landed awkwardly – not in a bad way, but I felt a little something in my knee. Usually, I can just run it off, so I finished that game and started another game before I thought, 'Maybe I should just sit down.' At the time I thought maybe my knee was just sore."
After being evaluated at camp, Mark was advised to ice it and see how he felt when he got back to Kansas City.
A serious athlete gets sidelined
Mark's a seasoned athlete. When he was younger, he played football and ran track. "I ran track until 8th grade, went to the Junior Olympics 6 times and won the long jump twice in back-to-back years," he says. "I ran the 100 and 200 and was in the top 25 in the country for 6 years."
He started playing basketball competitively when he was 7 years old. Now, as a 6' 8" small forward he plays for Bishop Miege High School, his club team KC RUN GMC and USA Basketball.
Once back in Kansas City after camp, Mark tried to practice the next week, but his knee "wasn't feeling like I thought it should." He and his father, Mark Mitchell Sr., went to see orthopedic surgeon Vincent Key, MD, at The University of Kansas Health System. Dr. Key is board-certified in orthopedic surgery and orthopedic sports medicine. He is also an expert in knee, shoulder and elbow injuries. Coincidentally, Dr. Key had coached the younger Mark in youth basketball.
After examining Mark, Dr. Key sent him for an MRI and diagnosed him with a chondral injury to his right patella, or cartilage damage under his kneecap. "It's a pretty common injury for athletes in running and jumping sports," says Dr. Key. "It's a hyper-extension injury. He had a flap of cartilage that was causing inflammation in his knee. I did an arthroscopic procedure and basically smoothed out the cartilage that was catching like a hangnail causing inflammation."
Tough but expert physical therapy
One week after surgery, Mark started physical therapy with Vanessa Winters, DPT, at The University of Kansas Health System Sports Medicine and Performance Center. The center specializes in the rehabilitation of athletic injuries in a professional, motivating and sports-oriented environment.
"Reducing inflammation early on to promote improved healing, and protecting the healing site, are the initial challenges while improving mobility and restoring normal quadricep function," says Winters. "In later phases, advancement to sport-specific drills can include speed, plyometric work (jump training), reaction time and agility."
Even though physical therapy required a lot of hard work, Mark looked forward to it and enjoyed seeing his progress during each session. He worked hard, didn't complain and gave it his all every time. "He had a quick and speedy recovery, thanks to his work and dedication in and outside of his physical therapy sessions," Winters says.
Dr. Key adds that "physical therapy doesn't have to be so difficult, especially when you tailor it to the sport that the athlete loves."
As Mark progressed in physical therapy, he worked with Dr. Key and Winters to return to the court, starting with 3-on-3 and slowly progressing to 5-on-5 and full contact. Dr. Key says it was important to work with Mark, his Dad and his coach. "We wanted to get everyone on the same page and made sure they knew what the expectations and milestones were going to be for Mark," he says.
Rewards discovered, dreams retained
There was a surprising benefit to this, according to Mark's dad. "After surgery and physical therapy, Mark was a better athlete. He had more confidence, could finish better and attack more," he says.
Dr. Key sees the same benefits for many athletes. "Vanessa worked with his entire body and not just his knee. She could tell by the way that he was jumping that he had issues with his hip strength and lower back strength. We can fix those things, on top of what is fixed surgically, and build them up."
Dr. Key champions the approach that the Sports Medicine and Performance Center takes with all young athletes: "The biggest things are learning who the athlete is, knowing the injury, using a full team approach to treatment and being sport-specific. We also need to know the goals of the athlete, where they want to be on what date, working with them and walking with them to that goal," he says.
With a goal of playing in the NBA someday, Mark appreciates having received care from the same experts who care for the Royals and Chiefs, and being treated like a pro. "It was great. I knew I was in the hands of someone who really cares. Dr. Key knows me as an athlete, how I move and what I need. I felt safe and trusted what he and the care team were doing."
Mark's advice to other young athletes who suffer an injury? "Trust the process and don't go too fast. Take the time to recover and come back in the right way so you can come back at 100% or maybe even better."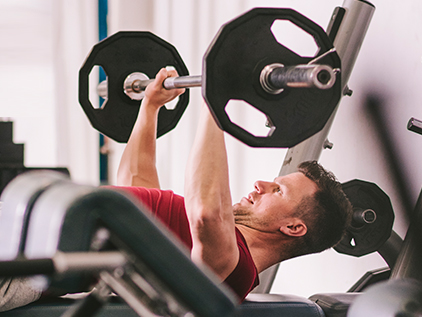 Stay fit all year long
We offer sports performance classes and programs to help athletes of all ages stay healthy and injury-free.
Learn more