September 27, 2023
When she was about 6 months pregnant with her second child, Amanda McRae began having vision problems. She told her obstetrician about them, and her physician said it was likely related to her pregnancy. Because your body experiences a lot of changes during pregnancy, Amanda felt her physician's explanation was reasonable.
But her vision continued to worsen.
"At about 6 and a half months pregnant, I could tell it was truly double vision. It wasn't blurry," she says. "It progressively got worse until I wasn't able to drive. I couldn't read or watch TV."
"Doctor after doctor, nurse practitioners, even eye doctors told me that after I had the baby, hormones would return to their regular levels and I would regain my normal vision," Amanda says. "I was told 'your hormones will go back to normal – give it up to 8 weeks.'"
Amanda is a high school principal, and as her vision worsened, her husband or father-in-law drove her to work early in the morning and picked her up every afternoon. By the time she was within days of delivering her baby, she couldn't complete normal, daily tasks and even walking became difficult.
'I really want you to get another opinion'
Near the end of March 2022, Amanda gave birth to a healthy baby boy. At 3 days postpartum, she saw another doctor who said the same thing she had been hearing all along: Give it some time and when your hormones regulate, your vision will clear up.
"At that point I had seen 5 doctors, from OB, to optometrist and even an ophthalmologist. All of them had said, 'give it 8 weeks for your hormones to go back to normal,'" Amanda says. "That just felt very hard, because it was just 3 days after having a baby and I wasn't even able to see my son. That was really challenging."
It was then that one of her friends – who works in eye care at The University of Kansas Health System – encouraged her to get a second opinion with an eye doctor at the health system.
"She said, 'I really want you to get another opinion. Can you please just try to go to our eye center?'" Amanda says. "And I was able to get an appointment with Dr. Twardowski."
"You have this mom who just had a baby a few days ago and she walked in, and you could tell there was real emotion and real concern and real fear," Matthew Twardowski, OD, says. "It was palpable in the room. At that point, you know something's going on and you have to figure out what it is."
The first thing they had to figure out, Dr. Twardowski says, is whether Amanda's vision problem was true double vision, known as diplopia. It was obvious to him quickly that it was.
"At that point, I knew we would have to get some neuro imaging done, and right down the hallway from me, we have a neuro-ophthalmologist, Dr. Tom Whittaker," Twardowski continues. "I said, 'Tom, take a look and tell me what you think about this.'"
As scary as it was, it felt comforting to know I'm not losing my mind. I asked him, 'how certain are you that you can do this successfully?' And Dr. Chamoun very matter-of-factly said, 'well, this is what I do every day.' Amanda McRae
Unexpected diagnosis
Neurological imaging made it apparent that hormones from Amanda's pregnancy were not the cause of her vision problems. An MRI identified a 5- to 6-centimeter brain tumor deep inside her skull base.
"I remember the day Dr. Whittaker called," Amanda says. "I was standing in the kitchen with my husband, and Dr. Whittaker said he had reviewed the MRI and he said, 'this is a pretty large brain tumor.'
"I just crumpled to the floor, and we were both crying. That news just rocked our world, even though the tumor wasn't cancerous."
Following the diagnosis of a brain tumor in her skull base, Amanda met with neurosurgeon Roukoz Chamoun, MD, director of the health system's skull base care program, who would perform the delicate surgery to remove the tumor from her skull. When Dr. Chamoun saw the MRI, he recognized immediately that it was the cause of Amanda's double vision.
"Now that we know the tumor is there, treating it becomes the challenge," says Dr. Chamoun. "This skull base tumor was deep in the head in a very critical location. It's surrounded by important structures, including the optic nerve, arteries and other small nerves."
While it was a frightening diagnosis for Amanda, it was also comforting to know that her vision problems weren't caused by her pregnancy.
"As scary as it was, it felt comforting to know I'm not losing my mind," Amanda says. "I asked him, 'how certain are you that you can do this successfully?' And Dr. Chamoun very matter-of-factly said, 'well, this is what I do every day.'
"I felt all the confidence behind Dr. Chamoun and his team and that was something I hadn't felt in a couple of months."
The right team with the right tools
Knowing that she now had a way forward, Amanda was able to breathe a sigh of relief knowing she had found a place that had all the tools necessary to treat her.
"A tumor of this size, in this location, cannot be treated in any small hospital, in a community hospital," Dr. Chamoun says. "It needs a lot of experience and expertise, along with the right setting. We do this on a regular basis.
"This was not a unique case for us. Skull base tumors are very challenging, and we are proud to have a comprehensive skull base care program here."
The multidisciplinary skull base tumor team includes specialists from ophthalmology, neurosurgery, ENT, radiation oncology and others. They meet on a regular basis to discuss treatment for each patient, knowing they are treating some of the most challenging and complex cases, like Amanda's.
"After surgery, the most dramatic thing happened," Amanda says. "The second I woke up from surgery, I opened my eyes, and I was able to see with 20/20 vision."
And with that, she finally saw her newborn baby for the first time. She was up and walking the next day and experienced, in her words, "a shockingly quick recovery."
Many of the patients who see Dr. Chamoun are devastated by the diagnosis of a brain tumor and have no idea what to expect. Whether the brain tumor is benign or cancerous, curable or able to be managed, Dr. Chamoun emphasizes that every patient he sees has options for treatment.
He told Amanda at a follow-up appointment that most surgeons would not have performed this surgery because the tumor was so large. When Amanda asked him why he chose to operate, he said because it could save her life.
"Especially if you are told there is no option for you, no treatment for you, that nothing can be done," he says, "come get a second opinion."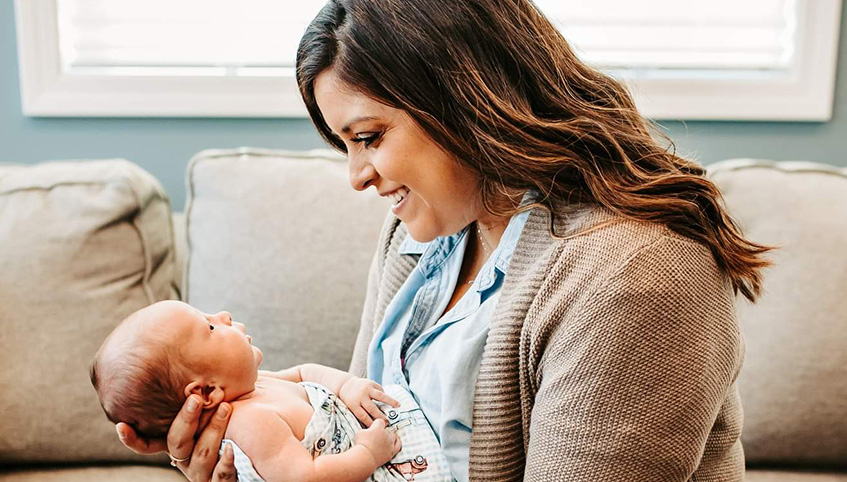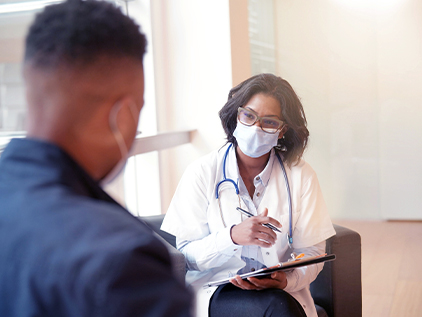 It's OK to get a second opinion
Scheduling an appointment for a second opinion of a medical diagnosis doesn't mean you don't trust your doctor. Instead, it can provide reassurance your diagnosis was correct and provide more information about your diagnosis and treatment options.
Get confidence in your diagnosis