Skip Navigation
Barrett's esophagus is the name of a condition affecting the lining of the esophagus, the organ that carries food and water from the mouth to the stomach. This condition results from prolonged exposure of the esophagus to bile and stomach acid, and is most often the result of long-term gastroesophageal reflux disease (GERD).
Doctors at The University of Kansas Health System are recognized leaders in the diagnosis and treatment of gastrointestinal disorders that affect the esophagus, stomach and other related organs. Our specialists are committed to research and scientific discovery in order to provide the most advanced care possible.
What is Barrett's esophagus?
Barrett's esophagus occurs when the tissue that lines the esophagus undergoes a transformation due to the long-term exposure to stomach acid and bile. The healthy, white tissue that lines the esophagus is called squamous mucosa.
When this tissue is exposed to the harmful chemicals within the stomach and digestive tract over a long period of time, it turns a reddish pink and displays attributes closer to the intestinal-type mucosa lining of the intestines.
Barrett's esophagus symptoms and risks
Because Barrett's esophagus is most often the result of long-term GERD, symptoms are very similar to those experienced as a result of acid reflux:
Blood in vomit or stool, particularly when blackened or tar-like
Chest pain and discomfort
Difficulty swallowing food
Frequent attacks of heartburn
Frequent coughing, throat-clearing or hoarseness
Regurgitation of the stomach contents
Unintentional weight loss
Barrett's esophagus does not have specific symptoms by itself and not everyone with GERD develops this condition. However, for those experiencing long-term acid reflux, a reduction in pain associated with attacks may be an indication that their esophageal tissue has undergone the transformation associated with the disorder.
The intestinal-type mucosa that arises from Barrett's esophagus is more unstable at the cellular level and likely to result in adenocarcinoma, a cancer of the esophagus. It is for this reason that patients diagnosed with Barrett's esophagus must begin treatment as soon as possible to prevent or stop the formation of cancerous cells in the esophagus.
Barrett's esophagus diagnosis and screening
Screening for Barrett's esophagus is based on a number of factors that indicate an increased risk or likelihood of the presence of the condition:
A family history of GERD and Barrett's esophagus
Being male, which is associated with higher rates of this disease
Being overweight, particularly if carried around the midsection
Long-term GERD
Over the age of 50 years old
Presence of a hiatal hernia
People with chronic GERD symptoms lasting 5 or more years should be screened for Barrett's esophagus with endoscopy every 3-5 years.
Because Barrett's esophagus does not have specific symptoms, it can only be diagnosed with an endoscopic procedure and biopsy. An endoscopy allows a doctor to visually inspect the esophagus and a biopsy allows them to determine the type of tissue present.
By examining the esophagus for the telltale reddish pink tissue in its lining, gastroenterologists can determine the likelihood of the presence of this disorder. The results of the biopsy performed will confirm or rule out the presence of intestinal-type mucosa within the esophagus.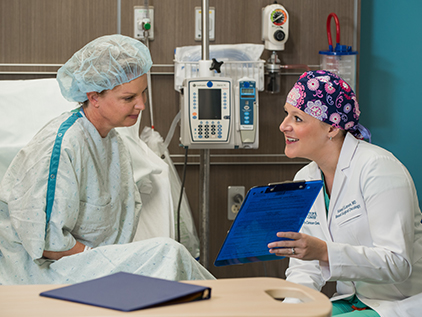 Cancer care you can count on
The University of Kansas Health System is part of The University of Kansas Cancer Center – 1 of just 71 NCI-designated cancer centers in the nation.
Our cancer care
Barrett's esophagus treatment
Those who have been diagnosed with Barrett's esophagus should be evaluated for appropriate therapy by a specialist, such as a gastroenterologist. Treatments may include medicine, surgery and lifestyle modifications. In many cases, treatments will be similar or identical to those used to treat GERD.
Treatment plans for Barrett's esophagus are centered around 3 possible variations of the disorder:
Risk factors such as age and family history also play important roles in the formation of a treatment plan.

Still the best
Our hospital continues to rank as the best in Kansas City and in Kansas according to U.S. News & World Report.

Magnet-recognized
The University of Kansas Hospital has been designated a Magnet® facility by the American Nurses Credentialing Center since 2006.

Top academic medical center
Earned Vizient's 2018 Bernard A. Birnbaum, MD, Quality Leadership Award; ranked 5th out of 99 academic medical centers studied.