Skip Navigation
Our physicians are recognized leaders in the diagnosis and treatment of gastrointestinal or digestive system disorders that affect the esophagus, stomach, intestines, colon, gallbladder and other related organs.
Identifying and treating disorders that disrupt digestion
Our physicians treat disorders including:
Achalasia (Difficulty swallowing)
Constipation
Diarrhea
Gallstones
Heartburn
Irritable bowel syndrome (IBS)
Nausea and vomiting
Peptic ulcer disease
Services
Capsule endoscopy
Colonoscopy
Dilation of strictures/narrowing
Esophagogastroduodenoscopy (EGD)
Endoscopic retrograde cholangiopancreatogram (ERCP)
Flexible sigmoidoscopy
Liver biopsy

Anal rectal manometry
BARRX – ablation of Barrett's esophagus
C13 breath test: H. pylori
Colonic manometry
EMR – endoscopic mucosal resection
H2 breath test:

Small bowel bacterial overgrowth
Lactose intolerance
Fructose intolerance

Impedance test
Mano scan – esophageal manometry
Paracentesis
PEG tube placement
Sham meal testing – pancreatic polypeptide level to evaluate if the vagus nerve has been cut after fundoplication
Stents – esophageal/duodenal/colonic
Thoracentesis
24-hour pH monitoring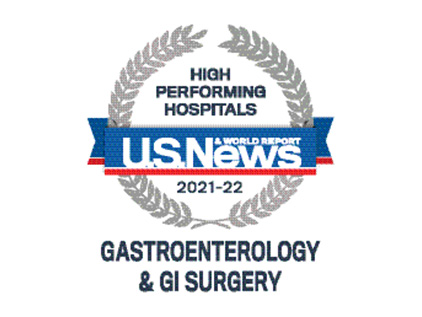 Recognized among the nation's best
U.S. News & World Report recognized our program as high performing in its 2021-22 Best Hospitals report. The honor places our care among the top 10% of GI and GI surgery programs evaluated. We are proud to provide you and your loved ones with nationally recognized care.
Read about this honor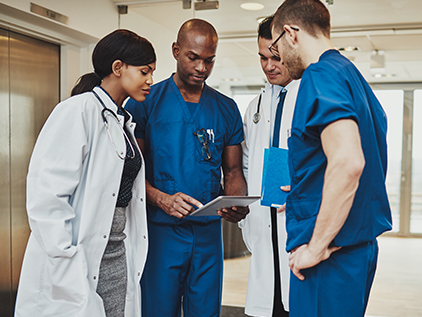 Leading research and clinical trials
As part of one of the nation's premier academic medical centers, our care providers are committed to research and scientific discovery through the University of Kansas Medical Center. We can often include our patients in potentially lifesaving clinical trials and treatment options not available anywhere else.
Our Research
Our doctors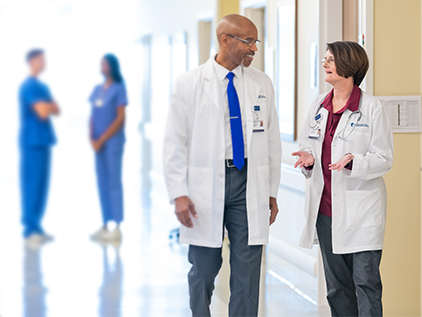 Our gastroenterology locations
1. Medical Pavilion

2000 Olathe Blvd.
Level 4D-F
Kansas City,, KS 66160

Mon

8 a.m. - 4:30 p.m.

Tues

8 a.m. - 4:30 p.m.

Wed

8 a.m. - 4:30 p.m.

Thur

8 a.m. - 4:30 p.m.

Fri

8 a.m. - 4:30 p.m.

Sat

Closed -

Sun

Closed -

2. KU MedWest

7405 Renner Road, Pod C
Shawnee, KS 66217

Mon

8 a.m. - 4:30 p.m.

Tues

8 a.m. - 4:30 p.m.

Wed

8 a.m. - 4:30 p.m.

Thur

8 a.m. - 4:30 p.m.

Fri

8 a.m. - 4:30 p.m.

Sat

Closed -

Sun

Closed -

3. The University of Kansas Hospital

10710 Nall Ave.
Overland Park, KS 66211

Mon

8 a.m. - 5 p.m.

Tues

8 a.m. - 5 p.m.

Wed

8 a.m. - 5 p.m.

Thur

8 a.m. - 5 p.m.

Fri

8 a.m. - 5 p.m.

Sat

Closed -

Sun

Closed -

4. The University of Kansas Hospital

4000 Cambridge St.
Kansas City, KS 66160

Mon

8 a.m. - 4:30 p.m.

Tues

8 a.m. - 4:30 p.m.

Wed

8 a.m. - 4:30 p.m.

Thur

8 a.m. - 4:30 p.m.

Fri

8 a.m. - 4:30 p.m.

Sat

Closed -

Sun

Closed -

HOL

Closed -

5. Quivira Specialty Care

12000 W. 110th St.
Overland Park, KS 66210

Mon

8 a.m. - 4:30 p.m.

Tues

8 a.m. - 4:30 p.m.

Wed

8 a.m. - 4:30 p.m.

Thur

8 a.m. - 4:30 p.m.

Fri

8 a.m. - 4:30 p.m.

Sat

Closed -

Sun

Closed -