Skip Navigation
A concussion is a type of brain injury that occurs when you hit or injure your head. Falls, accidents and contact sports are common causes of concussion. While the effects of concussion are usually temporary, early diagnosis and timely treatment are critical.
Doctors at The University of Kansas Health System treat mild to severe concussions in adults, children and adolescents. They thoroughly assess your symptoms to ensure your brain heals, your memory and cognitive function are fully restored and your chances of a second concussion are minimized.
Our Center for Concussion Management is innovative in the field of concussion research and treatment. The care team is led by physicians from different specialties along with a patient navigator. They are supported by nurses and other caregivers at the health system, and a research component involves staff at the University of Kansas Medical Center.
What is a concussion?
A concussion occurs when a head injury causes your brain to move back and forth against the walls of your skull. This can result in a number of symptoms, including headaches, dizziness or loss of consciousness. Concussions can range from mild to severe, with severe concussions causing life-threatening symptoms like bleeding in the brain.
Concussions can result from a number of activities, such as car accidents and falls, but they commonly occur during participation in sports. Our sports medicine experts offer leading treatment for sports-related concussions, along with guidelines on safely returning to school, work and physical activities.
Concussion symptoms and risks
It is important that brain injuries are treated immediately. If you've suffered a head injury, call your doctor as soon as possible. Signs and symptoms common to concussion can fall into 1 of 2 categories:
Many people recover from concussions quickly and easily. Others may experience symptoms for days or weeks. It is important to note that those who have had a previous concussion are at greater risk and face a longer recovery if a second concussion occurs.
Concussion diagnosis and screening
Our concussion specialists use a computerized concussion evaluation tool to help with recovery and returning to activities. The tool is called ImPACT® (immediate post-concussion assessment and cognitive testing). This test measures attention span, memory, problem-solving and reaction times. It also provides baseline testing before a concussion for after-injury comparisons.
Your doctor may also diagnose a concussion using: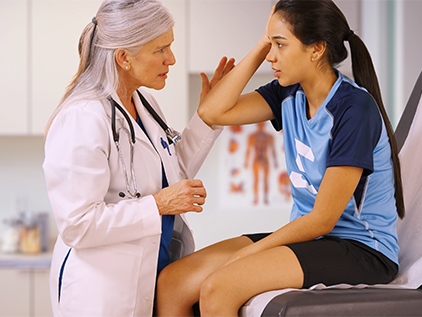 Comprehensive concussion care
Our team of specialists works together to provide you with:
Education for family, trainers and coaches
Excellent patient care
Leading-edge research
Find a specialist
Concussion treatment
Recovery from a concussion is key to long-term brain health. Rest is the most important component of recovery. Your brain needs time to heal. You should return to your daily activities slowly, and only with your doctor's consent.
Those recovering from a concussion should:
Avoid physically and mentally intense activities, including computer use and texting
Avoid taking medicines without your doctor's permission, especially aspirin, blood thinners and drugs that cause drowsiness
Eat nutritious foods and drink plenty of water
Get plenty of rest and sleep, 7 to 8 hours of sleep each night
Refrain from drinking alcohol
Research suggests that those who are not fully recovered from a concussion are significantly more vulnerable for recurrent, cumulative and serious consequences of a second concussion. The best way to manage a concussion is to seek medical care promptly by a trained concussion medical specialist.
Why choose us for concussion treatment
Fast and effective treatment of concussions is important for getting back to a normal life. Our Center for Concussion Management team wants to make sure you are healthy before, during and after a traumatic brain injury. Offering assessments before a head injury occurs can provide a baseline if a diagnosis is needed at a later time. And following up after an injury assures that the risk of post-concussion syndrome or a second concussion is lowered.
We are committed to providing exceptional care for every person who receives a concussion. We also focus on providing concussion information and education to encourage awareness and improve outcomes when concussion occurs. Our efforts have yielded significant improvement in the average number of days from referral to discharge.