Skip Navigation
Normally, valves in your deeper leg veins keep blood moving forward toward the heart. Venous insufficiency, also known as venous disease or chronic venous insufficiency, is a condition in which the veins have problems sending blood from the legs back to the heart.
Specialists at The University of Kansas Health System are highly skilled in diagnosing and treating venous insufficiency. We offer all of today's most current therapies for vein care.
What is venous insufficiency?
Chronic venous insufficiency is a long-term condition that can weaken the vein walls or damage the valves. This causes the veins to stay filled with blood, especially when you are standing. The condition is most commonly due to malfunctioning valves in the veins. It may also occur as the result of a past blood clot in the legs.
Venous insufficiency symptoms and risks
Venous insufficiency diagnosis and screening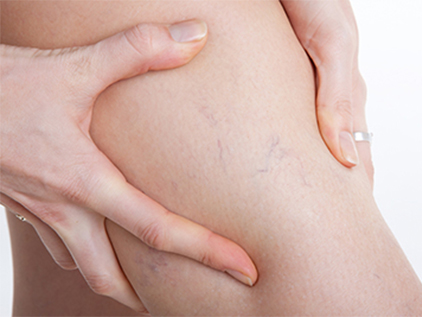 Injections for spider veins
Sclerotherapy is a minimally invasive treatment for people with spider veins. This procedure shrinks blood vessels to improve your appearance and reduce related vascular symptoms.
Learn more
Venous insufficiency treatment
ClosureFast™ and VenaSeal™ are 2 state-of-the-art endovenous ablation procedures available for the treatment of varicose veins.
Microphlebectomy is used for removing protruding varicose vein clusters by making tiny incisions that are closed with tape and heal with minimal scarring.
Sclerotherapy is the precise placement of a chemical solution that seals and destroys spider veins, causing them to disappear.
Skin changes and leg venous ulcers are treated with perforator vein ablations.

Still the best
Our hospital continues to rank as the best in Kansas City and in Kansas according to U.S. News & World Report.

Magnet-recognized
The University of Kansas Hospital has been designated a Magnet® facility by the American Nurses Credentialing Center since 2006.

Respect for all people
Named a leader in LGBTQ+ Healthcare Equality by the Human Rights Campaign.