Skip Navigation
Vascular Disease Screening
Vascular Disease Screening
An estimated 20 million to 30 million Americans are at risk for various vascular diseases, including stroke, peripheral arterial disease, carotid artery disease and aortic aneurysms. These nonheart-related vascular diseases cause as much death and disability as heart disease.
In the past, these vascular diseases have gone undetected until it is too late. However, with the early detection screenings available from The University of Kansas Health System, vascular disease can now be identified and treated before major complications arise.
What is vascular disease screening?
Our early detection screening for vascular disease is designed to discover undetected health problems using noninvasive health screenings. These screenings, which take approximately 30 minutes to complete and do not require a doctor's order, allow you and your primary care physician to design a plan to treat vascular disease.
Our noninvasive vascular laboratory is a modern, uniquely designed facility to serve outpatients and is accredited by the Intersocietal Commission for the Accreditation of Vascular Laboratories. Cost for the screenings is $40 per exam or $100 for the set of 3. These screenings are not covered by insurance.
Who should have vascular disease screening?
Screening is useful for anyone over age 55 who has not already been diagnosed with carotid artery, abdominal aorta or peripheral vascular disease. There is a higher risk of atherosclerosis in certain high-risk patients, including those with:
A history of smoking
High blood cholesterol
Family history of atherosclerotic problems and circulatory problems
What does a vascular screening test diagnose?
A vascular screening test can be used to diagnose many different types of vascular disease. A full range of noninvasive tests is available at our vascular laboratory, including tests for:
Abdominal aortic aneurysm
Carotid artery disease
Peripheral artery disease
What are the risks of vascular disease screening?
Vascular disease screenings are conducted using ultrasound imaging, which carries no known risk. Additionally, the results of your screening test can be lifesaving, as identifying any abnormalities can ensure the earliest possible intervention and treatment.
Before your vascular disease screening
Different screening tests may have different preparation requirements, depending on the type of vascular disease being screened for. You may need to fast for a certain amount of time before your test. It's important to follow your doctor's instructions.
What to expect during your vascular disease screening
Recovery and results for your vascular disease screening
Your doctor will go over your results with you once they are ready. If your vascular disease screening comes back with any abnormal findings, your doctor will discuss the next steps. You may need additional diagnostic tests for your doctor to make a definitive diagnosis and treatment recommendations.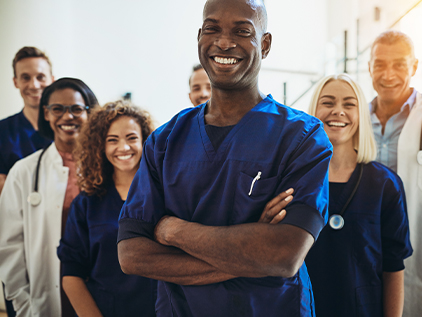 Find a doctor
Doctors at The University of Kansas Health System are care providers and researchers at the forefront of new medical discoveries. From primary care to complex conditions, we offer hundreds of specialists.
Find a doctor