Skip Navigation
What Sets Us Apart
You have choices when selecting neurology and neurosurgery providers. We want to help you make your decision with confidence. We are dedicated to offering the best neurology and neurosurgery care in Kansas City and extend our services to residents of our state, region and beyond. We are here to do everything possible to help you recover from complex conditions involving the brain, spine and nervous system.
Our experts not only make a difference for individual patients and families, but also drive medical advancement in their specialized fields.
Complete, collaborative care
Here, you'll receive expert care from nationally known neurologists and neurosurgeons. Our nurses and staff offer specialty expertise and collaborate with doctors to provide you with an excellent experience. Our team is often the first in Kansas City to perform inventive new procedures. We frequently assist patients with conditions others consider too complex to address.
We are the teaching hospital for the University of Kansas Medical Center and the premier academic medical center in Kansas. It is our responsibility to provide the highest level of expertise, service and technology to care for the most severely ill patients. Our physicians are also researchers, constantly seeking new treatment options and opportunities to advance their fields for the benefit of patients.
Our physicians, nurses and staff share a commitment to service, continuous improvement and patient care excellence. The medical center's faculty members engage in teaching and clinical research, shaping the future of medicine. Our organizations collaborate to bring you exceptional care and the latest treatment options.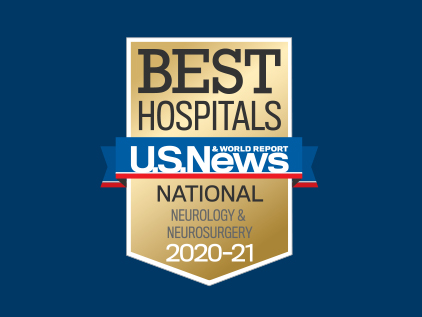 Ranked among the nation's best
Our program ranked among the nation's best in U.S. News & World Report's Best Hospitals 2020-21. Rankings are based on measurable achievements in quality, safety, nursing excellence and more. We are proud to provide you and your loved ones with nationally recognized neurology and neurosurgery care.
Read about this honor
An interdisciplinary approach
When you seek care here, you'll find expertise that is both broad and deep. What's more, experts pool ideas and experience in interdisciplinary teams to together address patients' physical, mental and emotional needs.
You'll benefit from each specialist's strengths as well as their collaboration. It is a strong advantage for patients striving to manage or overcome complex conditions.
Consider:
A patient with epilepsy may require the combined experience of an epileptologist, neuropsychologist, neuroradiologist and neurosurgeon to stop seizures.
A patient battling a brain tumor may require an oncologist, neurosurgeon, interventional radiologist, neuroradiologist, neuropathologist and anesthesiologist.
A patient facing a stroke may require the capabilities of a stroke neurologist, neurointerventionalist, rehabilitation specialist and physical, occupational and speech therapists.
Under a single roof, our specialists offer some of the nation's best clinical experience. They team with colleagues across disciplines to give every patient the best opportunity to achieve the best possible outcome.
Quality matters
We are privileged to bring the power of academic medicine to people from all parts of Kansas and Missouri, as well as patients from every U.S. state and several countries.
Subspecialty programs that have earned recognition for care and outcomes include:

ALS Treatment Center
We are a certified Treatment Center of Excellence recognized by the ALS Association.

Alzheimer's Disease Center
We offer a National Institute on Aging-funded, designated Alzheimer's Disease Center.

Level 4 Epilepsy Center
We are the only Level 4 Epilepsy Center in the state of Kansas accredited by the National Association of Epilepsy Centers.

MS Achievement Center
Our center provides therapeutic services for individuals with progressive MS.

Parkinson's Disease Center
We offer a Parkinson's Disease Center of Excellence recognized by the National Parkinson Foundation.

Stroke Center
The Joint Commission recognizes our stroke center as a Certified Advanced Comprehensive Stroke Center.
Academic advantage
Our collaboration with the University of Kansas Medical Center offers patients special advantages. Through research and clinical trials, we provide treatments not available elsewhere in our region. Our expert physicians and nurses serve a crucial role in teaching, preparing the next generation of top-quality clinical professionals.
We promote an interdisciplinary care team model. Complementing our distinguished neurology and neurosurgery team, leading experts in more than 200 fields bring insights to comprehensive care plans. Patients benefit from their teamwork.
Related links