Skip Navigation
Neuromuscular disorders are a group of medical conditions in which muscles do not function as they should. This means you might be unable to control your movement. You may find your muscles are very weak.
We offer comprehensive expertise and treatments to help control neuromuscular disorders. Our board-certified experts can help you achieve the best quality of life.
About neuromuscular disorders
Neuromuscular disorders cause you to lose control of your movement. This often affects the eyes, mouth and limbs. The conditions affect nerves that allow communication between the muscles and the brain. These neurons become damaged or die, stopping communication and leaving muscles to weaken or waste away.
There are many types of neuromuscular disorders. This disease category includes many conditions that affect muscle function.
Our doctors treat neuromuscular disorders including:
We also treat:
Myopathy
Myositis, including polymyositis and dermatomyositis
Peripheral neuropathy
Spinal muscular atrophy
Symptoms and risks

Signs of neuromuscular disorder, like weakness and difficulty controlling muscles, can happen in childhood or adulthood. They often worsen over time. In some people, the cause is genetic. In others, it is caused by an autoimmune dysfunction. Symptoms include:

Weakness in limbs
Sensory changes
Muscle loss
Difficulty with balance
Inability to control movement
Tingling and numbness
Double vision
Drooping eyelids
Slurred speech
Difficulty swallowing
Difficulty breathing

Diagnosis and treatment

During your visit, our specialized neurologists perform a complete exam and take a full medical and family history. Doctors check reflexes and muscle strength. They may also order these diagnostic tests:

Blood tests
Lumbar puncture
Nerve conduction study to determine whether signals travel from nerve to muscle correctly
Magnetic resonance imaging scan of the brain
Electromyography to evaluate the electrical activity of the muscles
Genetic testing
Muscle biopsy, in which a muscle sample is taken and evaluated under a microscope

Thanks to our partnership with the University of Kansas Medical Center, our neuromuscular disorder team is among the nation's most involved in clinical research and trials. Our patients benefit from the field's most advanced treatment options.

While neuromuscular disorders are not curable, controlling symptoms is possible. Our experts use a variety of medications and therapies to help control symptoms. Patients often can work and enjoy their families, friends and hobbies, living full and normal lives.

Nationally ranked
Our neurology and neurosurgery program ranked No. 31 on U.S. News & World Report's 2018-19 Best Hospitals list.

Interdisciplinary care
We provide comprehensive care to support patients over time.

Leading researchers
Our providers are also leading researchers. They care for patients today and drive research to develop new treatments.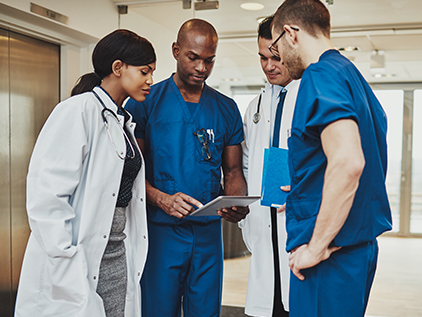 Leading research and clinical trials
We collaborate closely with the University of Kansas Medical Center to realize the power of academic medicine. Here at the health system, we deliver advanced patient care. The staff at the medical center conducts industry-leading research and clinical trials.
Our Research
Our experts
Learn more about our leaders in neuromuscular disorder treatment and research.