Skip Navigation
Endoscopic Ultrasound EUS
The University of Kansas Health System is 1 of only 2 facilities in the Kansas City area to offer endoscopic ultrasound. This outpatient diagnostic procedure provides detailed images of the gastrointestinal tract and surrounding organs, allowing doctors to make an accurate diagnosis.
We use the endolumenal functional lumen imaging probe (FLIP®) advanced imaging system to capture specialized measurements of the pressure and function of the esophagus. EndoFLIP works in the lower esophageal sphincter to assess how well it is opening and closing. Following upper endoscopy, while the patient is still sedated, doctors introduce a tiny catheter and balloon to capture the measurements. This precise data helps distinguish between similar diseases.
The EndoFLIP can be used as an alternative or complement to high-resolution manometry (HRM) to evaluate for trouble swallowing. It can also be used to evaluate patients for:
Achalasia
Esophageal dysphagia
Eosinophilic esophagitis
Gastroesophageal reflux disease (GERD)
Physicians may also use EndoFLIP during POEM or anti-reflux surgery.
Our physicians are recognized leaders in the diagnosis and treatment of gastrointestinal or digestive system disorders that affect the:
Bowels
Colon
Esophagus
Gallbladder
Intestines
Liver
Pancreas
Rectum
Related organs and systems
Industry-leading treatment techniques
We are the only facility in the Midwest to offer the innovative peroral endoscopic myotomy (POEM) procedure, a minimally invasive and endoscopic option to treat achalasia.
We also use radio frequency ablation to remove precancerous cells from the esophagus. The approach uses a heated probe to target and destroy abnormal tissue before cancer can develop. Treatment is personalized by patient, but may involve repeated visits every 4-6 weeks until the cells are eliminated.
If you have questions on preparing for your procedure, call endoscopy scheduling at 913-588-3945, option 3.
Our physicians treat disorders including:
Crohn's desease
Constipation
Diarrhea
Fecal incontinence
Gallstones
GI cancers
Liver diseases
Nausea and vomiting
Pancreatitis
Peptic ulcer disease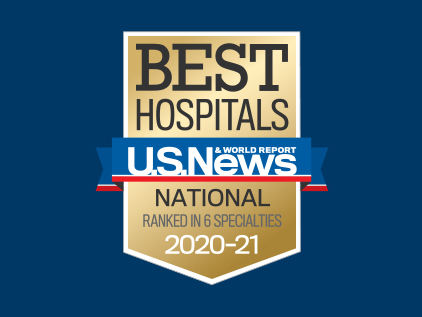 Ranked among the nation's best
We're proud to offer you and your loved ones nationally ranked care. Once again, U.S. News & World Report recognized our hospital as the best in Kansas City and in Kansas. We are the only hospital ever to hold these honors. U.S. News also ranked 6 of our specialties among the nation's best.
Read about this honor