Skip Navigation
Home infusion therapy is a safe, convenient alternative to inpatient care for individuals who need intravenous medication on a regular basis. The University of Kansas Health System offers this special service so you can recover better, faster and more comfortably in the privacy of your own home.
What is home infusion therapy?
Infusion therapy delivers intravenous doses of medication to treat conditions that are not responding to oral medications. Historically, people needing infusion therapy were required to remain in an inpatient setting for the duration of their treatment or make returning visits to receive medication.
We're here to answer your infusion questions; call 913-588-2600.
Who can have home infusion therapy?
Home infusion therapy can be beneficial for many different conditions, including infections, cancer, gastrointestinal disorders, heart failure and disorders of the immune system, among others. Your doctor will discuss if home infusion therapy is right for you.
If you are ready to be discharged from the hospital and have been told you will need home infusion therapy for your medications, ask your nurse manager, nurse case manager or social worker about these services. We are here to answer your questions and begin the streamlined process.
How does home infusion therapy work?
Home infusion therapy involves delivering medications through a needle or catheter. Your home infusion nurse will provide all of the necessary supplies for your treatment.
Some of the personalized therapies available at The University of Kansas Health System include:
Antibiotic and antiviral therapies
Anti-inflammatory and steroid therapies
Blood-clotting factors
Catheter care
Colony-stimulating factors
Growth factors
HIV therapies
Hydration and electrolyte replacement
Immunotherapies/Immune globulin therapy (IVIG)
Inotropic therapies
Specialty infusions
Total parenteral nutrition
Our staff will work closely with you to help coordinate your care and medications during treatment.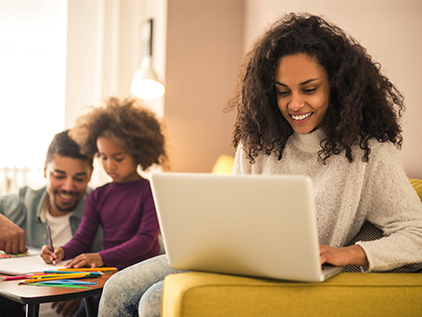 Patient payment portal
You can pay your bills by either using a credit/debit card or your checking/savings account. Please have your bill, along with your payment information, available for this process.
Make a payment now
Benefits and risks of home infusion therapy
There are many good reasons to transition to home infusion therapy. It is often more convenient to be able to administer the infusion in your own home, and many people prefer receiving their medication in a safe and comfortable setting. Often, infusion therapy is more cost effective when done at home and not in a healthcare setting. It can also decrease your hospital stay and allow for earlier return to work and normal activities.
What happens during home infusion therapy?
A home infusion nurse will meet you at your home the day of your scheduled infusion. Your nurse will begin seeing you as often as needed while you receive home infusion therapies and will teach you how to administer the therapies during this time. You may have friends or family members help you with infusions, but your home infusion nurse will need to first ensure your family member is properly trained and reliable.
After you are comfortable, the visits will decrease to once a week for labs and to change dressings. Your nurse will stay as long as necessary, until you are comfortable performing your treatment.
Why choose us for home infusion therapy
The University of Kansas Health System is known throughout Kansas City and the region for exceptional quality care. Our infusion therapy team provides a continuum of care that builds upon the trust and relationship you already have with our medical team. Our home infusion professionals have direct access to patient information, which streamlines your care and helps ensure your safety and well-being.
When you choose The University of Kansas Health System for your home infusion services, you receive the unique advantage of the collaboration and expertise of physicians, nurses, social workers and pharmacists. This ensures you get the greatest benefit from your medication therapy.
Home infusion FAQ
Get answers to home infusion therapy frequently asked questions.

Medications and equipment
You can authorize deliveries on your profile so you do not have to be home and deliveries can be left at your doorstep.

You will generally receive a delivery once a week, but this depends on the stability of your medication expiration time after it is compounded.

Your home infusion nurse and pharmacy will instruct you on how to care for your medication.

Your home infusion nurse will provide you with instructions on how to care for your line during the initial session.

Your home infusion nurse will provide you with instructions on how to care for your PICC.

This will vary depending on your dose and physician orders.

Consult with your physician and pharmacist about your specific mix of medications.

The administration device depends on your medication. Our goal is to make it as convenient as possible for you.

Often yes. Consult with your care team.
Insurance
Our team will carefully review your personal insurance plan, check your benefits and notify you of coverage.

Medicare covers some home infusion services. Our intake team is happy to check your benefits and let you know.

Our team will contact your insurance company and estimate the services you are to receive and inform you upfront of the expenses you can expect before covering your deductible.
Emergencies
We offer a 24-hour care line. Call 913-588-2600, follow the prompts and you will be transferred to the appropriate extension to assist with your request.