Skip Navigation
LASIK and Refractive Surgery
LASIK and Refractive Surgery
When light rays enter the eye, they are bent, or refracted, by the cornea (the clear tissue on the front of the eye) and the lens (the transparent structure inside the eye) so that they are focused directly on the retina (the tissue at the back of the eye where visual sensory receptors are located). When light rays are not focused, or refracted, precisely onto the retina, a "refractive error" – nearsightedness (myopia), farsightedness (hyperopia), astigmatism or presbyopia – results.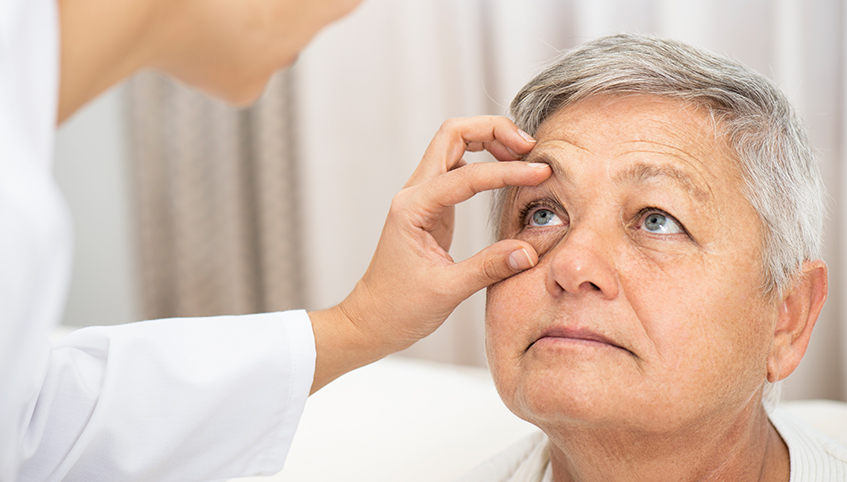 Thirty years ago, the only options for correcting refractive errors were eyeglasses or contact lenses. Today, the highly skilled ophthalmologists at The University of Kansas Physicians Eye Center have a much broader range of vision correction options to offer.
Over the past several years there have been significant advances both in laser technology and surgical techniques. When the first laser vision correction procedures were performed in 1987, only those with low to moderate nearsightedness without any astigmatism were candidates. Today, using state-of-the-art Excimer laser systems, the Eye Center's highly skilled surgeons help patients with very low to moderately high degrees of nearsightedness, farsightedness and astigmatism enjoy life without eyeglasses or contacts.
There are many factors to be considered in determining which procedure is best suited for each individual. Some of these factors will be discovered during your pre-operative evaluation. Some may be decided by your lifestyle and preferences. One of our Surgery Specialists will review the results of testing with you, explain available options and discuss with you how these fit your needs and your lifestyle so that you may make the best decision for your particular case.
Our LASIK and Refractive Surgery Specialist is: Kenneth Goins, MD, fellowship trained, board certified, certified in the VISX WaveScan WaveFront Systems, IntraLase® FS Laser
Our specialist
Kenneth M Goins

Cornea and External Disease

Locations:

Eye Center
7400 State Line Road
Prairie Village, KS 66208

Clinical Focus:

Cornea and External Disease
Cataract and Refractive Disease
LASIK and Laser Vision Correction Surgery
Comprehensive Ophthalmology
Frequently asked questions
Generally, they are not covered by insurance, but you should always check with your individual company. Many people have medical flex plans they use which helps them save on the procedure by using pre-tax dollars. Check with your employer's human resources department to see if this is a benefit provided to you. If you would like to consider financing options, please ask your surgery coordinator for more information.

As with any treatment or operation there are potential side effects and risks. Some of the more common side effects associated with LASIK are: dry eyes, increased sensitivity to light, glare and halos around lights, fluctuating vision and hazy vision. A professional staff member will thoroughly explain the potential risks and benefits of each procedure to you during your pre-op screening appointment. You may also want to review the straight-forward Patient's Guide to Refractive Surgery published by the American Academy of Ophthalmology.

It is important that you have realistic expectations before you decide to undergo any vision correction procedure. The vast majority of patients who undergo these procedures are very pleased with the results. One study under the guidance of the FDA found that, one year after LASIK treatment, 98% of patients could see 20/20 and 70% could see 20/16 or better without glasses or contacts.

The goal of any refractive procedure is to reduce the need for glasses or contacts. If you expect better vision without glasses or contacts, you will likely be pleased with your results. If you expect perfect vision without the need for glasses or contacts, you may be disappointed.
Vision correction options
Types of laser corrections:
LASIK (laser in-situ keratomileusis)
SBK (Sub-Bowman's Keratomileusis)
PRK (Photo-Refractive Keratectomy)
LASEK (Laser Epithelial Keratomileusis) or Advanced Surface Ablation (ASA)
Intacs (Corneal Ring Segments)
Intacs for Keratoconus
LASIK (laser in-situ keratomileusis)
LASIK is one of the most popular vision correction procedures used today. With this procedure, vision is corrected by reshaping the corneal tissue beneath the surface of the eye. A "flap" is created on the corneal surface, which is then flipped back while the surgeon uses a laser to treat, or reshape, the deeper layers of the cornea. The flap is then folded back in place where it bonds without the need for stitches.
The benefits of LASIK, because it is performed under a protective layer of tissue, are that there is less surface area to heal, less risk of corneal haze, less postoperative discomfort, and less need for postoperative medication than with some other procedures. Vision returns rapidly, often within a day or two. More information on LASIK.
SBK (Sub-Bowman's Keratomileusis)
SBK is an advanced vision correction procedure. It is similar to LASIK in that a flap is created and the laser treatment is performed underneath this protective layer of tissue. However, the flap for SBK is not nearly as deep as it is for LASIK. The flap is produced just below the Bowman's membrane of the cornea in SBK. This method retains the original thickness of the cornea and reduces the risk of ectasia, a potential complication of LASIK which leads to a thin and bulging cornea.
The benefits of SBK over traditional LASIK include offering a more immediate improvement in vision, decreased treatment time, maintained and possibly increased corneal strength, increased accuracy, and reduced risk of complications.
PRK (Photo-Refractive Keratectomy)
PRK is another laser vision correction procedure that corrects vision by reshaping the cornea. The difference between PRK and LASIK is in where the laser treatment takes place in the cornea. With LASIK, a flap is created on the surface of the cornea, which is then folded back while the laser treatment is applied to the inner tissue. With PRK, no flap is created. The outer layer of the cornea, or epithelium, is removed and a laser is applied to the surface of the cornea. Because the epithelium is removed, a contact bandage is placed over the eye during the healing phase. The epithelium grows back very quickly, but you may experience some discomfort, especially during the first few days. Most patients resume normal activities within one to three days. More information on PRK.
LASEK (Laser Epithelial Keratomileusis) or Advanced Surface Ablation (ASA)
LASEK is a procedure that combines some aspects of PRK and LASIK. It is similar to PRK because it is performed on the cornea's surface. However, instead of removing the epithelium (the thin layer of protective skin that covers the cornea) as in PRK, a flap of surface epithelium is loosened with a diluted alcohol solution and moved aside. This creation of a flap is similar to the LASIK procedure, except the flap for LASEK is created on the very outer surface of the cornea. Once the flap is moved aside, the surgeon uses a laser to treat the surface underneath the epithelium. The epithelial flap is then returned to its original position.
LASEK is used to treat nearsightedness, farsightedness and astigmatism, using the same principles as with PRK and LASIK: To treat nearsightedness, the steep cornea is made flatter by removing tissue from the central part of the cornea. This flatter cornea results in moving the point of focus from in front of the retina to directly on the retina. More information on LASEK.
Intacs (Corneal Ring Segments)
Intacs are an alternative to laser vision correction procedures. They are used to treat low levels of nearsightedness and astigmatism, but they do not involve the use of a laser to change the shape of the cornea as many other procedures do.
Intacs are clear, micro-thin prescription ring segments that are made of biomedical plastic. They are surgically inserted into the outer portion of the cornea and act to flatten the central part of the cornea.
Unlike laser vision correction procedures, where corneal tissue is actually removed, no tissue is permanently removed with Intacs. If you are not satisfied with your vision after the placement of Intacs, they may be removed and even replaced with a different prescription.
Intacs for Keratoconus
Keratoconus is a corneal disease that involves progressive thinning of the corneal stroma. It frequently affects both eyes, often with one eye being more involved than the other. As the disease progresses and the cornea grows thinner, it begins to bulge forward in shape of a cone, resulting in distorted and blurry vision. It often becomes difficult to properly fit these patients with contact lenses or to correct their vision with eyeglasses. For many patients with keratoconus, the only method previously available to restore functional vision was a corneal transplant.
Intacs may provide another alternative to this subset of patients. Intacs are clear, micro-thin prescription ring segments that are made of biomedical plastic. They are surgically inserted into the outer portion of the cornea and act to flatten the central part of the cornea. More information on Intacs.
Scheduling
Pre-op screening and physician consultation
The first step is to conduct a thorough pre-op examination at our office. During this visit, you will undergo many tests in order for the physician to determine whether you are a good candidate for LASIK or other vision correction procedures. We will ask you many questions regarding your visual and medical history. We will also take measurements of the thickness of your cornea (pachymetry) and of the shape, or curvature, of your cornea (corneal topography). The physician will obtain the best measurement of your prescription (refraction) and will carefully check the medical status of your eyes. Your eyes will be dilated for the last portion of the exam. We will request that you be out of your soft contacts for AT LEAST THREE DAYS prior to this examination (longer period necessary for hard lens wearers).
At the completion of this evaluation, the physician will discuss with you the available vision correction procedures, including the risks, benefits and alternatives of each.
Scheduling your surgery
If your physician determines you are a good candidate for laser vision correction, you will be scheduled for the procedure. Typically the procedure is completed on both eyes on the same day. These vision correction procedures are done in our LASIK Suite in The University of Kansas Hospital Specialty Surgery, located on the second floor of KU Eye Center, 7400 State Line Road, Prairie Village, Kansas.
Ongoing care
Following your procedure, you will be seen for routine post-operative visits to ensure your eyes are healing well and responding to the treatment as expected. The exact number and spacing of visits is dictated by the specific procedure you undergo. For LASIK/SBK, we typically see patients at 1 day, 1 month, 3 months, 6 months, and 12 months post-op.
These visits are covered by the global fee that is charged for your procedure. Of course, if you need to be seen more frequently than the routine schedule of post-op visits for any unanticipated events, there will be no additional charge for those visits.
We provide concierge service for LASIK and refractive surgery consultation. Contact Darwin Ball at 913-588-6605.