Skip Navigation
LASIK and Refractive Surgery
LASIK and Refractive Surgery
Thirty years ago, the only options for correcting vision were eyeglasses or contact lenses. Today, there is a much broader range of vision correction options to offer, including LASIK and refractive surgery.
Using state-of-the-art laser systems, our eye care specialists can help individuals with even very low to moderately high degrees of nearsightedness, farsightedness and astigmatism enjoy life without eyeglasses or contacts.
What is LASIK eye surgery?
Refractive surgery refers to several different techniques that can be used to improve your vision. LASIK, which uses a laser to reshape the cornea, is the most commonly known type of refractive surgery. LASIK and refractive eye surgery can be used to correct a variety of vision problems, and is a common treatment for those who wear glasses or contacts.
Who can have LASIK and refractive surgery?
When the first laser vision correction procedures were performed in 1987, only those with low to moderate nearsightedness without any astigmatism were candidates. Today, however, the procedure is effective for those with a wide range of vision concerns, such as:
Astigmatism
Farsightedness (hyperopia)
Nearsightedness (myopia)
Presbyopia
There are many factors to consider when determining which type of refractive surgery is right for you. Some of these factors will be discussed during your preoperative evaluation. Some may be decided by your lifestyle and preferences. Your eye doctor will review the results of testing with you, explain available options and help you make the best choice.
How does LASIK and refractive surgery work?
All types of laser eye surgery use laser energy to reshape the cornea. However, surgical techniques can vary depending on your condition and the level of correction needed to improve your vision.
At The University of Kansas Health System, we offer several different options for long-lasting vision correction:
Intacs are an alternative to laser vision correction procedures. They are used to treat low levels of nearsightedness and astigmatism, but they do not involve the use of a laser to change the shape of the cornea as many other procedures do.

Intacs are clear, micro-thin prescription ring segments that are made of biomedical plastic. They are surgically inserted into the outer portion of the cornea and act to flatten the central part of the cornea.

Unlike laser vision correction procedures, where corneal tissue is actually removed, no tissue is permanently removed with Intacs. If you are not satisfied with your vision after the placement of Intacs, they can be removed and even replaced with a different prescription.

Intacs can also be used to restore vision for people with keratoconus, a corneal disease that involves progressive thinning of the corneal stroma. For many people with keratoconus, the only method previously available to restore functional vision was a cornea transplant. Today, treatment options include Intacs and cornea cross-linking.

LASEK is a procedure that combines some aspects of PRK and LASIK. It is similar to PRK because it is performed on the cornea's surface. However, instead of removing the epithelium (the thin layer of protective skin that covers the cornea) as in PRK, a flap of surface epithelium is loosened with a diluted alcohol solution and moved aside. This creation of a flap is similar to the LASIK procedure, except the flap for LASEK is created on the very outer surface of the cornea. Once the flap is moved aside, the surgeon uses a laser to treat the surface underneath the epithelium. The epithelial flap is then returned to its original position.

LASEK is used to treat nearsightedness, farsightedness and astigmatism, using the same principles as with PRK and LASIK. To treat nearsightedness, the steep cornea is made flatter by removing tissue from the central part of the cornea. This flatter cornea results in moving the point of focus from in front of the retina to directly on the retina.

LASIK is 1 of the most popular vision correction procedures used today. With this procedure, vision is corrected by reshaping the corneal tissue beneath the surface of the eye. A "flap" is created on the corneal surface, which is then flipped back while the surgeon uses a laser to treat, or reshape, the deeper layers of the cornea. The flap is then folded back in place where it bonds without the need for stitches.

Because LASIK is performed under a protective layer of tissue, there is less surface area to heal, less risk of corneal haze, less postoperative discomfort and less need for postoperative medication than with some other procedures. Vision returns rapidly, often within a day or 2.

PRK is another laser vision correction procedure that corrects vision by reshaping the cornea. The difference between PRK and LASIK is in where the laser treatment takes place in the cornea. With LASIK, a flap is created on the surface of the cornea, which is then folded back while the laser treatment is applied to the inner tissue. With PRK, no flap is created.

The outer layer of the cornea, or epithelium, is removed and a laser is applied to the surface of the cornea. Because the epithelium is removed, a contact bandage is placed over the eye during the healing phase. The epithelium grows back very quickly, but you may experience some discomfort, especially during the first few days. Most people resume normal activities within 1-3 days.

SBK is an advanced vision correction procedure. It is similar to LASIK in that a flap is created and the laser treatment is performed underneath this protective layer of tissue. However, the flap for SBK is not nearly as deep as it is for LASIK. The flap is produced just below the Bowman's membrane of the cornea in SBK. This method retains the original thickness of the cornea and reduces the risk of ectasia, a potential complication of LASIK that leads to a thin and bulging cornea.

The benefits of SBK over traditional LASIK include offering a more immediate improvement in vision, decreased treatment time, maintained and possibly increased corneal strength, increased accuracy, and reduced risk of complications.
Benefits and risks of LASIK and refractive surgery
As with any treatment or operation there are potential side effects and risks. Some of the more common side effects associated with LASIK are: dry eyes, increased sensitivity to light, glare and halos around lights, fluctuating vision and hazy vision. Your eye doctor will explain the risks and benefits of each procedure with you.
It is important that you have realistic expectations about your vision correction procedure. The goal of any refractive procedure is to reduce the need for glasses or contacts. Most people who have refractive eye surgery are very pleased with the results. One study under the guidance of the FDA found that 1 year after LASIK treatment, 98% of people could see 20/20 and 70% could see 20/16 or better without glasses or contacts.
What happens during LASIK?
The first step in getting refractive eye surgery is to have a thorough eye exam. During this visit, your eye doctor will determine if you are a good candidate for LASIK or other vision correction procedures. Your eye doctor may ask questions about your visual and medical history. They may also take measurements of the thickness of your cornea (pachymetry) and of the shape, or curvature, of your cornea (corneal topography).
The physician will obtain the best measurement of your prescription (refraction) and will carefully check the medical status of your eyes. Your eyes may be dilated for the last portion of the exam. You may be asked to stop wearing soft contacts for at least 3 days before this examination (longer period necessary for hard lens wearers).
After your eye exam, the doctor will discuss with you the available vision correction procedures, including the risks, benefits and alternatives of each. If you are a good candidate for laser vision correction, you will be scheduled for the procedure.
Typically, LASIK and refractive surgery is completed on both eyes on the same day. Following your procedure, you will be seen for routine postoperative visits to ensure your eyes are healing well and responding to the treatment as expected.

Still the best
Our hospital continues to rank as the best in Kansas City and in Kansas according to U.S. News & World Report.

Magnet-recognized
The University of Kansas Hospital has been designated a Magnet® facility by the American Nurses Credentialing Center since 2006.

Respect for all people
Named a leader in LGBTQ+ Healthcare Equality by the Human Rights Campaign.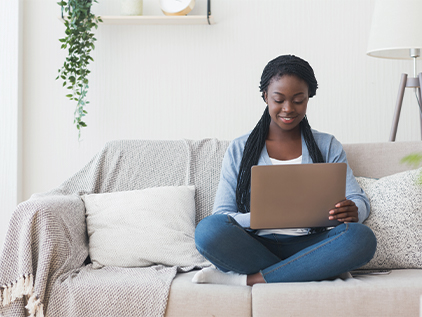 Convenient payments with CommerceCare™
Commerce Bank has partnered with The University of Kansas Health System to bring you CommerceCare™, a fast, flexible and patient-friendly extended financing solution. With CommerceCare™, you can get many of the elective care services you want now and pay over time. CommerceCare™ offers two convenient plans so you can choose the option that works best for you.
Apply now