Skip Navigation
For people experiencing liver failure whose condition can't be controlled with other treatments, liver transplant surgery can be lifesaving. A liver transplant involves removing a failing liver and replacing it with a healthy liver from a donor.
The liver transplant program at The University of Kansas Health System represents the largest team of transplant surgeons and transplant medicine specialists in the region. Our outcomes and wait times consistently surpass the national average and lead to increased quality of life.
What is liver transplant surgery?
The largest organ in the body, the liver provides a number of vital functions. Removing toxins and creating clotting agents for blood, creating bile, processing nutrients and medication and regulating the body's immune system are among the most critical tasks the liver performs.
When a liver fails due to cancer or other liver disease, the parts of the body it regulates also fail. This can lead to worsening health and even death.
There are many treatment options available for liver disorders, such as medication and lifestyle modifications. However, when liver disease has progressed to the point at which the liver begins to fail, a liver transplant evaluation may become necessary.
Who can have a liver transplant?
The liver is a resilient organ and liver failure typically happens over a long period of time. Liver transplants are typically only performed when all other treatment options have been exhausted.
Cirrhosis, or scarring of the liver tissue that prevents its normal functioning, is the most common reason for liver transplant surgery. However, whether due to liver cancer, cirrhosis or a different condition, people with chronic liver failure are the best candidates for a liver transplant.
How does liver transplant surgery work?
A liver transplant requires a donor liver supplied by another person. This may be donated by someone who is recently deceased or by a living donor. Although each person only has 1 liver, a live donation is possible due to the liver's ability to regenerate itself.
If a portion of the liver is removed, the remaining healthy tissue grows back to replace the portion that has been removed. This means that a liver transplant can occur with only a portion of a donated organ.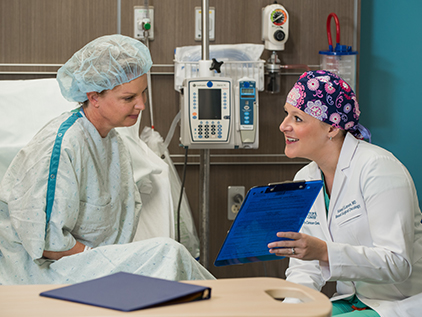 Cancer care you can count on
The University of Kansas Health System is part of The University of Kansas Cancer Center – 1 of just 54 NCI-designated comprehensive cancer centers in the nation.
Our cancer care
Benefits and risks of a liver transplant
All surgeries carry some risk of infection, bleeding, clotting and complications arising from anesthesia. Organ transplant surgeries carry further risks due to antirejection medication and the rejection of the transplanted organ by the host's body.
Liver transplants can also sometimes result in problems with a patient's bile duct, such as leakage. Due to the liver's role in regulating and metabolizing blood-borne nutrients, some people may also experience mental confusion or dizziness.
Although liver transplant surgery does carry some risks, these are greatly reduced through the expertise of your surgical team. For those who are suffering from chronic liver failure and have tried all other treatment options, a liver transplant can mean the difference between life and death.
What happens during a liver transplant surgery?
Liver transplant surgery is a complex procedure that typically takes several hours to perform. It is an open surgery, meaning surgeons will open the body cavity to perform the operation.
While the body cavity is opened, the failed liver is removed and the body is attached to specialized machines that temporarily perform the liver's normal functions. The new liver is placed within the body cavity and is reattached.
The recovery time for liver transplant surgery varies based on your age and health, along with the consideration of any complications that may arise. Typically a hospital stay of around 2 weeks is necessary, but some people may return home in as little as a week.

Why choose us
We offer the region's largest and most successful solid organ transplant program.

Unmatched experience
We've completed 1,500+ liver transplants – including 86 simultaneous kidney/liver transplants.

Become a donor
To learn more about organ donation and to become a donor, visit the Midwest Transplant Network, Donate Life America or Gift of Life.
Liver transplant lets mother, teacher reclaim life
After 10 years of "just trying to survive," Amy Ausmus received a new liver that restored her health and freedom.
Read Amy's story