Skip Navigation
When pelvic organ prolapse occurs, surgical repair procedures may be needed to restore functionality and improve your quality of life. The University of Kansas Health System offers leading-edge treatment options and advanced procedures for pelvic prolapse repair. Our fellowship-trained surgeons are highly experienced and trained to help you manage your prolapse and develop a care plan just for you.
What is prolapse repair?
Prolapse repair is used to address pelvic organs like the bladder, uterus or rectum that have dropped and are pressing against the vagina. Prolapse repair can include 1 or multiple procedures designed to address different concerns related to pelvic organ prolapse:
Bladder tuck, also known as cystocele repair
Cuff suspension, for prolapse affecting the top side of the vagina
Hysterectomy, if the uterus is prolapsing and causing discomfort
Rectocele repair, for prolapse affecting the posterior vaginal wall
Who can have prolapse repair?
If you have been diagnosed with pelvic organ prolapse, prolapse repair might be right for you. While some women can manage prolapse with nonsurgical treatments and watchful waiting, others may experience symptoms that are advanced enough to affect their quality of life. In these cases, surgery is often the best course of treatment.
How does prolapse repair work?
Prolapse repair procedures vary depending on the location and severity of the prolapse, and the organ(s) affected. The goal of prolapse repair is to perform a support procedure that holds the affected organ in place to prevent recurrence.
Due to the higher rate of mesh complications in prolapse repair, our specialists focus on techniques that use your own tissues instead of or in addition to mesh. Through this approach, your body develops its own support system over time.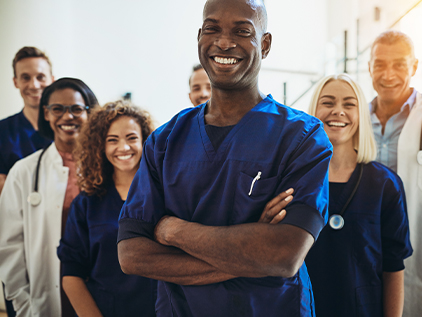 Find a doctor
Doctors at The University of Kansas Health System are care providers and researchers at the forefront of new medical discoveries. From primary care to complex conditions, we offer hundreds of specialists.
Find a doctor
Benefits and risks of prolapse repair
Prolapse repair can help you feel more comfortable and improve your ease of daily life. It provides a long-term solution for pelvic organ prolapse, and can greatly improve or even eliminate uncomfortable symptoms of the condition.
Without repair, pelvic prolapse can worsen and cause significant damage. Symptoms can range from uncomfortable to painful, and affect functionality as well.
Some prolapse repair procedures use vaginal mesh to hold the organs in place. However, mesh that is introduced and placed through the vagina has been associated with a higher complication rate, especially if the implant was not indicated in the first place or if it was placed by less experienced surgeons. Mesh complications include chronic pelvic pain, pain with intercourse, sexual dysfunction and mesh erosions and extrusions (mesh gets exposed or moved into an organ it was not intended to be in).
Our physicians have successfully treated hundreds of patients with mesh complications. If you are experiencing mesh complications from a previous prolapse repair surgery, they can help.
What happens during prolapse repair?
The specifics of your prolapse repair surgery will depend on several factors specific to your diagnosis. Your surgeon will customize your procedure to give you the best possible outcome.
There are several different procedures that may be involved in prolapse repair.
The tissues supporting the bladder can weaken with time, and the bladder may push into the vagina and sometimes outside the vaginal opening (often referred to as a balloon or large cyst coming out of the vagina). Repairs will help restore the anatomy, as well as reduce any discomfort or pressure felt due to the prolapse.

Bladder prolapse can be repaired using your own tissues while using stitches, or very rarely, supported with an extra layer of tissue such as mesh. Studies have shown that it is best to attempt a repair without mesh if this is the first treatment for prolapse, and if the prolapse recurs, then consider mesh.

The procedure is typically done all through the vagina. A tiny cut is made across the front side of the vagina near the bladder, and the stitches are placed under the vaginal skin to strengthen the tissues. Since the cut is in the vagina, this treatment is cosmetic and no scars on the outside are seen.

When the prolapse of the apex, or top of the vagina, is noted on your pelvic examination, it is necessary to have that area supported and fixed before the repairs are done for the bladder (cystocele) or the area near the rectum (rectocele). If not supported, the prolapse repairs may not last as long as expected, and the bulge in the vagina may come back very soon.

Two techniques that have been proven effective, with results lasting 60-85% over 5 years, are the uterosacral ligament fixation and the sacrospinous fixation. These techniques involve putting stitches that are usually dissolvable to the support system (called ligaments), which existed before having vaginal deliveries.

Your doctor will attach stitches to the strong part of the ligaments. With time, the stitches dissolve and strong tissue usually develops, simulating the older strong ligaments. Like with most prolapse repair surgeries, your physician will suggest weight, activity/lifestyle and lifting alterations after having this procedure done to preserve the results.

Advantages of these techniques include:

Does not involve the use of mesh
Cosmetic (no scars visualized)
Overnight procedure

The tissues on the back side of the vagina can weaken with time and a bulge or sac-like structure can push into the vagina. This can cause symptoms like painful bowel movements, difficulty having a bowel movement or painful intercourse. Constipation and vaginal deliveries with episiotomies or lacerations are often a reason for developing this type of prolapse.

Your physician can help restore the anatomy of the vagina by performing a small procedure that does not involve mesh, and instead uses your own tissues plus stitches to strengthen the vaginal wall tissue and remove the prolapse. Our approach to rectocele repair does not involve any bowel surgery but it does require that your bowels be functioning well and any constipation be avoided to help your results last.

To avoid a lengthy incision across the abdomen, we may perform robotic surgery. With robotic surgery, the incisions are small (usually less than ½ an inch) and not cosmetically problematic. This allows for easier and faster recovery while giving your surgeon greater access during the procedure because of the 3D, image-guided features of robotic technology and the agility it promotes.

Not all surgeons use robotics to perform this procedure. However, our fellowship-trained surgeons are highly experienced using laparoscopy and robotic surgical techniques.

Still the best
Our hospital continues to rank as the best in Kansas City and in Kansas according to U.S. News & World Report.

Magnet-recognized
The University of Kansas Hospital has been designated a Magnet® facility by the American Nurses Credentialing Center since 2006.

Respect for all people
Named a leader in LGBTQ+ Healthcare Equality by the Human Rights Campaign.