May 18, 2021
Here, Riley Ferree, RN, explains what it's like to join the health system and thrive in her nursing career:
I couldn't have picked anything better to prepare me more for the rest of my career as a nurse at this health system than caring for urology and gynecologic cancer patients. Now that I've been doing this for more than a year, I'm much more confident in my abilities, and I truly feel like a good nurse. I know I can handle challenging assignments, my time management skills have sharpened and I can care for 5 patients at a time if necessary. I'm comfortable establishing rapport with the people I care for and their families. And I feel confident in my ability to care for those who are experiencing complex behavioral issues and those who are rapidly declining.
The medical-surgical patient care area is highly specialized, despite those who disagree. I have gotten the chance to work with so many types of patients who have cancer, have had surgery and who have conditions ranging from neurological, blood disorder and others. Working in this area makes me a well-rounded nurse. It takes a special set of skills to be an acute care nurse, and those skills will serve me well no matter where my next chapter takes me.
One thing I love about this care area is that it feels great to care for people who are very sick. We admit people from all over the region who need a higher level of care. People come to us specifically for the advanced level of care that we provide.
I love that I can use my skills, such as placing catheters, starting IVs, taking lab samples, providing tracheotomy care and tending to behavioral conditions and code blues. I've learned how to provide care in a high-stress environment while taking good care of patients.
Being a nurse at Kansas City's best hospital
I'm confident that I work with the absolute best nurses you can find in Kansas City. Our staff is second to none. I originally applied to my position because I was interested in caring for the type of patients who were admitted to that area. But one of the main reasons I love coming to work is because of the amazing team I work with. I cannot thank them enough. This health system promotes a nursing culture that encourages teamwork and kindness. I absolutely love that. Whenever I feel stressed, there is always someone there to lend a hand.
And I'm not only talking about the nurses. The doctors, nurse practitioners, physician assistants, physical therapists, occupational therapists, patient care assistants and all members of the care team make this health system a great place to work.
I love that I get to work with a rotation of internal medicine doctors. Not only are they fantastic doctors, but I've gotten to know them. Our bedside nurses get the chance to work with so many other professionals since we admit patients who are being cared for by so many different care teams.
Every day is a new challenge in the best way. No 2 days are the same, so it stays interesting. My days never feel routine or repetitive. The hours fly by.
Advice for those interested in caring for very sick patients
The longer I have been an acute care nurse, the more I see the immense value of having this experience. Anywhere you go, you will be caring for people who have comorbidities – and you'll have the experience that makes you more confident in your work.
If there is a specific specialty that sets your soul on fire, like labor and delivery or intensive care, chase your passion. But don't avoid medical-surgical care just because you don't think it has the same appeal. It's a cool place to work! I started working in this area 1 year before I graduated nursing school, and I was lucky enough to get a job offer as soon as I submitted my application. When I received my nursing license, I felt prepared. Working in a hospital – especially in acute care – gives you a huge advantage when it comes to studying for licensing exams and transitioning to practice.
Our health system's slogan is, Why would you go anywhere else? I agree! Working at the best hospital in Kansas City is such an honor and privilege. Getting my foot in the door as a nursing assistant, making connections among the staff and transitioning to practice as an RN here is, in my opinion, the best thing I could have done for myself and my career. Not once have I felt intimidated by my fellow nurses. The culture here has always made me feel supported and welcomed.
This health system has the best nurses in Kansas City. We want you to come be part of our team.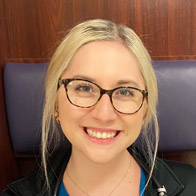 Riley Ferree, RN
Urology and gynecologic oncology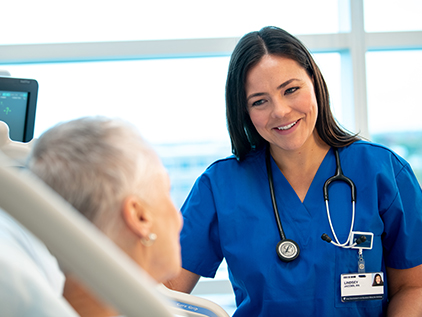 Ready to join us?
Take the first step toward your career at The University of Kansas Health System.
Search jobs now